There are dozens of different free live chat software that businesses can use. Much of this software provides some solutions for businesses.
Live chat tools that combine real-time communication and customer support contributions to conversion and customer retention rates. For this reason, it is of great importance for businesses to use live chat tools to increase customer interaction for long-term success.
In this article, we have brought together the 10 most popular free live chat software for businesses that want to get to know live chat tools or do not want to spend a budget on this tool. At the end of this article, you can start to provide instant customer support on your website by determining the most suitable live chat tool for your business.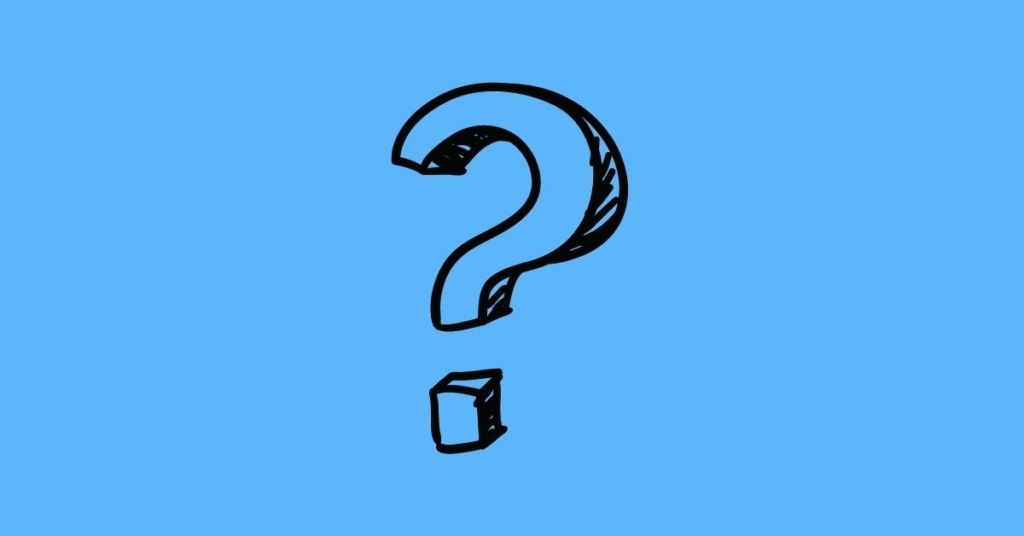 What is Live Chat Software?
Live chat software is a customer support channel. It is used to manage the customer support processes on the website.
Live chat systems enable businesses to organize and manage customer requests from websites by communicating with customers in real-time, thanks to widgets on their websites. Most live chat software is customizable and extensible.
Live chat software is effective in capturing the target audience visiting the website. With the right strategies, businesses can turn their target audiences into loyal customers.
10 Best Free Live Chat Software For Your Business
Here are the 10 best free live chat software you can use on your website to better interact with your customers.
We have covered the strengths and weaknesses of free live chat software in detail. This way, you can choose more easily.
Hubspot
Hubspot's free live chat tool comes with Hubspot CRM.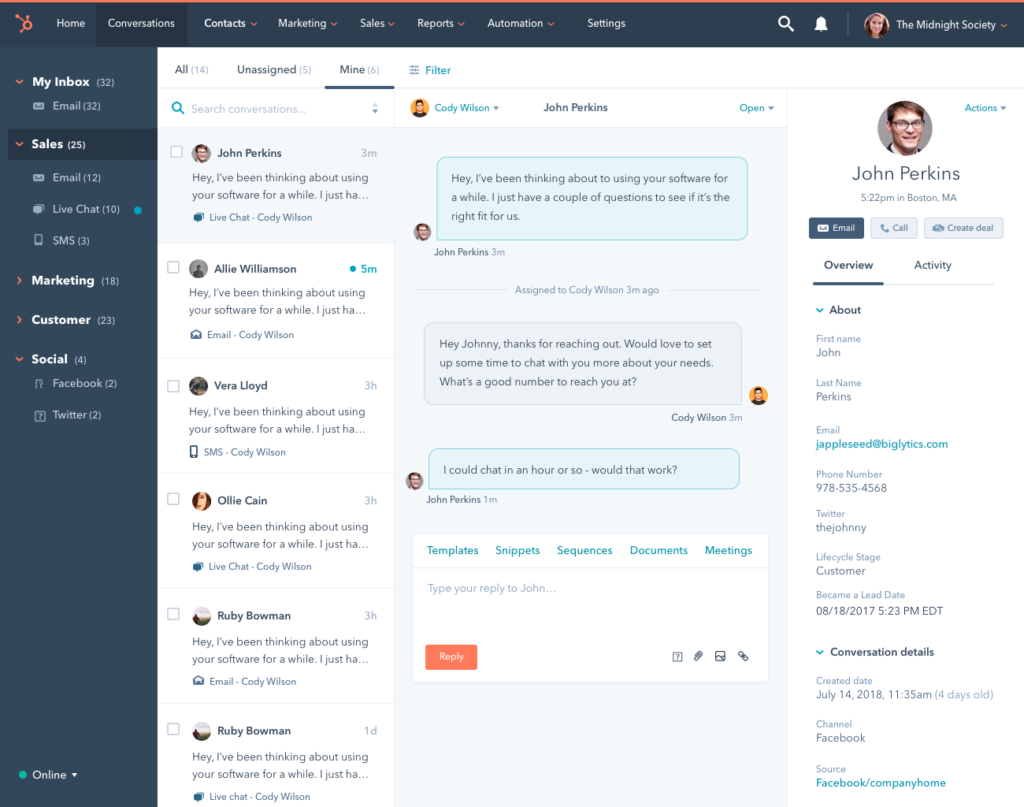 This live chat software is ideal for businesses already using Hubspot CRM. It is part of the CRM, and records customer dialogs, making it easier for support teams to identify recurring customer issues. This way, your team can produce different solutions for your customers without wasting time.
Businesses that have never used Hubspot before can use this free live chat tool. Hubspot's free live chat tool can take advantage of features such as welcome messages, customization, and canned responses.
Hubspot's free live chat can sometimes put businesses in a difficult situation with limited customization options. New conversation notifications can be overlooked as tweaks are needed.
CRM: Full Definition & Examples
Jivochat
Jivochat is part of the help desk solution that brings together different channels.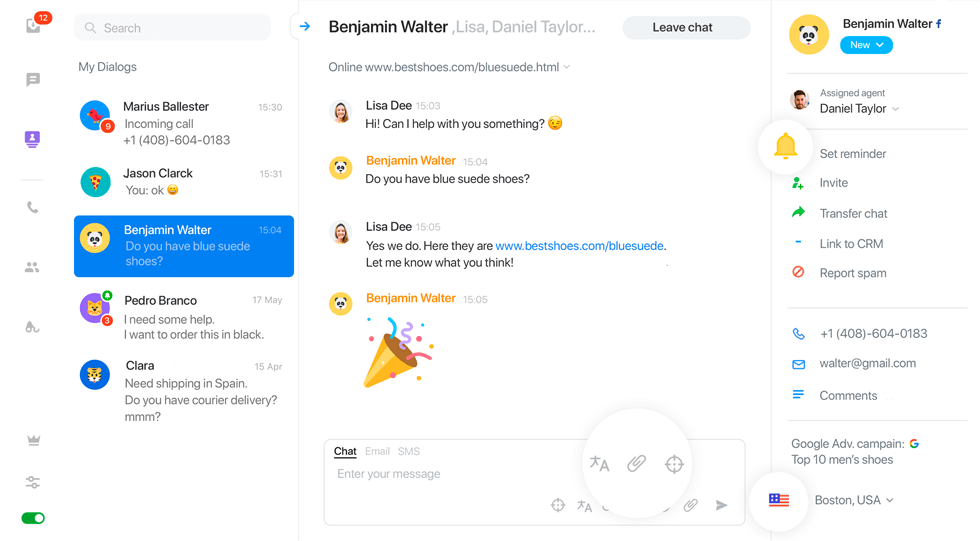 Jivo's live chat tool helps support teams manage conversations on the website simultaneously. In addition, support teams can categorize customer messages and ensure that processes go with the flow.
It offers businesses to provide customer support in more than 20 languages. However, Jivochat's free plan may cause some technical problems for users.
Rocket. chat
Rocket. chat is designed for you to communicate uninterruptedly with your customers.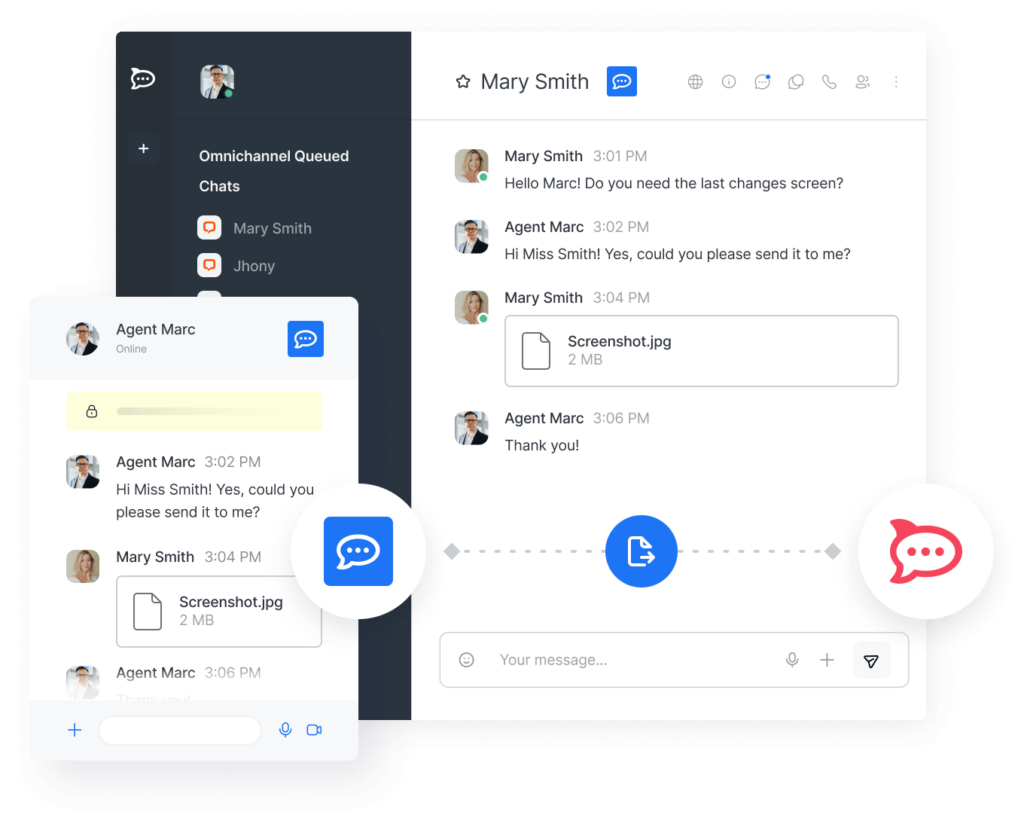 With this software, you can manage all customer interactions in your business from a single center. The platform makes it easy to provide the fastest and most efficient customer support. Rocket. chat provides businesses with a range of solutions like omnichannel solutions, chatbots, and CRM integrations. It also offers unlimited chat to businesses, unlike other software.
On the other hand, the support service of the platform may be insufficient from time to time. In addition, technical failures or user processing problems may occur during customer support.
Tawk. to
Although Tawk. to is a free live chat tool, it offers powerful features similar to its paid competitors.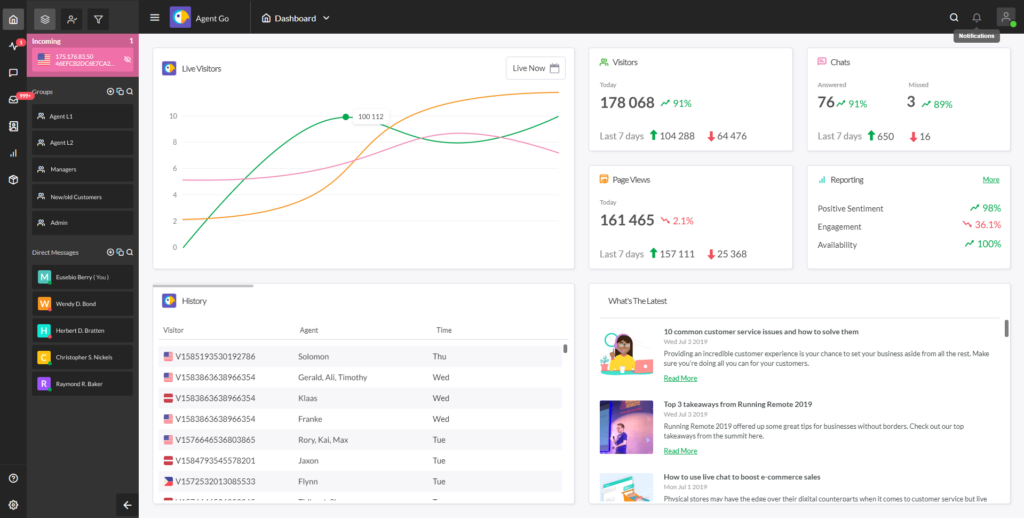 The platform is ideal for businesses just looking for a live chat tool and don't want to give money. It provides solutions for low-budget businesses. In addition to the basic features, it also has some of the features of the ticket system. With Tawk.to, they can use features such as multilingual support, welcome messages, and unlimited chat for their customers.
However, some platform delays and only showing basic reports can cause businesses to experience disruptions from time to time.
Chatra
Chatra is a live chat software that allows you to start a chat with your visitors.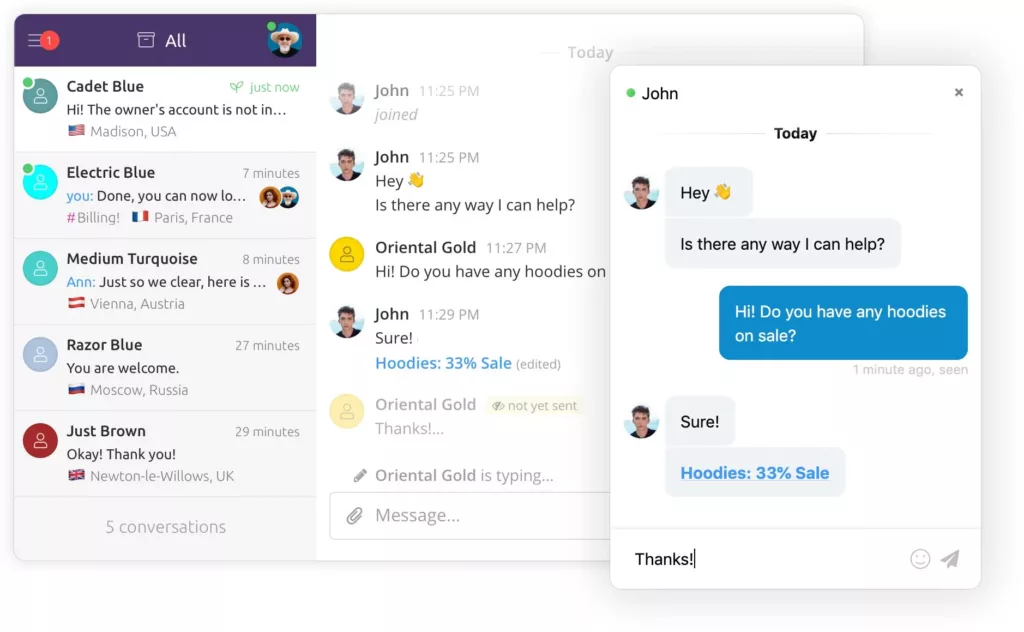 The platform helps businesses respond to customer messages on their website in real time. It does not have a customer request system but has integrations such as e-mail, Facebook, and Instagram.
New updates are negligible and do not have any automation for order control.
Tidio Live Chat
Tidio is a live chat tool that allows businesses to interact with their customers on their websites in real time.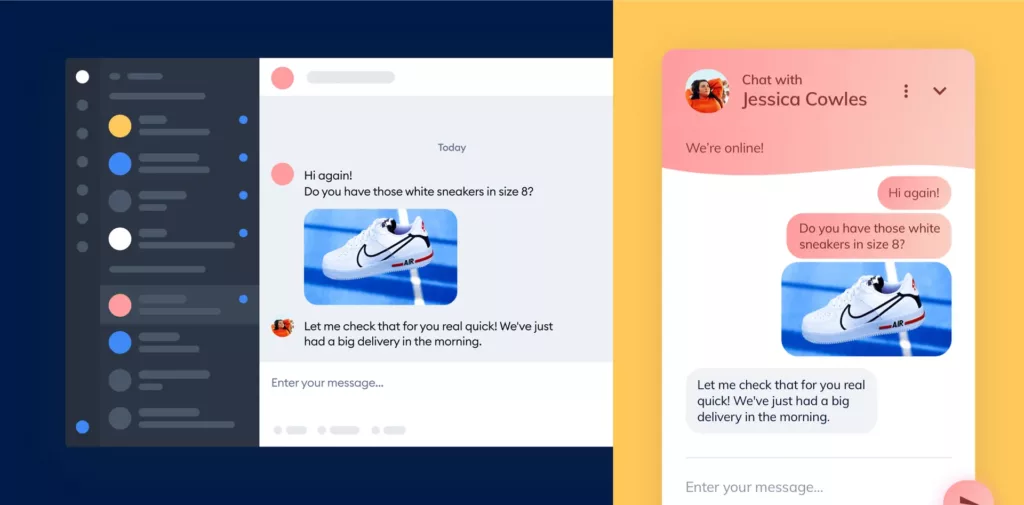 The platform is a WordPress plugin and even a customizable free live chat app available as a plugin on the Shopify store. It has powerful features for businesses to review, prioritize and resolve customer support requests.
On the other hand, the free plan can be used with up to 3 agents. Also, chatbots don't work for multiple triggers.
Freshchat
Freshchat is the live chat tool that comes with Freshdesk.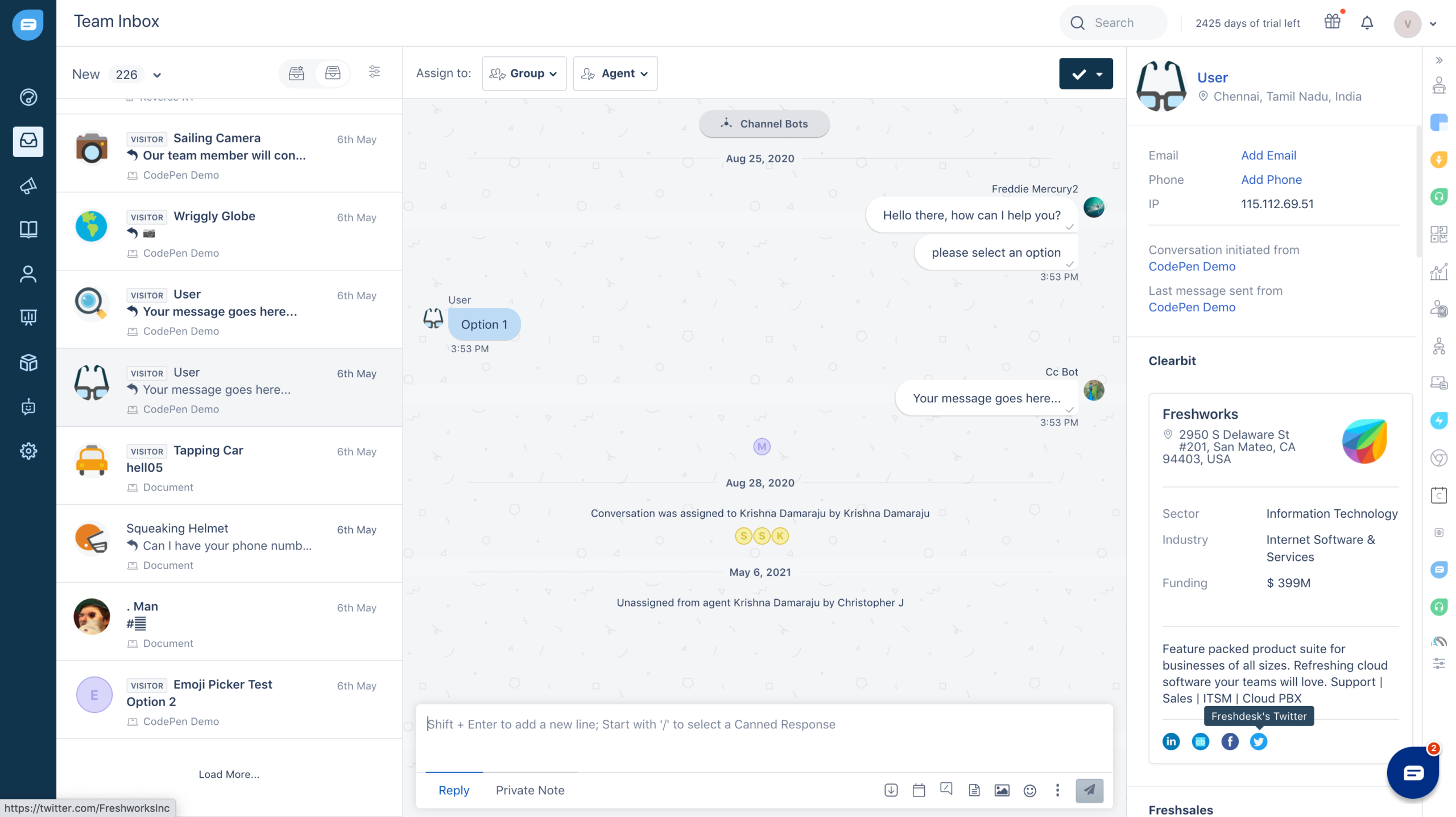 The platform is easy to install and use. Being customizable helps businesses deliver consistent customer service. It also has powerful integrations such as Mailchimp, Woocommerce, and WordPress.
The downside of Freshchat is that its free version has limited features.
Smartsupp
Smartsupp is a free live chat software that comes with rich integration content.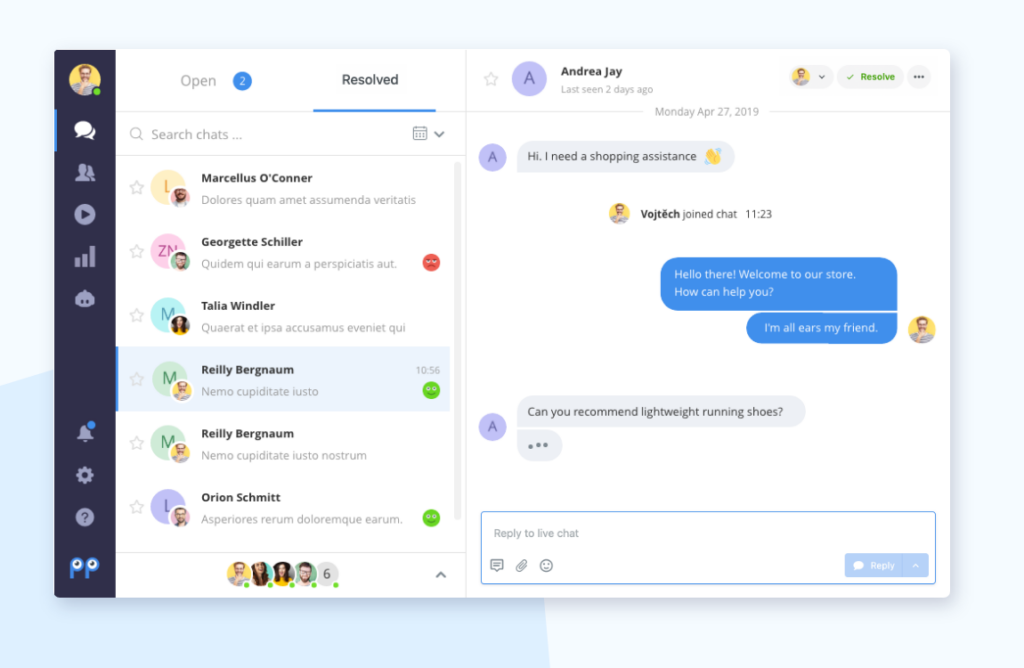 The platform provides businesses with live chat, multi-channel management such as email, and multiple e-commerce platform integrations. In addition, it allows watching the movements of the visitors as videos. It also comes to the fore with its customizable automatic messages.
Offline use is not suitable for advanced customer service. Available with one user on the free plan.
Zoho Sales IQ Chat
Zoho Sales offers businesses an advanced live chat tool that is part of a system.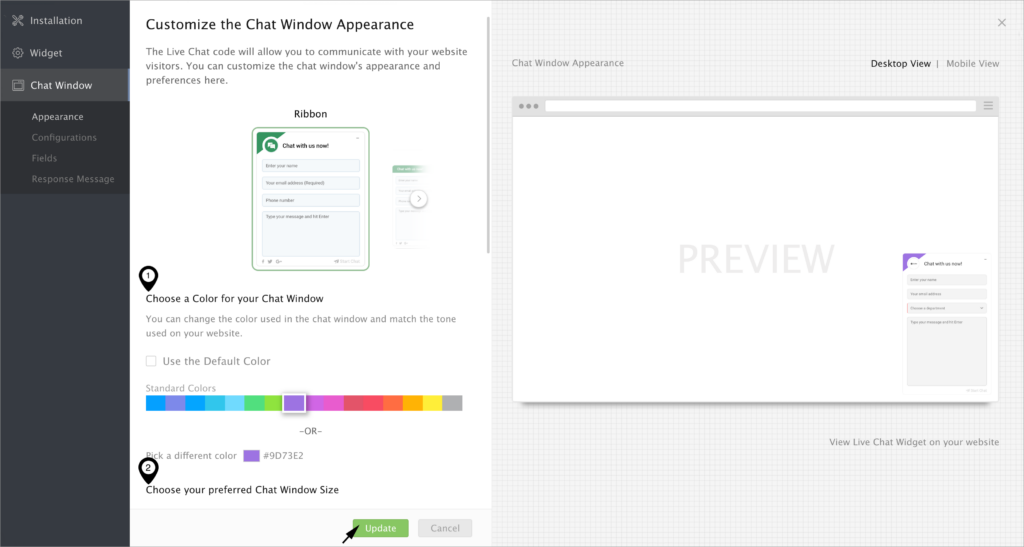 Zoho's free live chat tool has powerful and advanced features. Being a part of its ecosystem, Zoho Sales IQ chat is an excellent choice for sales-oriented businesses.
Slow customer support and general user complaints are among the disadvantages of the platform.
Respond.io
Respond.io is a messaging platform that allows your customers to communicate with you through any channel.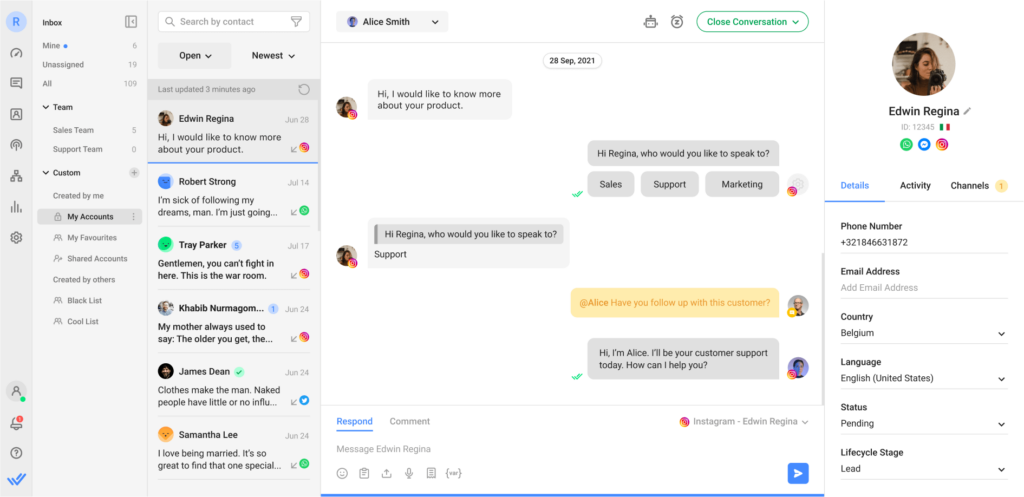 Thanks to Respond.io, customers can contact businesses through social media channels or the website. Features such as multi-channel chat history, real-time statistics, and customer profiles help businesses in analyzing customer support processes. The free version is limited to 5 users and 100 interactions.
It may lack features when compared to its competitors. It is also suitable for desktop use only.
Didn't Find What You Are Looking For?
Free live chat software has great features for businesses to meet with live chat or learn them. But they fall short when it comes to advanced omnichannel customer service.
Why?
Top 10 Live Chat Software for Business in 2023
Because most companies' free live chat tool is released for pre-promotional purposes, the user starts the free version and has to switch to the paid version of the product in a short time because the features are not enough. On the other hand, businesses that use the free version and are unsatisfied with the tool start researching again to find the live chat software that fits their needs.
So, do you need to waste time finding the right live chat tool?
Start Using Live Chat Without Wasting Time With Qpien
Qpien is an omnichannel customer service platform that enables businesses to easily manage their sales, marketing, and support processes from a single platform.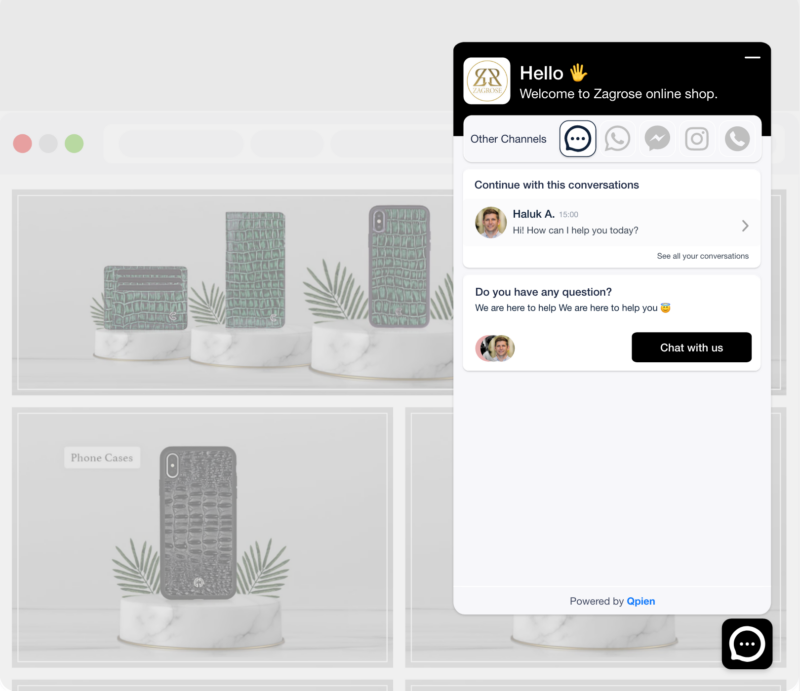 The live chat tool, which stands out with its easy installation and user-friendly interface, offers an effective solution in customer service to businesses. With Qpien, companies can provide real-time support on their website in minutes.
Qpien live chat tool has many advanced features in addition to basic live chat features such as canned response, automatic reply, and order creation. If you wish, you can create an advanced omnichannel customer experience for your customers by connecting your customer communication channels like Instagram, Facebook, and Whatsapp to the Qpien live chat tool. Thanks to the smart inbox, you can easily view all your messages on a single screen and reply to them in no time. You can also create a consistent customer journey for your visitors with the customizable chat widget.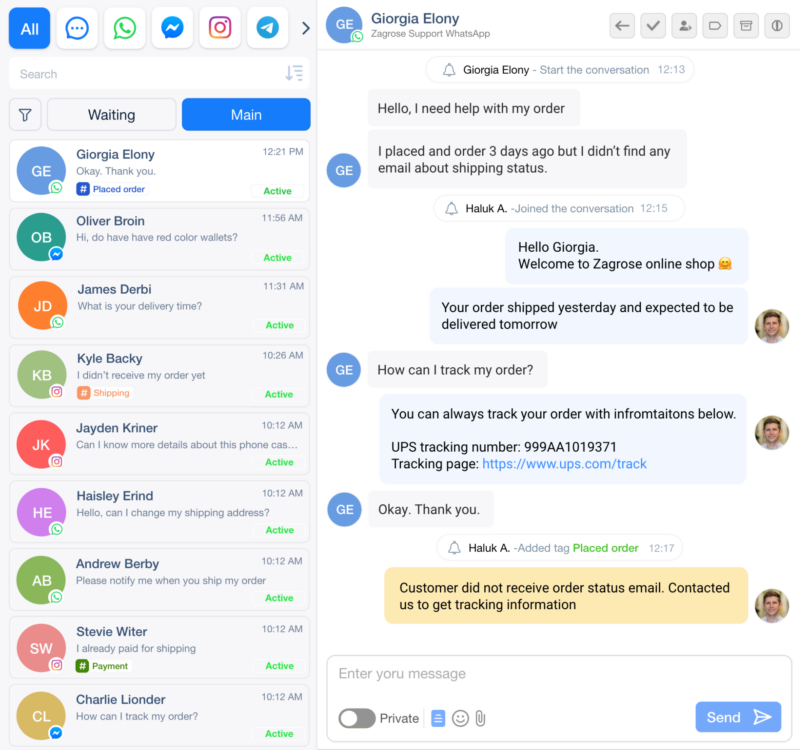 Instant visitor tracking, private notes, unlimited tags, categories, real-time statistics, team communication, and more…
Qpien live chat has all the features a business could need in customer service.
To meet Qpien features and provide enhanced customer support try Qpien for free!