Live chat software helps businesses reduce customer density. This software enables them to communicate with their customers in real-time through various channels. 
Live chat provides businesses many benefits like increasing conversion rates, instant communication, and advanced customer analysis. On the other hand, Businesses can improve the customer experience and speed up communication processes with LiveChat.
There are dozens of Live chat systems on the market with different prices and features. So which one is better for businesses?
As Qpien Blog, we compared the best 10 live chat software for your business.
Benefits of Using Live Chat On The Website
Top 10 Livechat Software
1- Qpien LiveChat
Qpien is a new-generation omnichannel customer communication platform that brings together all customer communication channels of businesses.

Thanks to the ease of use and wide customization options of the Qpien Live chat software, businesses can start using the Qpien Live chat feature on their websites shortly.
In addition, businesses can easily manage all other customer communication channels such as WhatsApp, Facebook, and Instagram with Qpien from a single screen together with Qpien Live chat on their websites. In this way, businesses can offer their visitors an omnichannel and real-time customer communication experience without wasting time.
Plus, businesses can instantly monitor the movements of visitors to their websites with the Qpien Active Visitor feature. This feature allows them to track traffic and visitor movements on their websites in real-time. This feature helps increase their conversion rates by better analyzing their potential customers.
Qpien offers 14 days free trial and a basic package starting at $19 per agent per month.
Zendesk
Zendesk is a customer support platform focused on artificial intelligence and automation. On the other hand, live chat offers various solutions to businesses.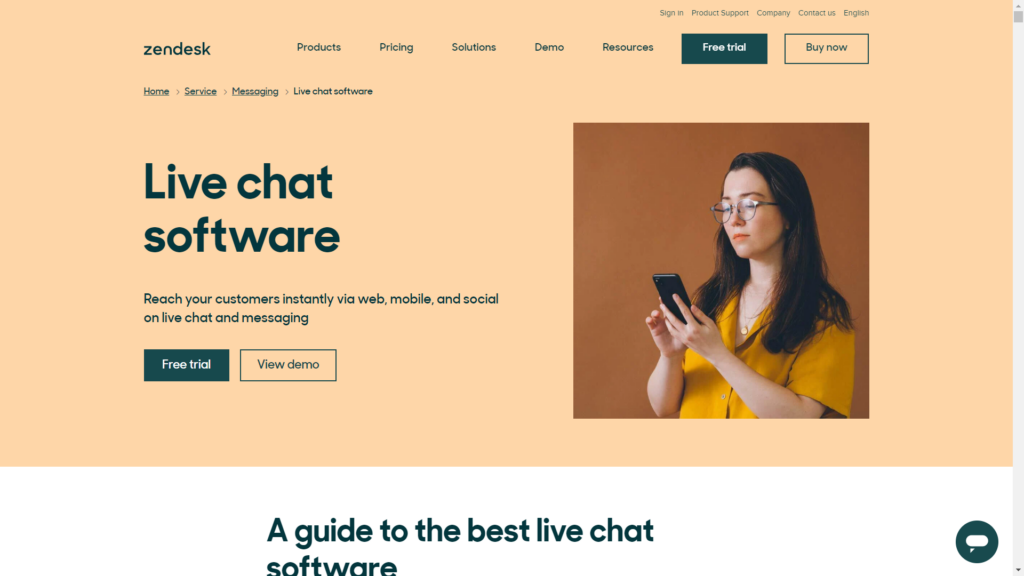 It is the choice of businesses that want to respond to their customers as soon as possible and scale up. Suitable for large teams and multiple users. Gathers leading customer communication channels such as social media, website, and e-mail in a single panel. These channels can be managed with chatbots.
Zendesk has many tools for reducing customer load. One of the reasons for its popularity is the platform's guidance during decision-making by analyzing customer behavior.
Zendesk, which makes it easy to automate Live chat, offers advanced features to businesses with fast scaling and 24/7 live support automation. Zendesk's chat widgets can be customized to suit the brand.
Zendeks' basic package is $49 per agent.
Intercom
Intercom, which supports the customer relations of businesses, is preferred by more than 30,000 companies.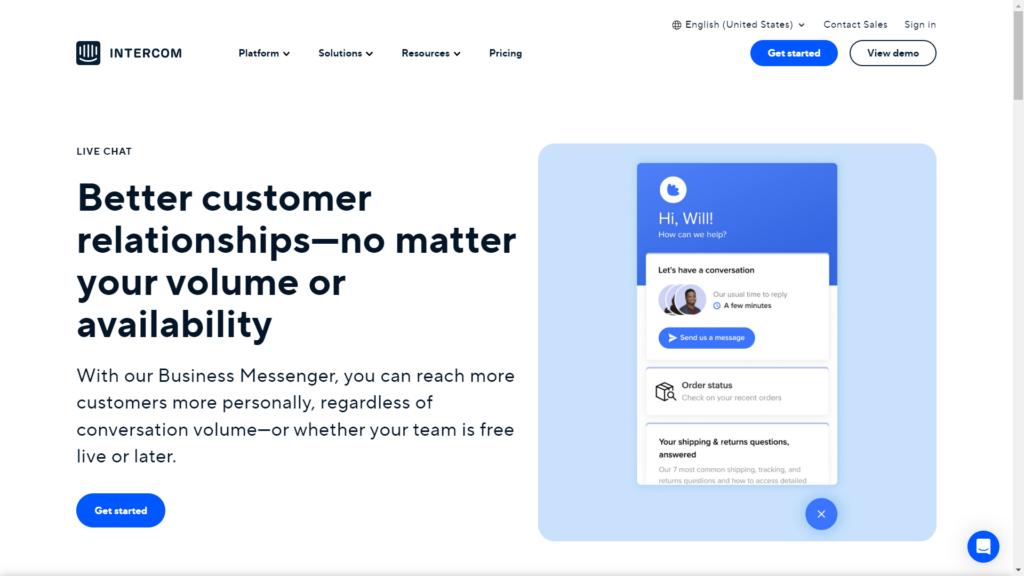 One of its leading features is that it helps to increase site conversions with bots. Businesses can manage customer interaction in all communication channels from a single panel.
Questionnaires that are sent automatically to the customer, canned responses, and the advanced chat robot are among the significant features of Intercom.
Intercom's basic package is $59.
 JıvoChat
JivoChat is a widely used live chat software internationally.
JivoChat, which is easy to use, is one of the live support systems with comprehensive and advanced features. The JivoChat widget supports up to 25 languages.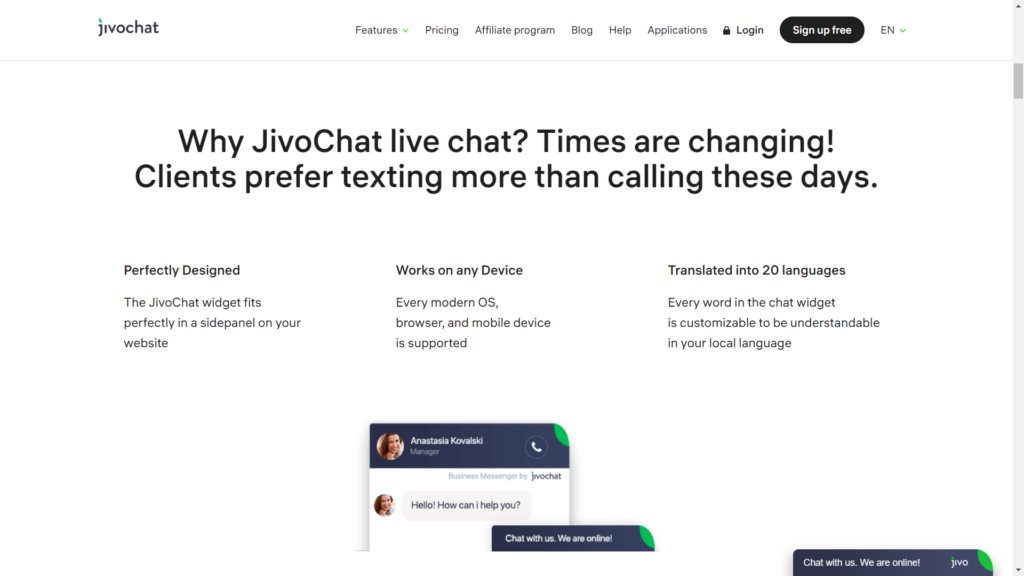 JivoChat has a chat widget that can be hidden for automatic triggers. It also has significant multi-channel integrations such as Zapier, Facebook Messenger, and Apple Business Chat. In addition, users can also manage chats on various platforms, including websites, e-mails, Telegram, and WhatsApp, with JıvoChat.
With its color-coded private chat feature, canned responses, and hotkeys, JıvoChat offers users an advanced and personalized live support system.
The basic package of JıvoChat is free and limited to 5 agents. The professional package is $19.
LiveChat
LiveChat is one of the advanced live chat software that meets the needs of businesses.
Businesses can instantly communicate with visitors on their websites using Livechat. They can design a chat box suitable for the brand and website design. It also has features such as automatic answering of frequently asked questions, a calendar, and link sharing.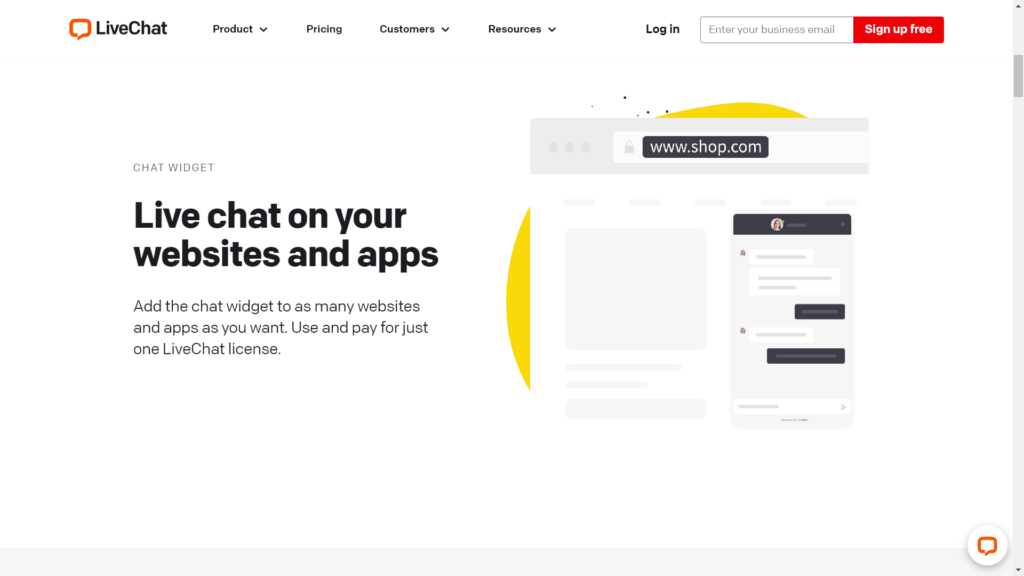 With LiveChat, users can see what customers are typing before sending their messages. They can also define tags for chats or access previous chats with the archive to make the process functional. This makes customer chats more personal.
Livechat gathers various communication channels, including e-mail, chat applications, and SMS, in a single panel. It also has integrations with more than 170 software such as Facebook Messenger, WordPress, Salesforce, Shopify, and Dropbox.
LiveChat's basic package is $16 per month.
Tidio
Tidio is a live chat software developed for websites.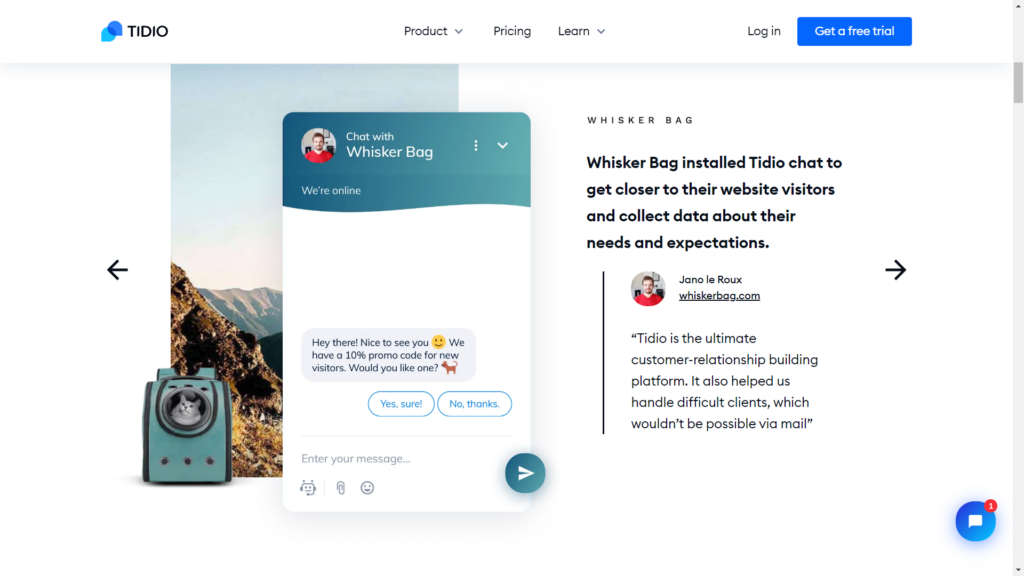 Businesses can use Tidio to automate messages for real-time communication on their websites. In addition, Tidio stands out with its advanced newsletter tools, trigger combinations, and advanced chatbots. It also includes the Tidio chatbot free plan.
Limited integration options and not supporting multiple triggers for a robot are Tidio's.
Help Scout
Help Scout is a customer support platform that offers solutions to businesses.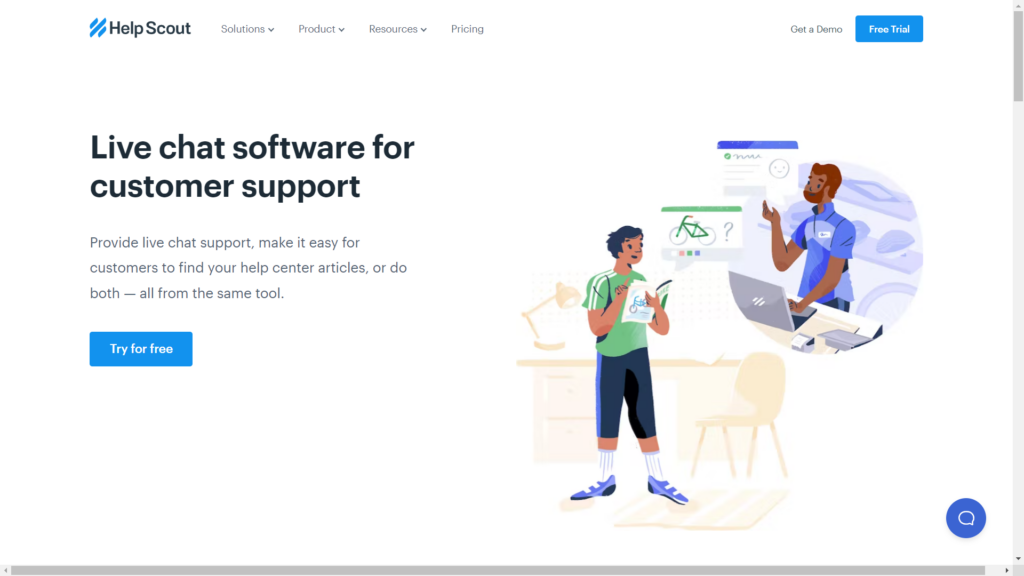 With the Help Scout Beacon, businesses can offer live support to their customers. In cases where there is no live support, customers can ask questions to the support teams via e-mail. Help Scout stands out with its powerful integrated feature, embedded customer support widget, and proactive support features. Customers can access help documentation directly with the widget or submit questions to their support team.
Help Scout's Live chat helps the user navigate to the best quality chat with smart routing. In the live support system, which has 3 different modes, customers determine the mode themselves. It can be integrated into many software including Shopify, and Salesforce.
The standard package is $20
FreshChat
FreshChat is customer support software that enables businesses to offer effortless customer support across their messaging channels.
Businesses can use FreshChat on first and 3rd party messaging platforms including websites, mobile apps, WhatsApp, Apple Business, Facebook Messenger, and more.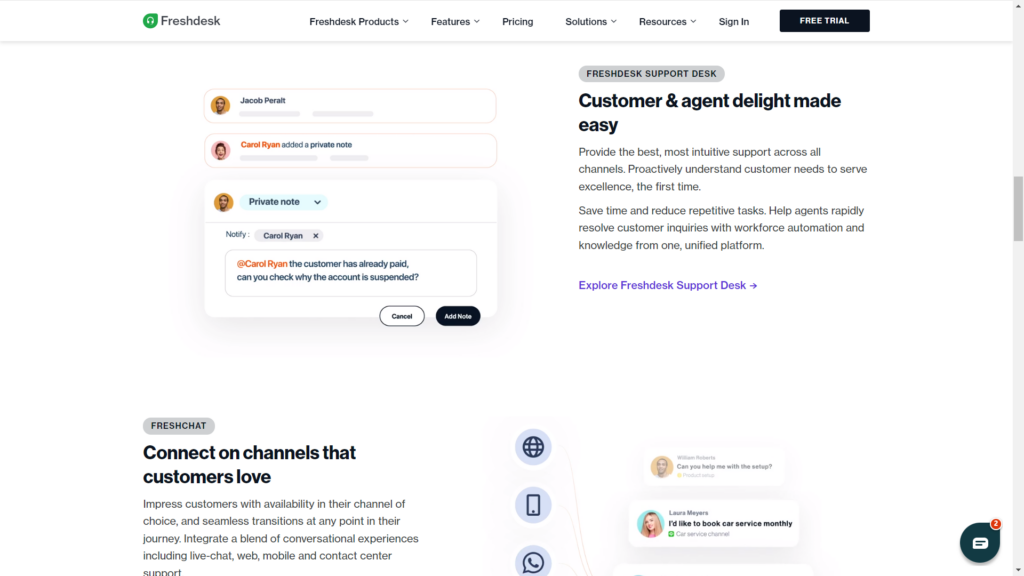 FreshChat messaging is powered by artificial intelligence. In this way, customers can easily handle transactions, often without the need for a representative. It enables businesses to offer more effective communication to their customers with smart and automatic routing.
The free basic package includes a chatbot chat analysis tool. The Growth package is $15 per agent per month.
Crisp
Crisp is customer support software designed for beginners.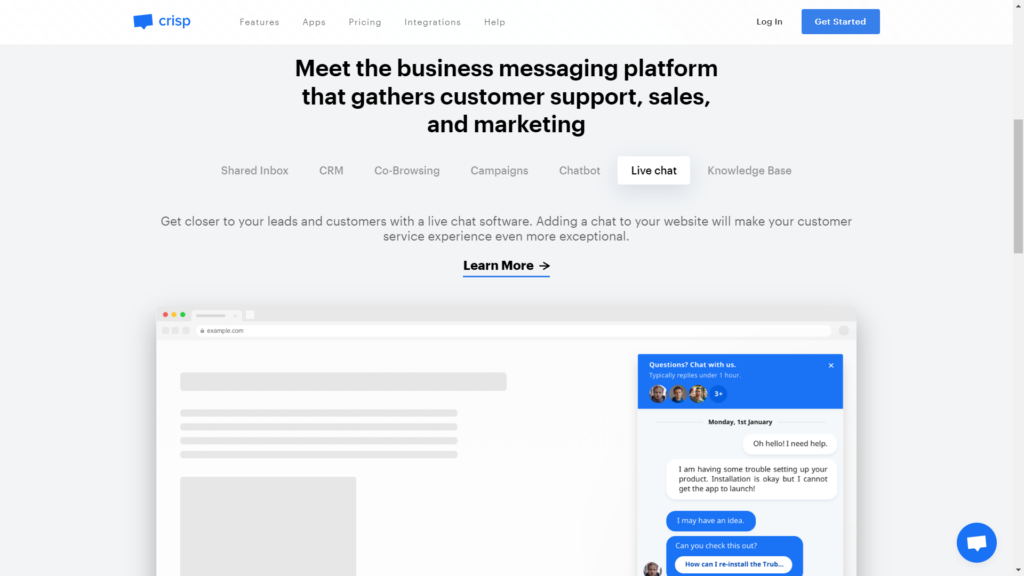 Businesses can provide an enhanced customer experience by communicating with their website visitors in real-time or by integrating their favorite tools into Crisp. Also, the chat window supports 42 languages.
Crisp's basic package is free, while the pro package is $25
Drift
Drift is a cloud-based live chat software that automates processes to provide customer experience and loyalty.
Chatbots, targeting, offline access, and proactive chat are significant features. In addition, it enables businesses to communicate with visitors in real-time, helping to generate leads and improve sales opportunities.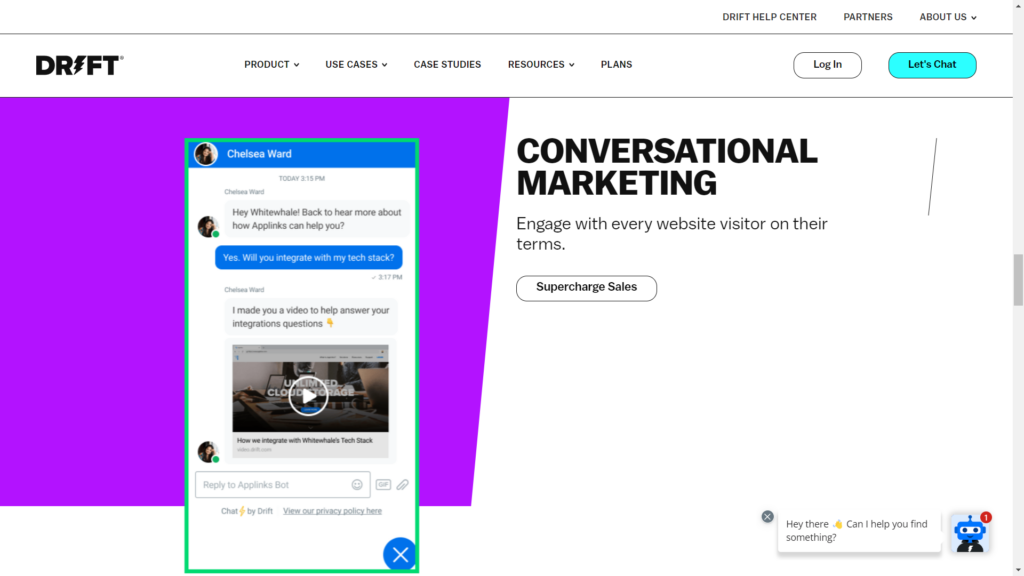 AI feature come with the chatbot to enhance the experience and increase customer engagement. It has integration platforms like Drift, SalesForce, Hubspot, and Google Analytics.
Its basic features are free.
Bonus
Tawk. to
Tawk. to is a free live chat software that works on websites with a small snippet of javascript.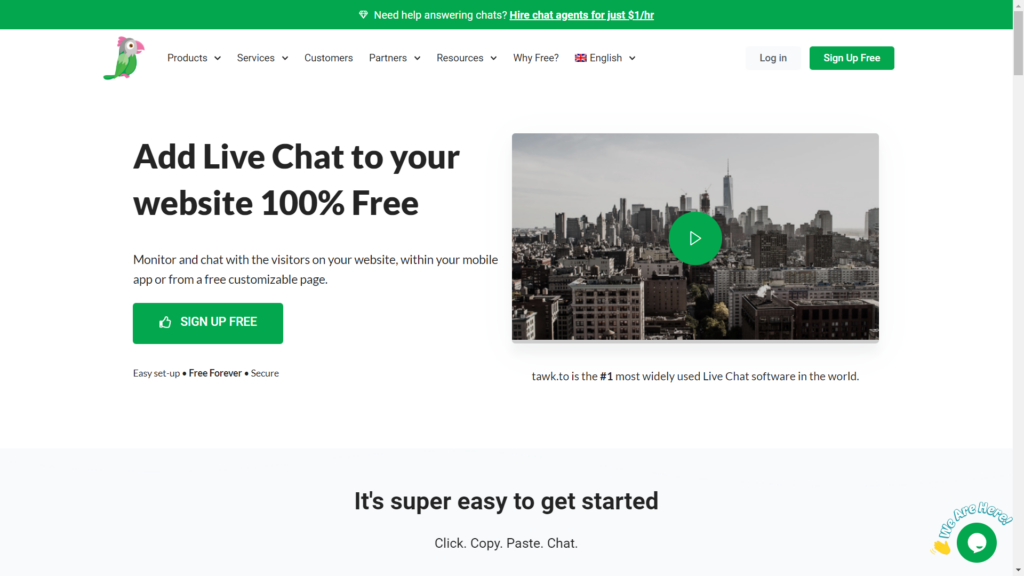 With Tawk.to, businesses can watch customer activity in real-time or live-track which team member deals with which visitor. Localized or canned messages feature helps users take a customer-centric approach. On the other hand, for some businesses, integrating Tawk.to into their website can be difficult.
Hubspot Free Livechat
It is part of HubSpot's CRM.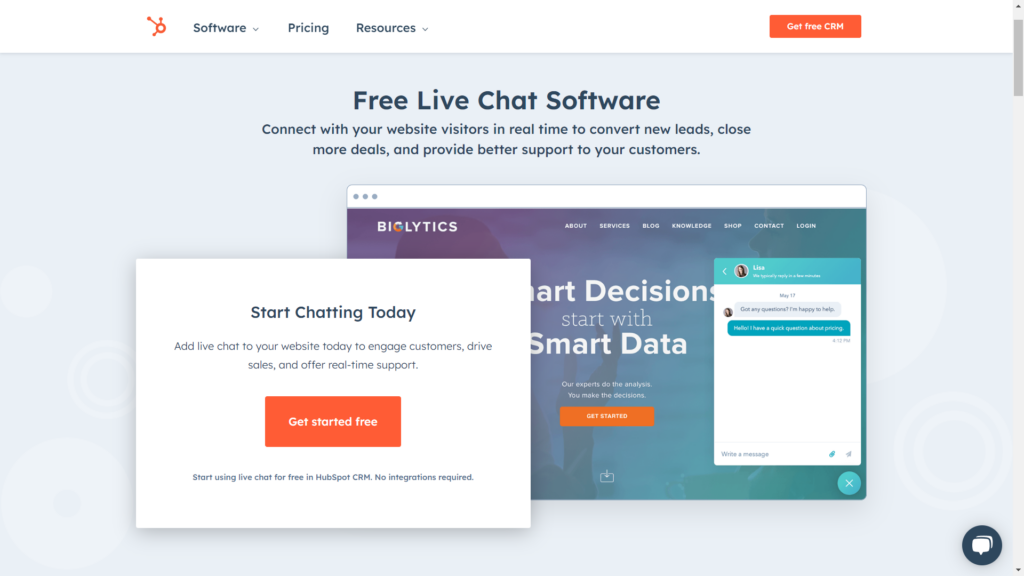 Businesses that do not use Hubspot CRM can sign up for free and upload customized live chat widgets to their websites. Simple chatbots can be used with free live chat.
Free live chat has limited customization options and chat tools.
Towards The End
There are dozens of live chat software that businesses can use on their websites. Before choosing between this software, it is significant to determine needs correctly.
There are features that you should look at first in the live chat software you will choose. We can list them as cost, features that make work more accessible, and integration options. Once you prioritize these features, it will be much easier for you to choose.
If you still have not decided on the most suitable live chat software for your business; Try Qpien Live chat for free, which is easy to use and omnichannel to suit your needs!