How does e-commerce live chat affect your sales in your online store?
Imagine this; When a customer asks for help while in the store, there is no one around and phone and e-mail addresses are on the walls.
Do customers go through this much trouble to contact your representatives? It's similar to not having LiveChat on your e-commerce site. Most customers don't wait for an email response or a phone about their problem. Instead, they leave the site and turn to other alternatives.
This article will cover everything you need to know about e-commerce live chat tools. Then, we will review the 10 best e-commerce live chat software on the market with features and price comparisons to decide which live chat application to use on your e-commerce site.
Let's start.
What is E-commerce Live Chat?
E-commerce live chat is a small window that allows businesses to communicate with visitors in their online store. Businesses can instantly communicate with their potential customers from this window.
In addition, live chat software has advanced features such as sending automatic messages to visitors or instant visitor tracking. When all these features are used effectively, e-commerce live chat software will affect your sales and conversion rates faster than you expect.
Let's give a few examples for you to understand e-commerce live chat.
Dilvin uses live chat on its website to catch visitors before they leave the site and convert them into loyal customers. It is a great way for Dilvin to reduce website bounce rates and increase conversion rates.
Lescon preferred to provide multi-channel communication to its visitors by connecting the live support tool used on its website to other communication channels. This way, Lescon visitors can contact the brand through any channel they wish. It is a professional way to improve customer relationships.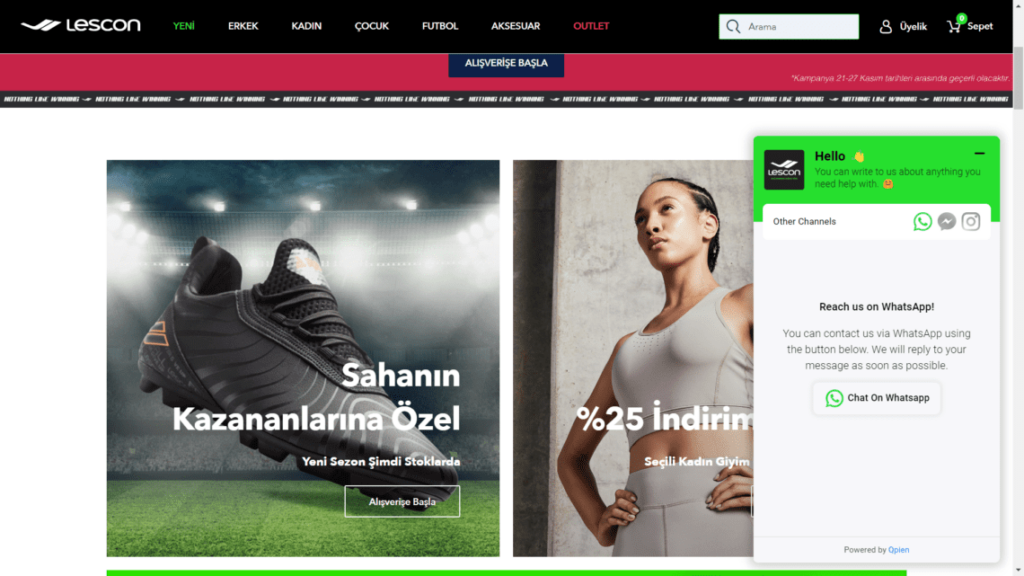 Now let's look at the best e-commerce live chat tools that you can use on your online store.
Top 10 E-commerce Live Chat
Qpien
Qpien is a new-generation customer communication platform. It offers omnichannel solutions in customer communication.
Its live chat feature offers businesses solutions. For example, they can use it on their websites. Qpien eases the burden of support teams by automating the communication processes on the live support website.
With advanced features like a customizable chat box, multilingual support, canned response, and automatic message, Qpien makes customer communication easy and fun on e-commerce sites. In addition, businesses can gather all communication channels in a single center by connecting other communication channels with the Qpien live chat.
Qpien can be easily installed on the website without coding knowledge and simplifies customer communication with its user-friendly interface. It also integrates easily with e-commerce software such as Shopify, and Bigcommerce, In addition, being able to integrate with leading marketplaces helps businesses create an integrated customer experience with e-commerce sites and marketplaces.
With Qpien, an all-in-one customer communication platform, you can manage customer communication simply and professionally on your e-commerce site. Let your support teams pay more attention to contact issues while automating processes with Qpien. Start a new era in e-commerce customer communication with Qpien.
Pricing:
The start plan is $19 per agent per month.
LiveChat
LiveChat is one of the popular live chat solutions for e-commerce businesses.
The platform provides businesses with live chat features such as branding and personalization, with customization options. In addition, advanced sorting and labeling features help solve complex processes.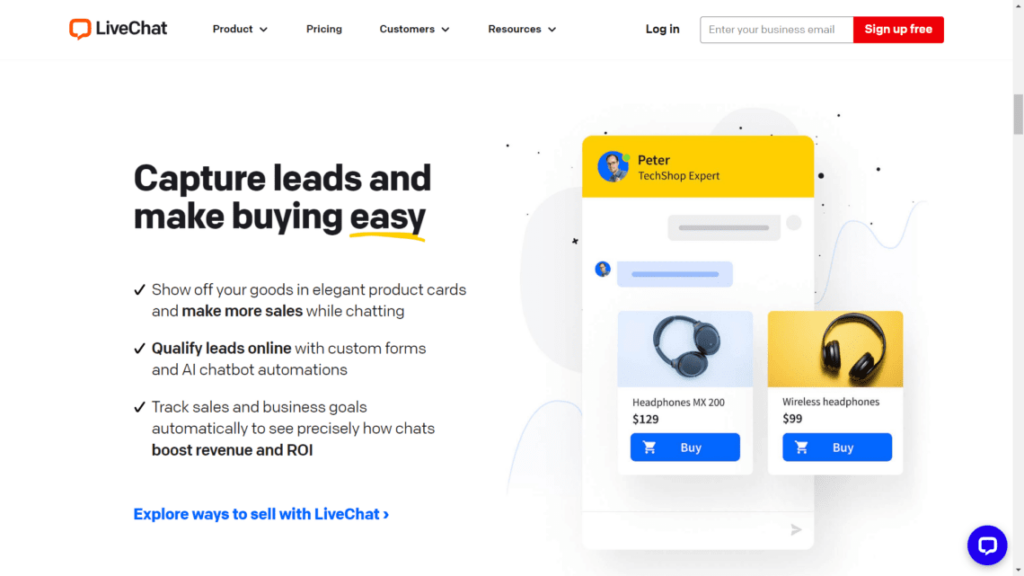 LiveChat allows businesses to promote products with live chat, and collect data while measuring customer satisfaction with pre-chat surveys. The platform is a powerful solution for medium and large-sized e-commerce companies with features such as automatic replies and a ticket system.
Pricing:
Its basic plan is $16 per agent per month.
Tidio
Tidio's free basic plan is one of its most popular features.
The platform, with its free basic plan, is a good option for businesses that are new to e-commerce and want to offer live support on their website.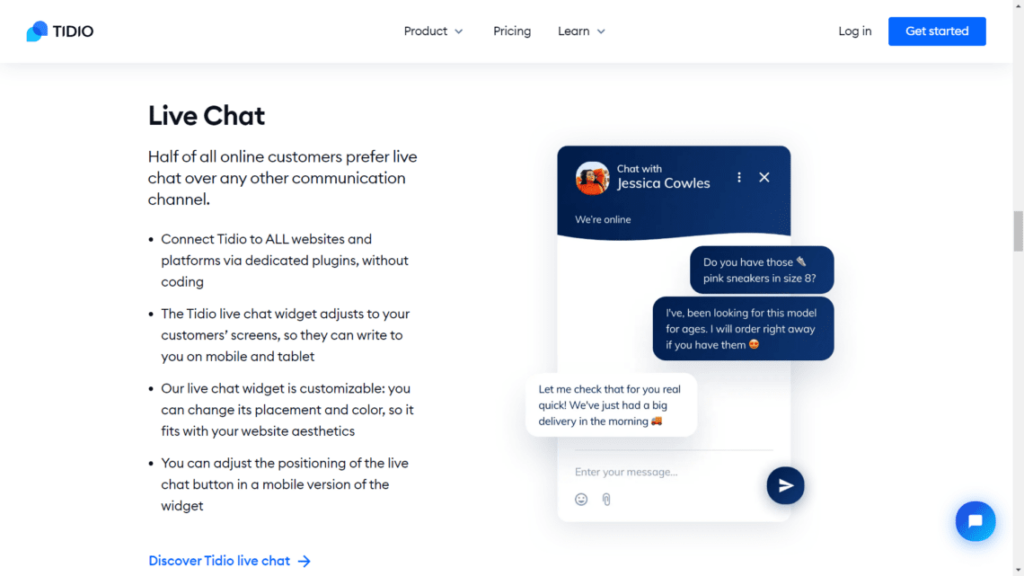 Tidio is a live chat tool with a user-friendly interface. It has shared inbox and advanced reporting features to shorten the response times of businesses and increase customer satisfaction.
Pricing:
Free live chat plan available.
Premium and live chat plans start at $15 per agent per month.
Chatbot plans start at $39 per month.
Intercom
Intercom is an ideal customer support tool for large businesses and SaaS companies dealing with e-commerce.
The platform has advanced features to meet all the business needs of a business. It has advanced segmentation features to help increase sales and turn potential customers into loyal customers.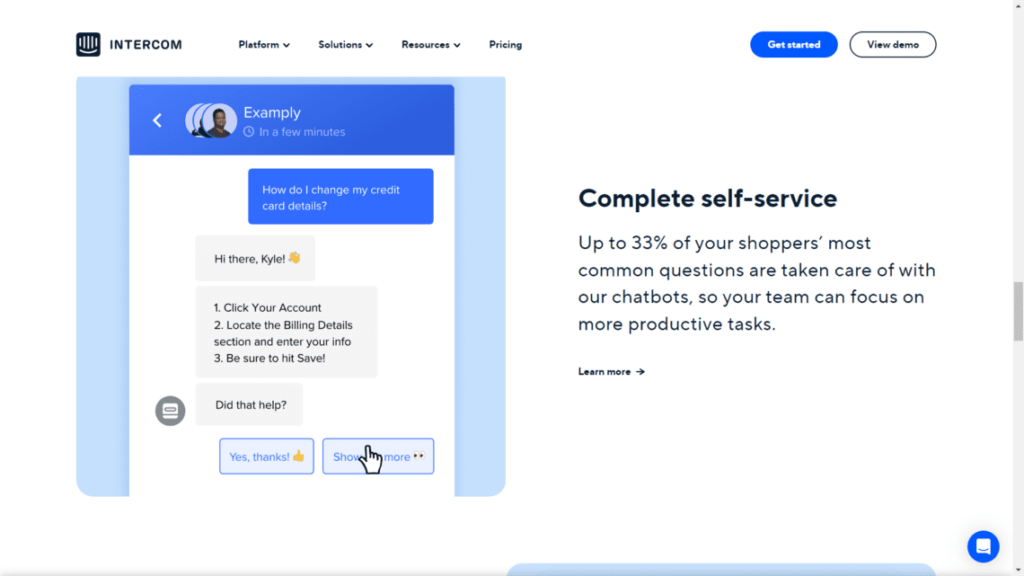 The Intercom gathers the conversations of all channels in one center. It also automates processes through automated chat messages. You can easily direct visitors to the self-service center with advanced chatbot and trigger features. Finally, Intercom integrates more than 300 tools and platforms.
Pricing:
The basic package starts at $74 per agent per month.
Gorgias
Gorgias is a popular customer support platform dedicated to e-commerce businesses.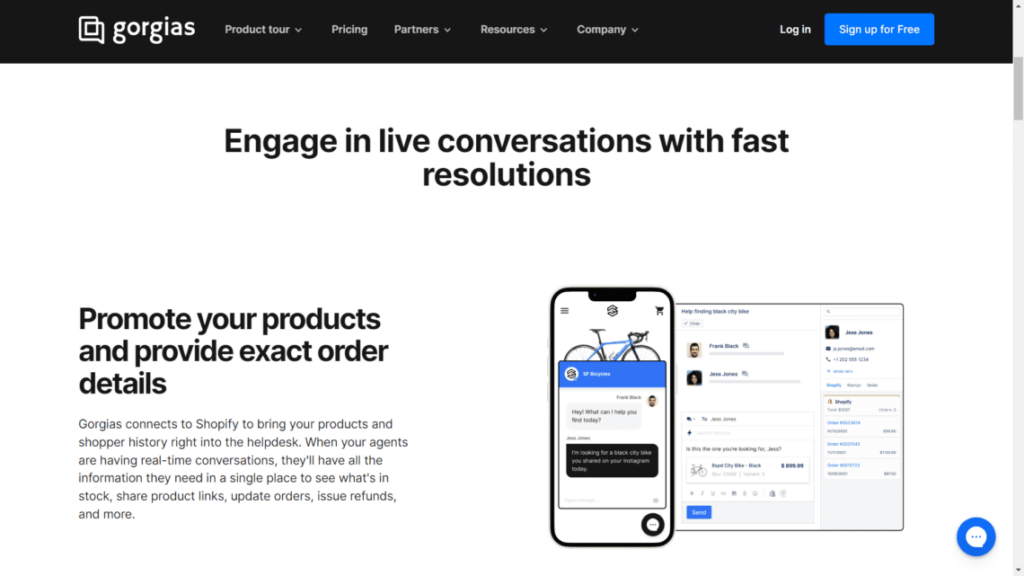 The platform offers many features developed to make customer interactions efficient on businesses' e-commerce sites.
In addition to the features of Gorgias specially designed for e-commerce, its seamless integration with popular infrastructures such as Shopify, Magento, and Bigcommerce is among its popular features.
Social media sentiment analysis stands out with advanced analytics and marketing tools. With its features like creating automatic answers to frequently asked questions, some of the customer requests are automatically resolved.
Pricing:
Its basic plan starts at $60 per agent per month.
Tawk. to
Tawk.to is an excellent live chat solution for startups and small businesses.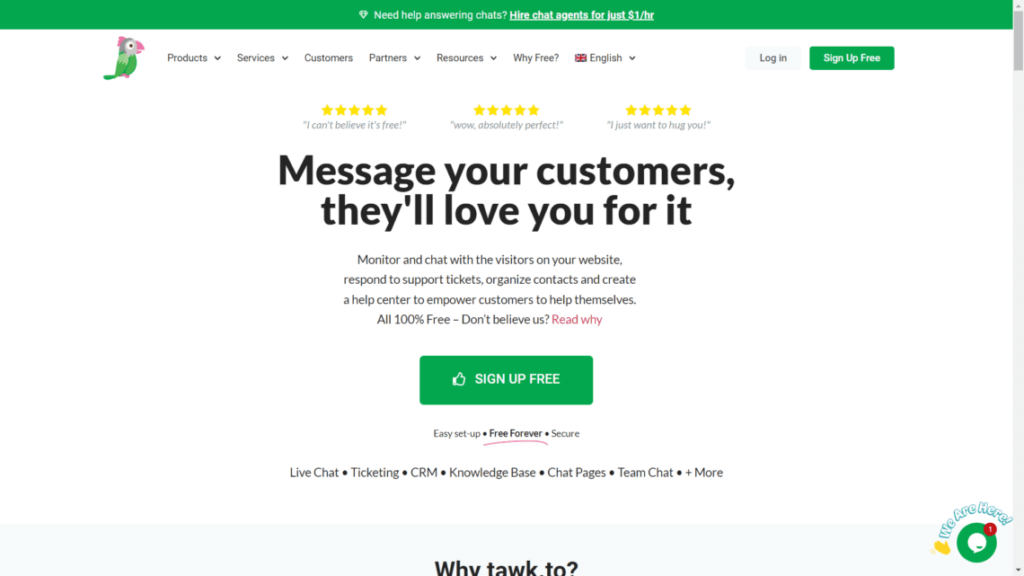 Completely free to use, Tawk.to provide businesses with personalized and instant customer support. Its multilingual and fully customizable structure is ideal for fast customer support.
However, it focuses only on live chat customer support. Businesses cannot use advanced features such as artificial intelligence, and chatbots in Tawk.to. It does not have as comprehensive a solutions as its competitors. They can perform real-time tracking of website visitors to businesses. You can also track how often visitors come to the site.
Tawk. to is an e-commerce live support system that offers its basic features free of charge and stands out with its easy use.
Pricing:
Olark
Olark is a user-friendly live chat tool with extensive features.
It is ideal for businesses that want to maximize customer satisfaction on their websites. In addition, businesses can analyze customer satisfaction scores and agent activity with Olark.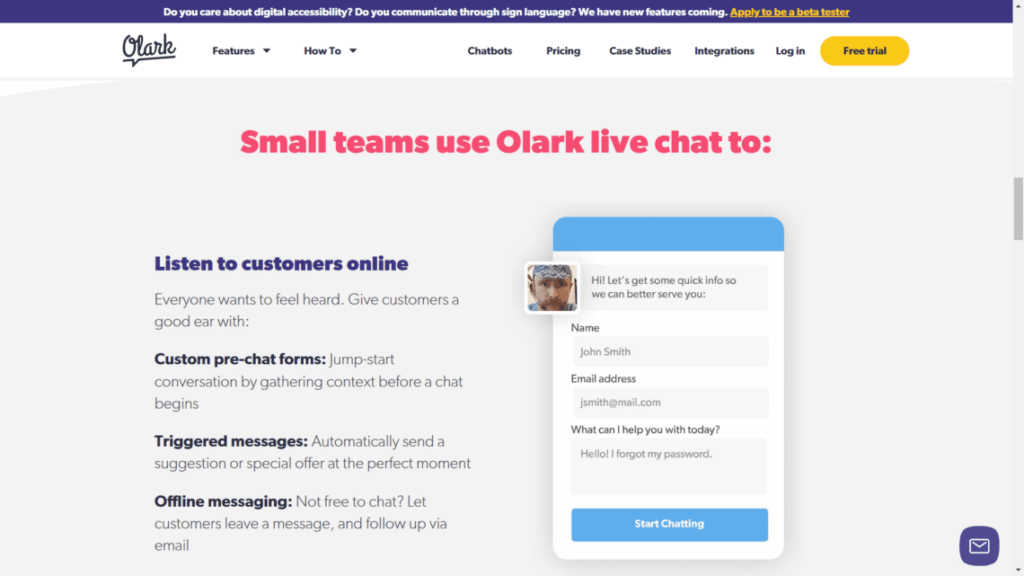 The live chat tools include basic features. Automated messages can be used, including welcome and promotional messages. In addition, the Offline messaging feature allows businesses to stay in touch with their visitors at all times. It has integration with many apps such as Zapier and Mailchimp. They can analyze recurring problems thanks to feedback.
Pricing:
Its basic plan is $29 per agent per month.
Help Crunch
Help Crunch is a live chat tool that stands out with its customizable features.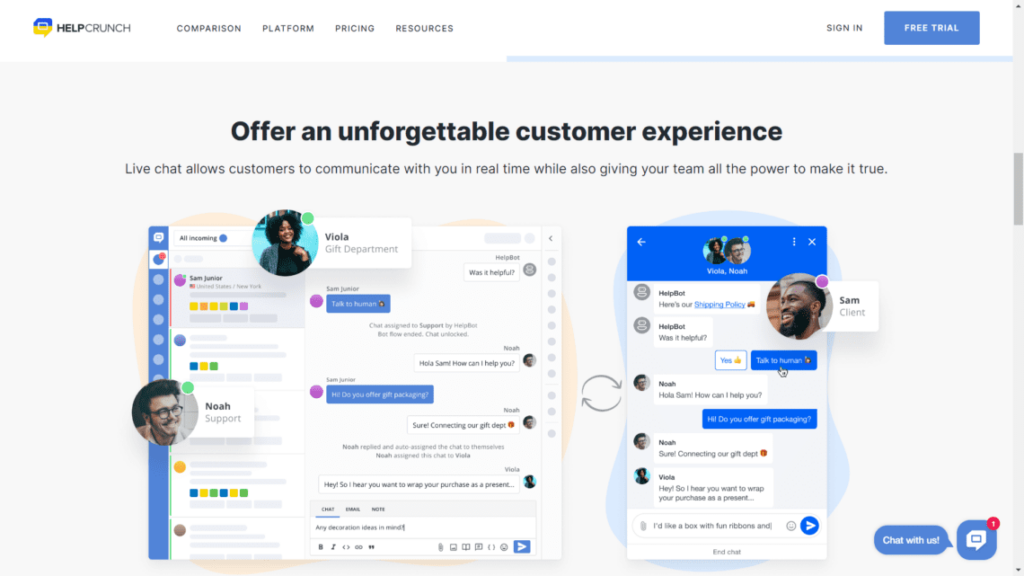 The Livechat tool can be used both on the e-commerce site and on the Facebook page. Also, it has more than 20 customization options. The platform includes customer support, sales, and marketing solutions. In addition, to live chat, it has features such as a chatbot and email automation.
Help Crunch supports tools like Shopify and WordPress. In this way, businesses can easily offer live support services on their websites.
Pricing:
Its basic plan is $15 per agent per month.
LiveAgent
LiveAgent is an open-source and multi-channel help desk.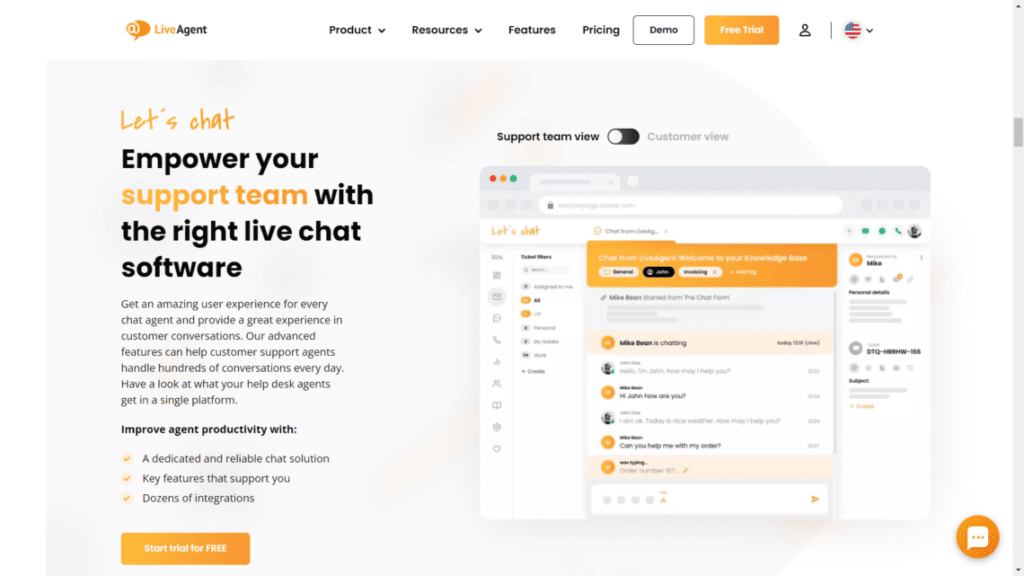 Its use in e-commerce sites provides convenience in terms of demand management and ranking of businesses. It makes the job of support teams easier.
Featuring multi-channel communication features, including social media and contact forms, LiveAgent is designed to facilitate support teams.
Pricing:
The Livechat package starts at $29 per agent per month.
Use Live chat in Your Online Store with Qpien
With Qpien, we offer the most advanced and comprehensive features for your e-commerce site. In addition to the live chat, you can also have features such as omnichannel communication, automation, and real-time communication. Send automatic messages to your visitors, follow their movements on your website instantly and offer a personalized customer experience.
For enhanced live chat and much try Qpien for free!