If you are looking for LiveChat alternatives, this may indicate that you need software that focuses on your needs or is easier to use.
There are some requirements to consider before deciding on a tool for your business. Your budget, goals, and needs. Once you have decided on these, you can explore the options and decide on the right tool for your business. After narrowing down the options, you can make a final decision.
If you are looking for an alternative to LiveChat with powerful features, you are at the right place. We examined the most popular software that can be an alternative to Livechat with all its features. Let's start.
If you want to explore other customer service tools and live chat platforms, you can check out these articles;
What is LiveChat?
LiveChat is one of the most powerful help desks and live chat solutions. Its best features include analytical reporting, conversation management, and automatic routing. It has most of the features that the vehicles on the list have.
Despite being a powerful tool, in the end, it's all about whether you get what you pay. With the LiveChat alternatives in this list, it is possible to create more efficient processes with lower budgets.
12 Best LiveChat Alternatives
Qpien
Qpien is an omnichannel customer service platform.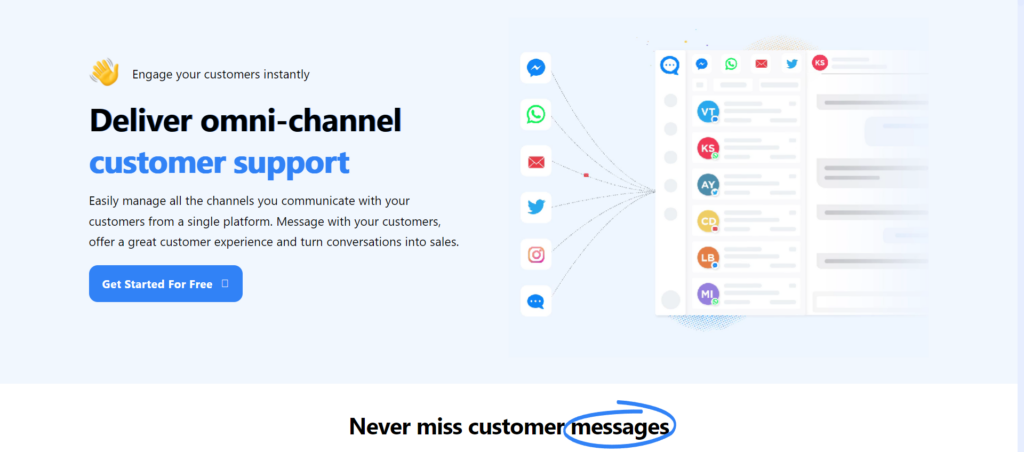 It allows businesses to manage their customer support processes from a single channel. It also has powerful features in sales and marketing campaigns in addition to customer support processes.
Qpien is a great LiveChat alternative. The main reason for this is that it has a live chat tool that is easy to use and has powerful features. Businesses can start providing customer service from their website within minutes with Qpien live chat.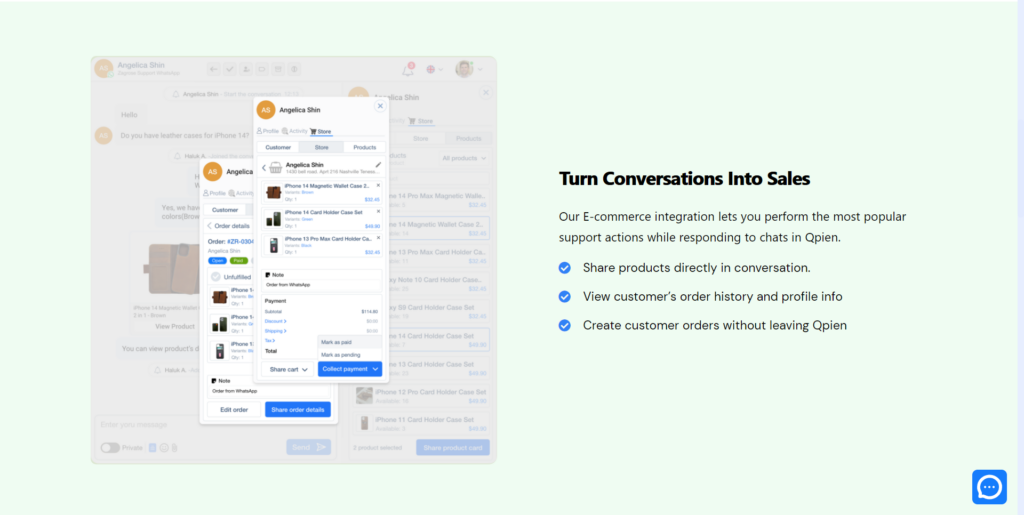 With features such as canned response, automatic response, and e-commerce management, the live support tool has all the features a business may need to create an effective customer service strategy. Qpien live support allows you to support your customers the first time they need them. You can instantly resolve customer problems and demands or easily share your product catalogs with your customers. The instant visitor tracking feature that comes with the live support chat helps businesses to understand customers.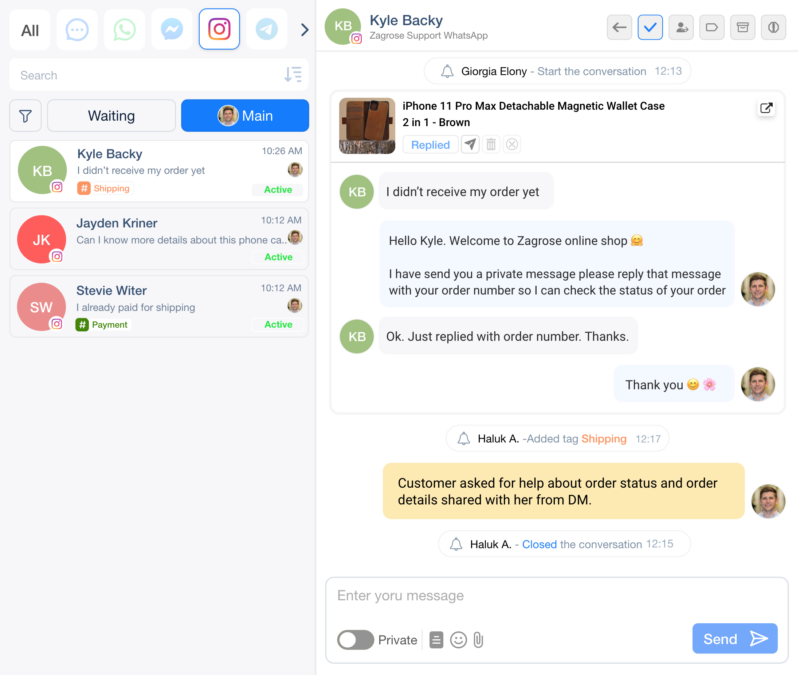 The easy-to-use and customizability of the Qpien live chat tool help businesses start offering live support without wasting time. In addition, if you wish, you can connect all your customer communication channels to your Qpien live chat widget so that your visitors can contact you through any channel they want. Qpien's smart inbox allows you to easily follow and reply to all these messages from a single screen. This way, you can make rapid and solution-oriented progress without wasting time switching between channels.
Besides the Qpien live chat, it has many additional features such as marketplace questions, and social media customer support. Qpien, which is also an official WhatsApp partner, provides businesses with official API solutions, offering advanced features such as sending bulk messages, creating customer lists, and message scheduling.
Best Features of Qpien
Omnichannel communication
Collecting Customer Feedback
Real-time customer communication
Advanced team communication
Detailed analysis and reports
Marketplace Questions
Smart Inbox
E-commerce Management
Price;
Qpien has a 14-day free trial. The starter package starts at $19 per user per month.
LiveAgent
LiveAgent is one of the most popular LiveChat alternatives on the market.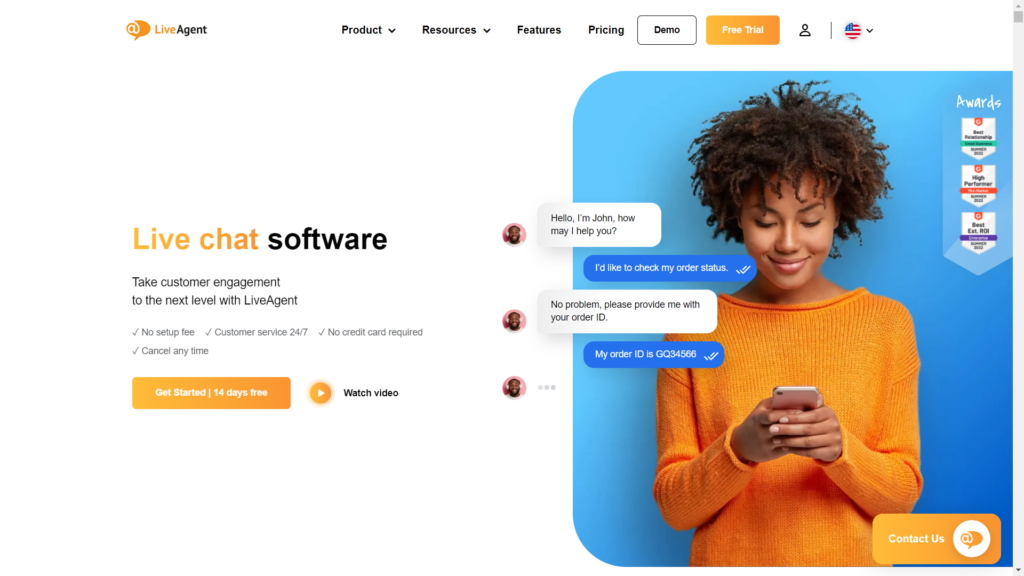 The platform has a multi-channel and complex help desk developed to improve customer service. With LiveAgent, businesses can increase customer participation through social media and resolve customer demands.
Ideal for businesses that want fast and live connections with their customers. While increasing customer interaction with LiveChat, you can follow your visitors and increase conversion and retention rates. With features such as smart chat routing and advanced chat analytics, you can offer advanced solutions to your customers with effective methods at the right time.
Best Features of LiveAgent
Live chat management
Ready messages
Spam Filter
Price;
In addition to a 14-day free trial, LiveAgent has a free single-user version. Demand management is $15 per user per month. All-inclusive packages are $49 per user per month.
Crisp
Originally launched as a live chat solution, Crisp has become an omnichannel platform.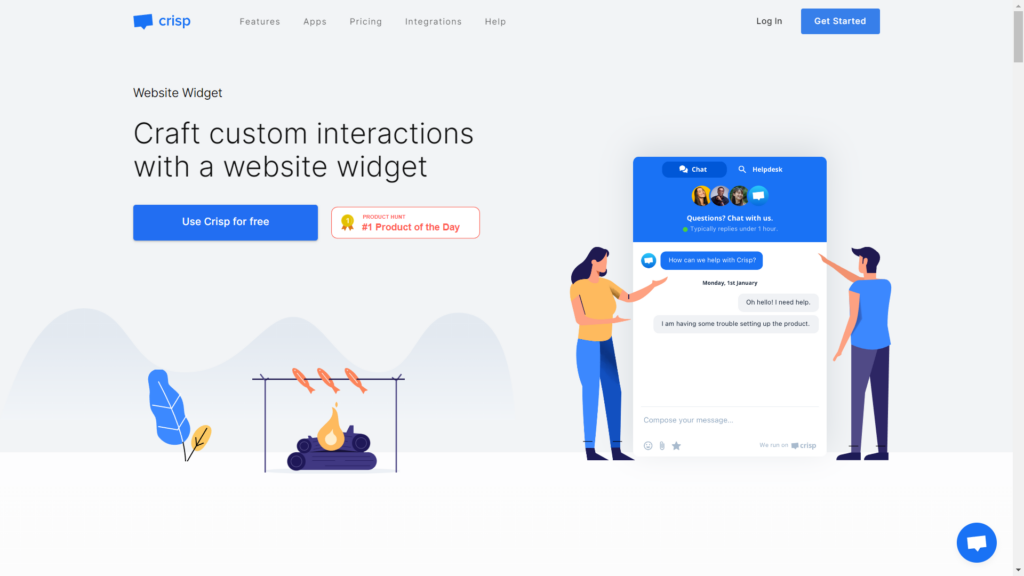 The platform stands out with its advanced features and easy use. It provides significant convenience to businesses in maximizing customer interaction with features such as video calls and targeted messages. Crisp, which is used as a live chat solution, has powerful features to maintain customer communication on social media channels such as Facebook and Instagram.
With the help of a chatbot, you can make support processes easier. In addition, it is possible to manage customer communication with richer content using GIFT and videos. The platform, which enables businesses to actively guide customer problems and demands, also has a multi-integration feature.
Crisp Highlights
Proactive Messaging
Video call
Social media
Price;
Crisp has a free plan in addition to a 14-day free trial. The Pro package with integration and advanced features is $25 per month.
Intercom
Intercom is one of the most powerful customer services and live chat solutions.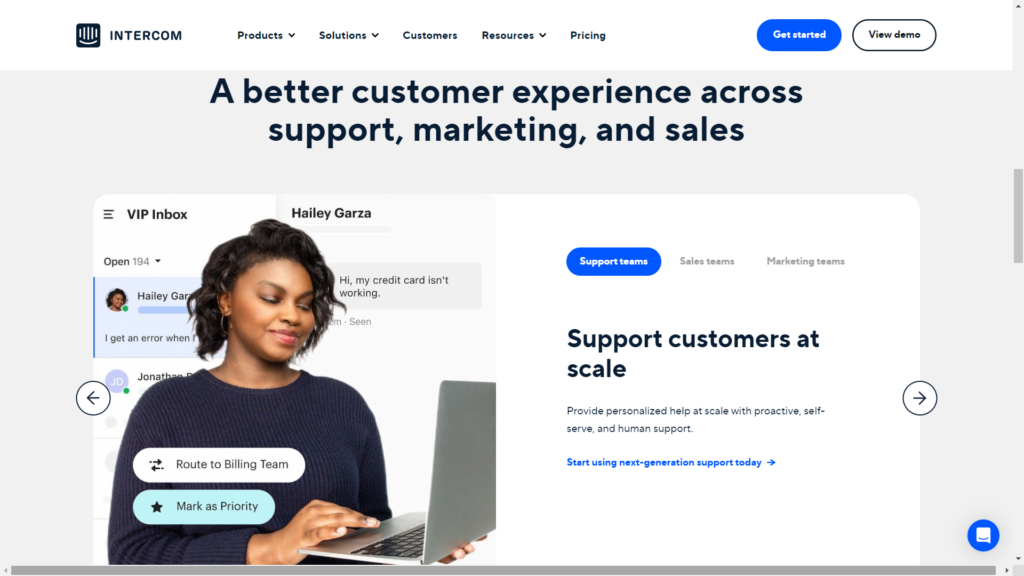 The platform has advanced all-in-one solutions that stand out with its sales and marketing features. It offers advanced solutions to businesses with features such as live support solutions that can be used on websites, 24/7 chat, live support, and proactive messaging. However, we should mention from the beginning that if you are looking for a low-priced LiveChat alternative, Intercom may disappoint you.
Apart from the standard chat features, Instagram also integrates with social media platforms such as Facebook, and Twitter and messaging platforms such as WhatsApp. You can also manage your company's e-mail communication and professionally manage your customer requests by prioritizing customer requests throughout the resolution process. In addition, the platform offers professional solutions in all processes with dozens of powerful features like a chatbot and knowledge base.
Best Features of Intercom
Customizable Chatbot
Advanced Customer Request System
Shared Inbox
Price;
Intercom has a 14-day free trial. The starter package for small businesses is $67 per user per month.
Userlike
Userlike is one of the best LiveChat alternatives. It is ideal for businesses that want to improve the customer experience.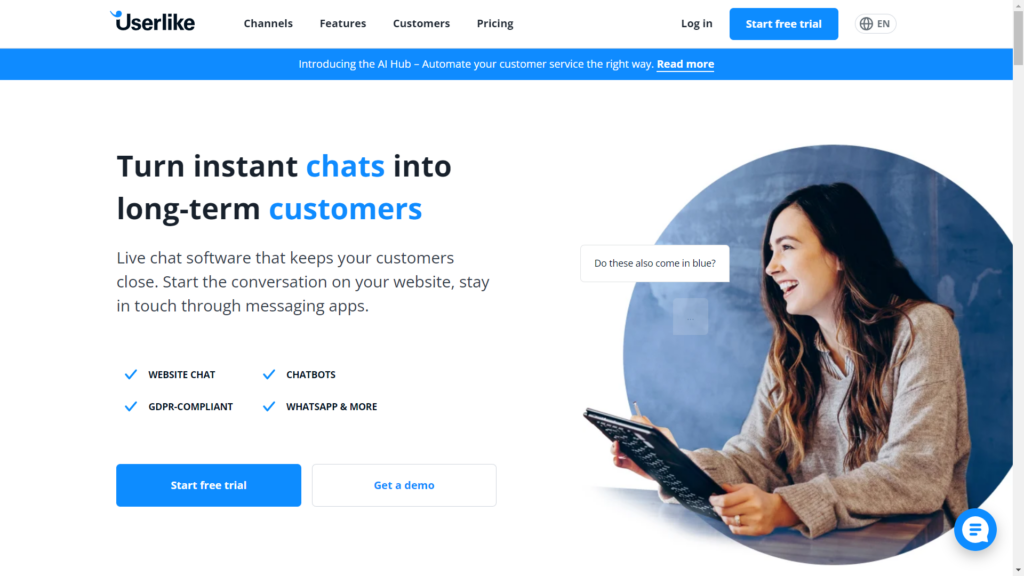 The platform has all the features businesses need to create a better customer experience. With Userlike, you can make necessary referrals without the need for customers to repeat themselves, speed up the processes and maximize customer satisfaction.
You can create an uninterrupted personalized customer experience process with many features such as creating customer profiles, preparing insights suitable for profiles, and agent performance tracking. In addition, the video call feature helps support processes to progress in a rich and solution-oriented manner.
Best Features of Userlike
Redirect to context-appropriate delegate
Surveys before and after support
Shared Inbox
Price;
Userlike has a free plan with basic features. Paid packages start at $90 per month.
Tawk.to
Tawk.to is an ideal solution for businesses that want to use a free live chat tool.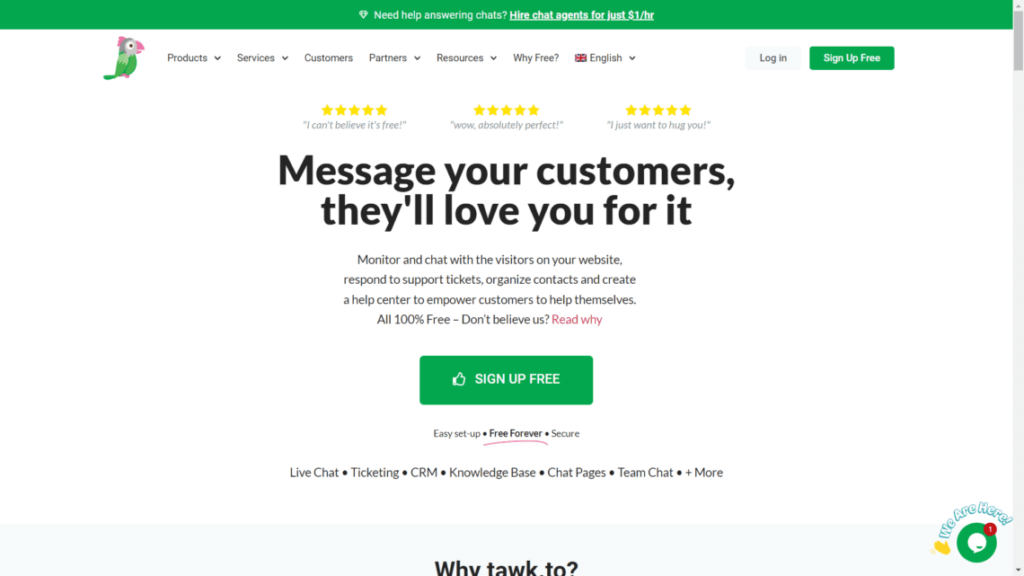 The platform provides businesses with the features that a live support tool should have free of charge. It also offers a knowledge base tool.
Tawk.to offers paid add-ons in addition to the standard chat tool features. Businesses can purchase these add-ons according to their needs. Businesses can start live support services on their website quickly and easily with Tawk.to. The platform, which provides multilingual support to businesses, is also suitable for mobile use.
It is ideal for businesses that want to create a real-time and fast customer communication process.
Best Features of Tawk.to
Free live chat tool
Free knowledge base
Easy Operation
Price;
Tawk.to has a free live support tool. Businesses can purchase add-ons in addition to their needs.
Zendesk
Zendesk is considered one of the strong customer support tools.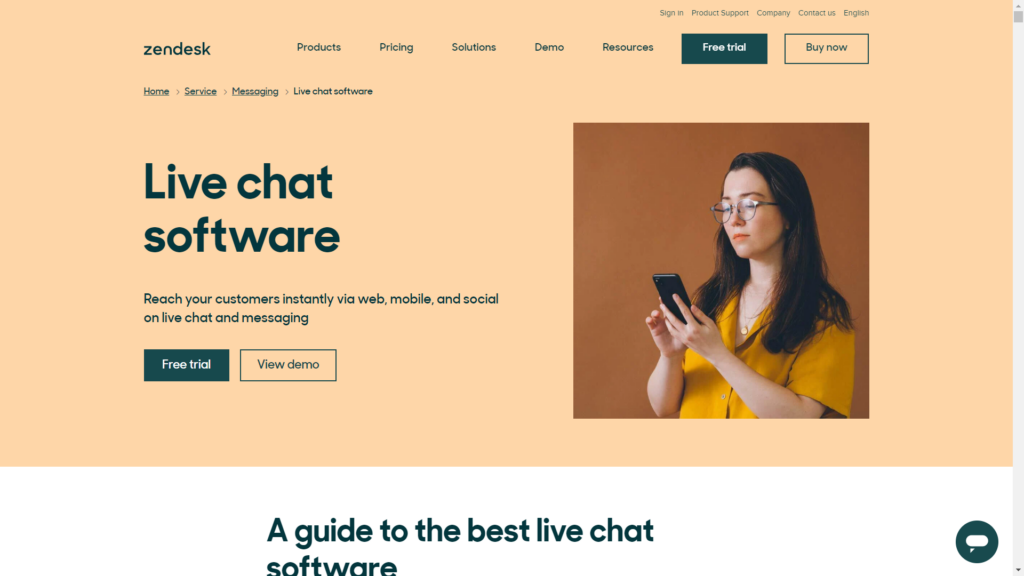 The platform offers businesses robust solutions in areas such as multi-channel communication and marketing, in addition to a live chat tool.
It enables customer communication in channels such as SMS, e-mail, and social media instant messaging. It also has an advanced knowledge base tool used to develop self-service solutions. Before starting a conversation, customers can use the knowledge base or contact forms to voice their problems and requests.
With Zendesk, your teams can create canned answers to frequently asked questions, tag chats for better organization, or create user views. In addition, the platform integrates with CRM, e-commerce management, or project management platforms, making it easy to automate workflows.
Best Featrues of Zendesk
Powerful Integration
Advanced Analysis Reports
Team Communication Tools
Price;
A free trial version is available. Zendeks Suite fees start from $49 per user per month.
Tidio
Tidio is a powerful LiveChat alternative for businesses interested in e-commerce.
It offers many features provided by the other tools on this list. Customizable chat box, multilingual support, canned response tags, and more.
Chatbot helps businesses automate processes in many areas. At the same time, the platform's Shopify integration brings solutions for e-commerce businesses. With Tidio, support teams can easily manage their purchasing and customer support processes without leaving the chat window.
Best Features of Tidio
Customizable Live Chat Widget
Free Plan
Omnichannel Communication
Price;
A free trial version is available. Paid plans start at $15.83 per month.
HappyFox
HappyFox is a powerful tool you can use to solve customer problems and increase sales.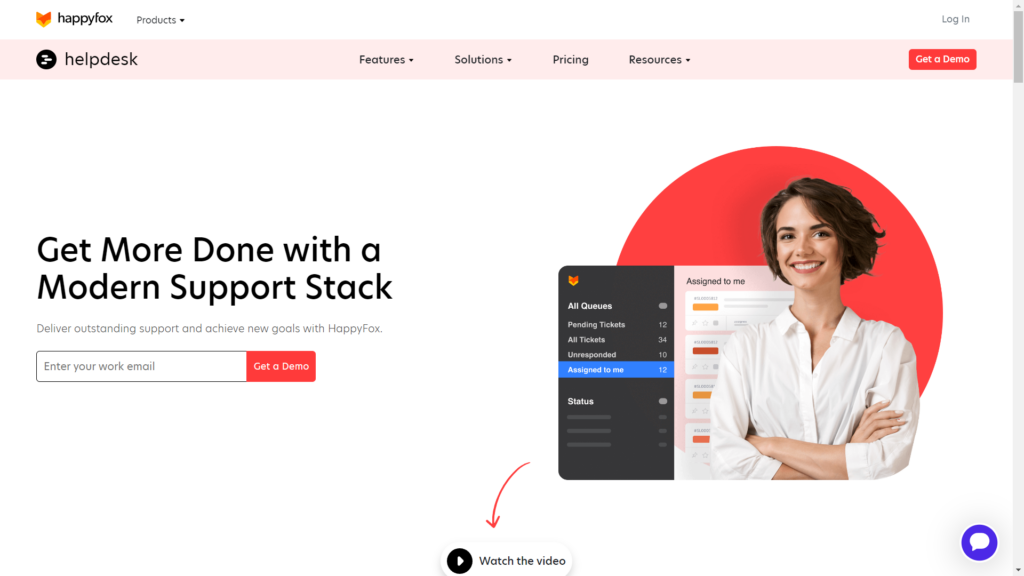 The platform is a comprehensive live support solution that makes it easy for you to connect with customers. With HappyFox, you can reach your potential customers faster and increase your purchasing rates.
It provides essential features to businesses. Thanks to its customizable chat widget, visitor tracking, and personalization features. In addition, your support teams can review the requests assigned to them at once with HappyFox and quickly respond to priority requests.
Best Features of HappyFox
Task Management
Ticketing System
Workflow Automation
Price;
HappyFox has a 14-day free trial. Plans based on the number of users start at $29 per user per month. For their unlimited agent plan, the Starter plan is $1499 per month.
JivoChat
JivoChat is one of the cost-effective and user-friendly LiveChat alternatives.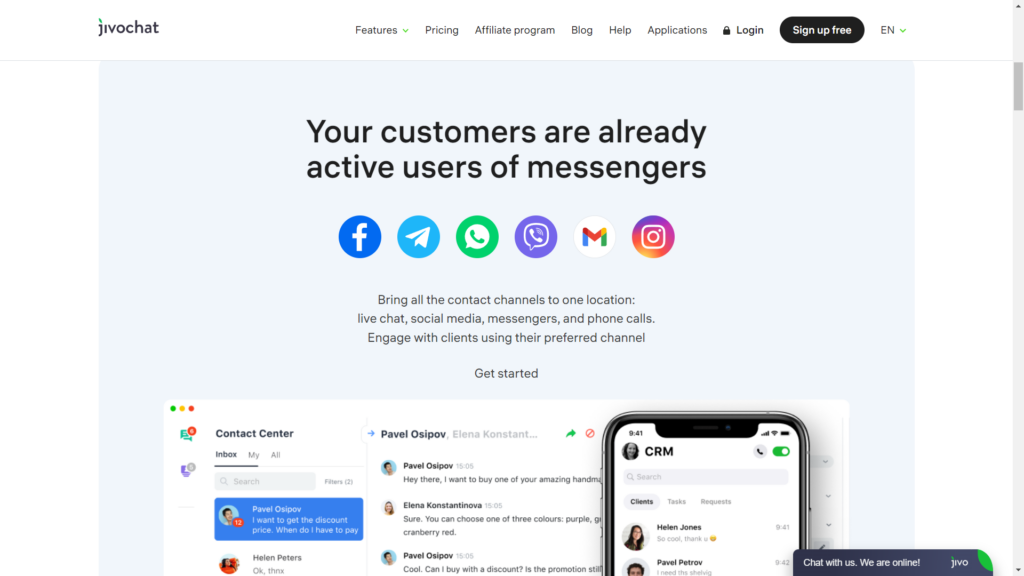 The platform is a powerful live support solution for businesses that want to communicate with their customers in real-time. With Jivochat, you can shorten customer communication response times and minimize customer waiting times.
Customizable and portable chat widgets can be set up for each business. The platform can be used for any operating system and supports 20+ languages. You create an effective customer experience process with its proactive chat feature.
Best Features of JivoChat
Multilingual support
Mobile Access
Powerful Integrations
Pricing;
The enterprise plan is $38 per user per month.
Haven't Decided Yet?
Working with the right tools in business processes will not only accelerate the processes but also help you create a more efficient working environment. Therefore, when deciding, you need to choose the platform that best suits your needs and pocket.
You can get the chance to get to know the tool you will use by taking advantage of the free trial versions, and you can measure how much it meets your needs. It will be a clue for you to make the final decision.
If you are looking for LiveChat alternatives but don't know where to start. Try the affordable and user-friendly Qpien for free.