Zendesk is a customer service platform that has been in the market for over 10 years. The platform offers businesses a wide range of features. These features are strong enough to meet the needs of a business. However, at some point, they are looking for Zendesk alternatives.
Zendesk, one of the leading companies in the market, has many features such as CRM, messaging, marketing, and a ticket system. In addition, it also allows businesses to provide customer support through different channels. In addition, the platform's comprehensive and detailed reports give users a lot of insight into their performance.
Despite all these advanced features, Zendesk's high cost and difficulty in use sometimes cause businesses to look for Zendesk alternatives.
In this article, we evaluated the top 10 Zendeks alternatives for businesses in terms of price and performance. This way, you can decide on the best platform for your business without further research.
What is Zendesk?
Let's get to know Zendesk, a great customer service solution.
The platform offers solutions in many areas like e-commerce, customer relations, CRM, and e-mail marketing. Advanced support tools allow businesses to automate processes and increase customer satisfaction.
Live chat, ticket system, knowledge base, and call center help businesses provide a wide range of customer service. So why do they look for an alternative platform when Zendesk offers such powerful features to businesses?
Why Should You Use a Zendesk Alternatives?
It's hard to find a customer support tool that appeals to every business equally. It also applies to Zendesk. The following reasons are among the reasons why businesses turn to alternative platforms.
Separately managed communication channels
Managing chat requests from different centers
It is costly to use its full power
There are available on more affordable platforms that small businesses can use. These platforms have been developed to provide maximum efficiency with lower budgets. Let's take a closer look at some of them.
Top 10 Zendesk Alternatives
Qpien
Qpien is a new-generation customer communication platform.
Its omnichannel features allow businesses to manage communication channels. Thanks to Qpien, agents can easily monitor all customer communications on a single screen and provide fast feedback. In this way, customer interaction is controlled more efficiently.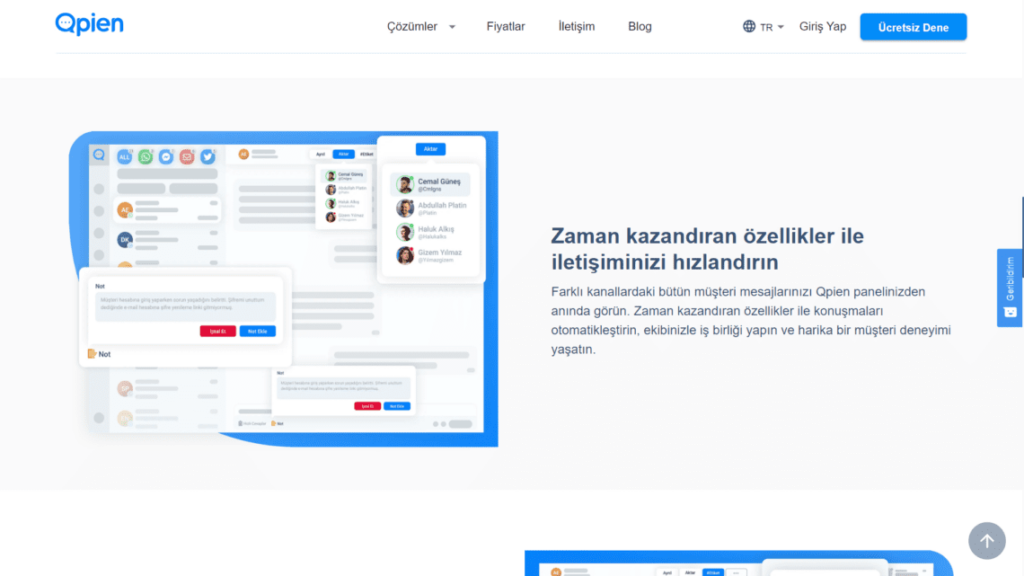 Qpien, a complete new-generation customer communication platform, has various marketplace integrations in addition to communication channels such as Facebook, Instagram, and WhatsApp. Thanks to these integrations, businesses can professionally manage customer comments in addition to customer chats and increase conversion rates.
Qpien's LiveChat offers businesses solutions for e-commerce sites. The customizable live chat tool also stands out with features such as auto-reply and canned replies. The platform, which stands out with its easy use, has been developed for businesses to professionally manage instant customer communications.
In addition, Qpien, which can be integrated with powerful e-commerce software such as Shopify, and Woocommerce, works seamlessly with these, helping businesses to provide customer support in e-commerce.
Finally, Qpien is an affordable, powerful and comprehensive Zendesk alternative for businesses, which has many features to improve team collaboration, speed up communication processes and personalize the customer experience.
Pricing
A 14-day free trial is available.
Its basic plan starts at $19 per month.
Intercom 
Intercom is a flexible Zendesk alternative with many features in sales and marketing in addition to advanced customer support.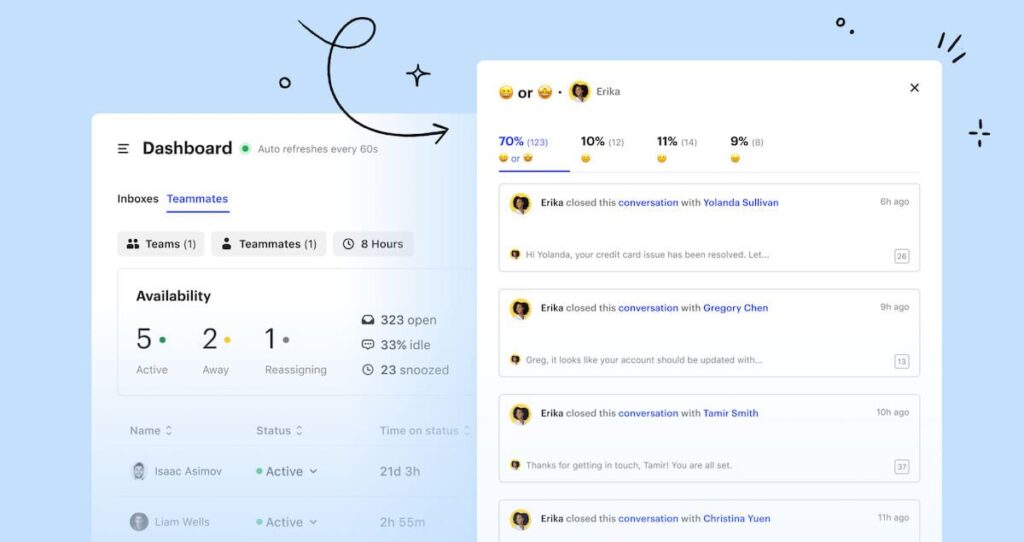 Highlights of the platform include features such as custom bots, advanced email marketing, and sales analytics. There are many platforms with the same features in the market, but Intercom is in a much more advantageous position compared to other platforms. However, taking advantage of these benefits can be very costly for businesses.
If we take a closer look at the features of the Intercom; live chat, shared inbox, and help center is among its most powerful features. It provides great benefits to businesses in processes with solutions such as workflow automation, self-service routine, and automatic response.
Features such as custom tags and smart suggestion help personalize the customer experience.
To summarize, its advanced features have made Intercom one of the most powerful Zendesk alternatives.
Pricing
A 14-day free trial is available.
Its basic plan starts at $74 per month.
11 Powerful Intercom Alternatives in Customer Service
Gorgias
Gorgias is a competitive Zendesk alternative in e-commerce.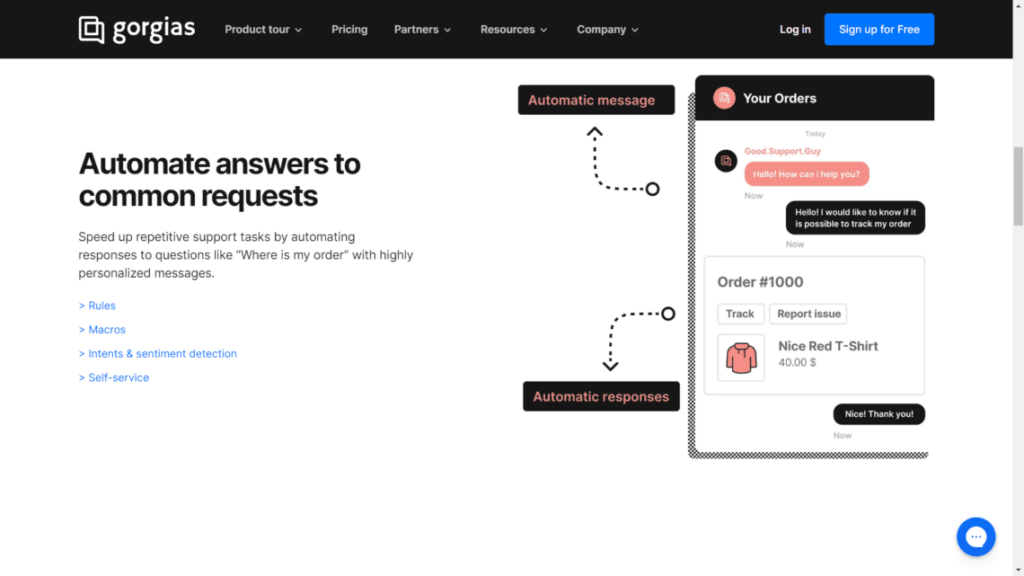 The focus of the platform is to support e-commerce businesses. Therefore, the characteristics of Gorgias were also developed in this direction. For example, the platform integrates perfectly with Bigcommerce, Magento, and Shopify.
It has basic features such as channel communication, loyalty tools, and detailed customer reports for analysis. In addition, the advanced ticket system aims to keep the customer satisfaction of the enterprises at the highest level. In addition, the advanced multi-integration feature is among the ones that strengthen the hands of enterprises.
Gorgias' multi-channel communication feature and advanced e-commerce solutions have made it an important Zendesk alternative.
Pricing
A 7-day free trial is available.
Its basic plan starts at $50 per month.
Front
Front is a Zendesk alternative that uses the traditional ticketing system.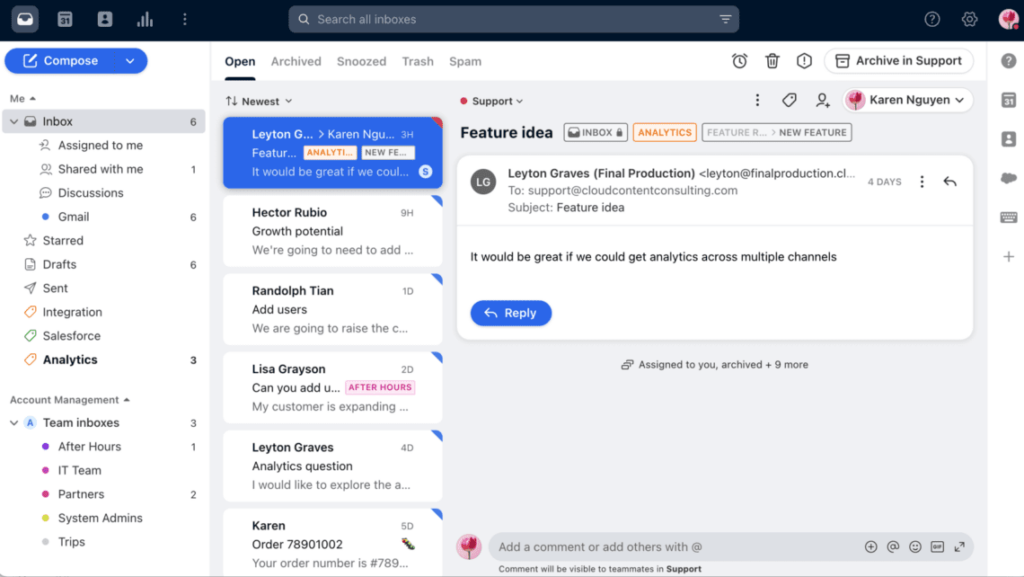 Compared to Zendesk, Front is a more user-friendly alternative. It has a shared inbox as well as basic collaboration and automation features. Front also has features to personalize customer communication via e-mail.
It is considered an important Zendesk alternative thanks to the ability of teams to collaborate seamlessly within the platform, the live chatbot, and CRM integration. Multi-channel communication and customizable analytics reports are among its other highlights.
Pricing
A 7-day free trial is available.
Its basic plan starts at $19 per month.
Freshdesk
Freshdesk is one of the popular brands in the customer service market.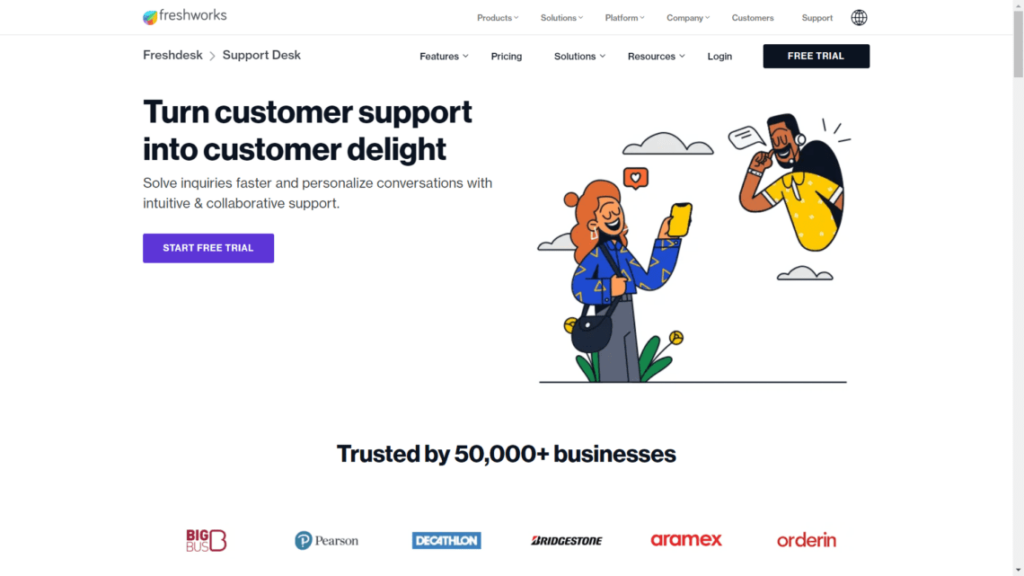 The platform's all-inclusive customer service tool supports almost any channel through which businesses can communicate with customers. In addition, the platform integrates with more than 600 applications in the Freshworks ecosystem.
Artificial intelligence chatbots called Freddy AI to allow processes to be automated. In addition, Freshdesk stands out with the various in-app collaborations that make it easy for support teams to work in an organized manner and resolve tickets.
A more affordable alternative to Zendesk, Freshdesk support combines all the tools for marketing and sales teams.
Pricing
A 21-day free trial is available.
Its basic plan starts at $15 per month.
LiveChat
LiveChat is a Zendeks alternative that aims to improve the overall customer experience.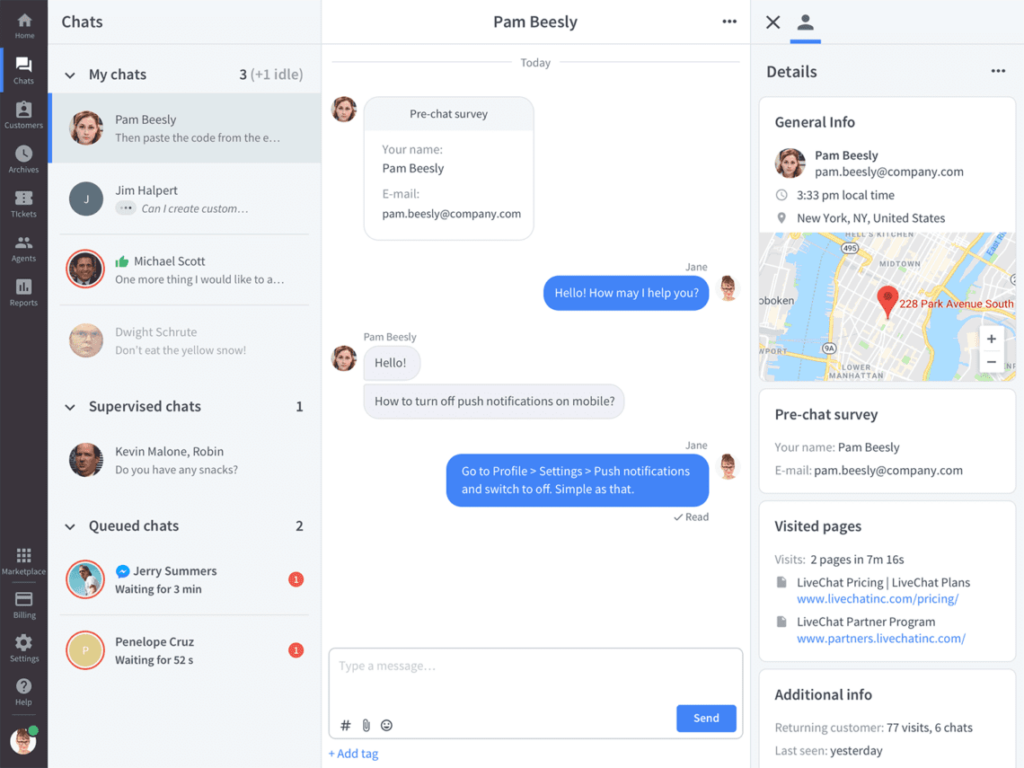 It is a live chat tool that can be integrated into websites. In this way, businesses can offer enhanced customer service to their visitors.
As a Zendesk alternative, LiveChat offers remarkable features for small and medium businesses. Various third-party integrations come to the fore with advanced features such as filtering, email response control, and targeting.
Pricing
A 14-day free trial is available.
Its basic plan starts at $20 per month.
HelpCrunch
HelpCrunch is another Zendeks alternative that focuses on sales and marketing.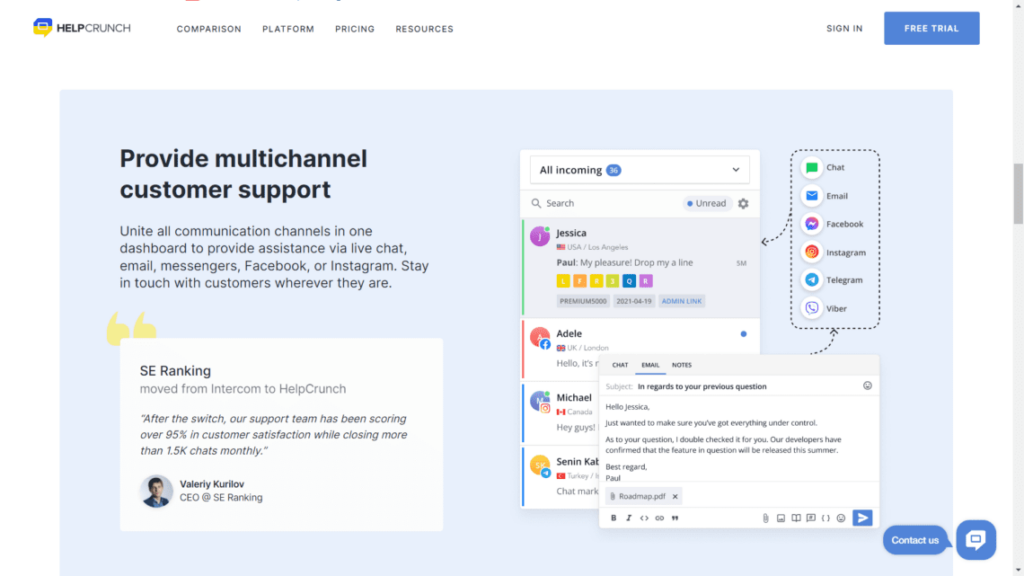 A help desk solution, HelpCrunch focuses on ways to resolve customer issues and improve conversions. Features such as CRM, live support, e-mail marketing, shared inbox, and customizable chat widget offer important solutions to businesses.
Compared to Zendeks, HelpCrunch is considered an affordable alternative.
Pricing
A 14-day free trial is available.
The basic plan starts at $12 per month.
Zoho Desk
Zoho Desk is a complete Zendesk alternative for sales-oriented teams.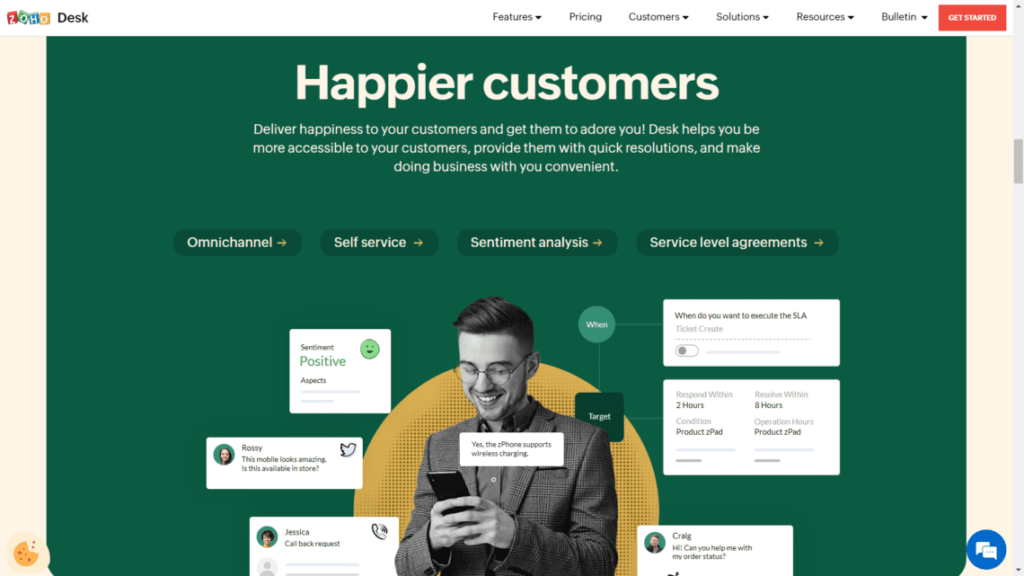 It is known for its CRM programs, and also has help desk software. This helpdesk has many features such as shared inbox, phone integration, and multi-channel chat.
In addition, tools such as SLA management, self-service, automation, and artificial intelligence provide solutions to businesses. It also has team management features for large-scale teams that focus on increasing productivity.
Pricing
A 14-day free trial is available.
The basic plan starts at $9 per month.
Kustomer
Kustomer was developed for businesses that expect CRM features from customer support software.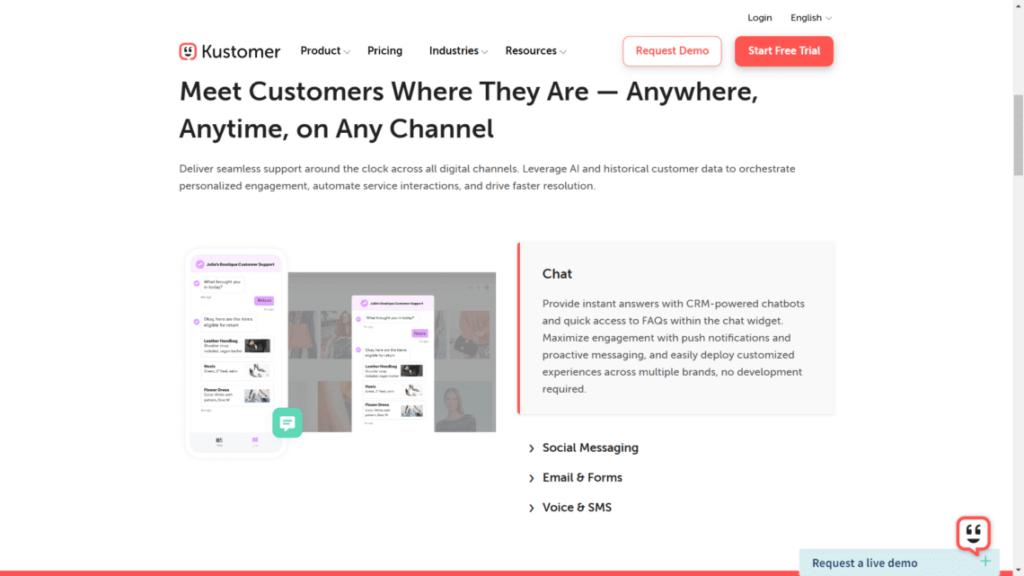 Businesses can create customer profiles with Kustomer. In addition, they can monitor multiple processes at the same time and make necessary updates from a single center. In this way, it becomes possible to work efficiently in a shorter time.
Kustomer provides businesses with multi-channel support for email, chat, phone, and social accounts. However, Kustomer is more costly when compared to its alternatives in the market. On the other hand, prices can sometimes be confusing as there are different purchases.
Pricing
A 14-day free trial is available.
The basic plan starts at $89 per month.
Tidio
Tidio is a live chat tool that businesses use on their websites for real-time chats with their visitors.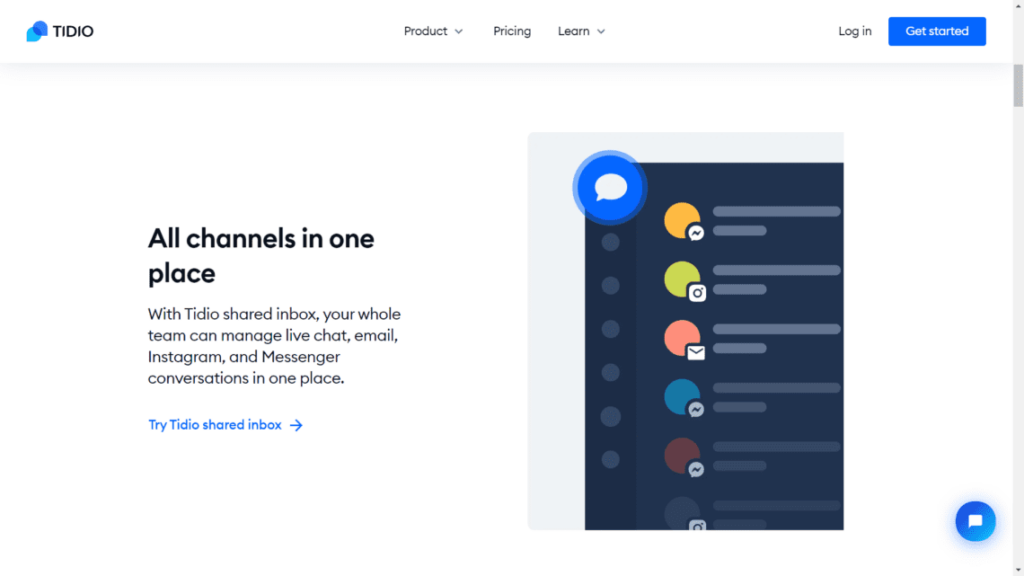 The software stands out with its simplicity and usefulness. But it is much more than a simple live chat tool. Self-service chatbots, inbox, and customer metrics analytics turn it into advanced customer support software.
It has many features to help teams manage customer support.
Its features such as automation and responsiveness save teams time and help increase productivity.
Pricing
A 14-day free trial is available.
The starter plan starts at $39 per month.
How to Choose the Best Zendesk Alternative?
Choosing software that fits every business equally in customer support software is challenging. Because all of the customer support software on the market come to the fore with its different features.
The important thing is for businesses to decide on the most suitable software for them. In the decision stage, it is necessary to consider the size of the company, its goals, and its needs.
Almost all of the Zendesk alternatives listed above have a free trial version. If you are still in search of customer support software, you can use these free trial versions to determine the most suitable support tool for your business.