In this article, we've reviewed the best SaaS tools you can use to grow your business.
Today, everyone needs a miraculous product, service, or app to facilitate their work and organize their processes.
Fast and easy solutions in every field are essential in our lives. This need has become excessive, especially for company employees.
In this article, we will list the SaaS tools that every business or team can use to streamline processes, grow and professionalize their business. However, before moving on to detailed examinations, let's take a closer look at the term.
What are Saas Tools?
Saas (software as a service) is a way of providing services over the internet. You can install it only via the internet without going through complex software and hardware management.
These platforms are called web-based software or hosted software. SaaS products run on the provider's servers. The provider controls access to the application, including security, performance, and availability. All users have to do is help the company grow by entering the platform from the site. SaaS providers provide customers who want to use their products in a licensed subscription that they can easily access.
Although not everyone is aware of it, most platforms on the internet are SaaS platforms. Including Google, Zoom, and even Shopify and Netflix. The foundation of the idea of ​​SaaS platforms goes back to the 1990s and still holds an important place today.
While explaining the subject, let's consider why you should use SaaS.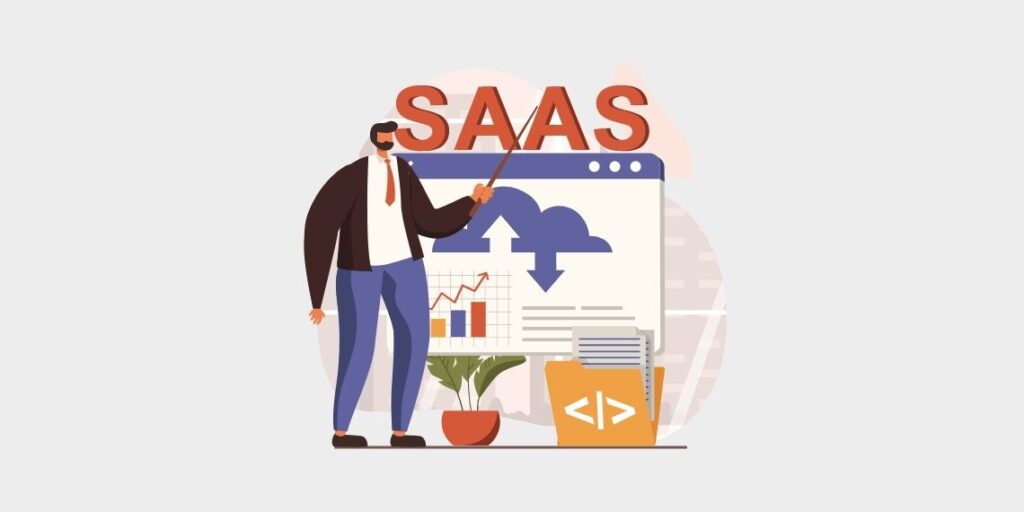 How SaaS Tools Help You Build Your Business
SaaS tools make it easy for businesses. With less manual work, productivity increases and helps create automated workflows. With SaaS platforms, mistake rates decrease, and time-efficient becomes easier.
A SaaS tool can provide several benefits to the growth and development of your business model. Let's take a look at some of these benefits.
SaaS solutions are web-based. In this way, they can be used from anywhere in the world. With SaaS, users can easily access their data. It makes the situation easy for those who work from home or those who work in multiple areas.
SaaS tools can save businesses from extra costs. Installation, maintenance, and updates are not a cost factor in SaaS software. Users can easily download and use SaaS applications instead of budgeting for hardware resources. In addition, in SaaS solutions, users can keep costs to a minimum by only paying for the features they use.
SaaS tools can be easily scaled with a simple upgrade within a subscription.
The biggest obstacle to installing SaaS tools for your business is deciding which ones to use.
15 Best SaaS Tools to Help You Grow Your Business
Customer Feedback Tools
Frill
Frill is one of the best SaaS tools to make the customer feedback process interactive.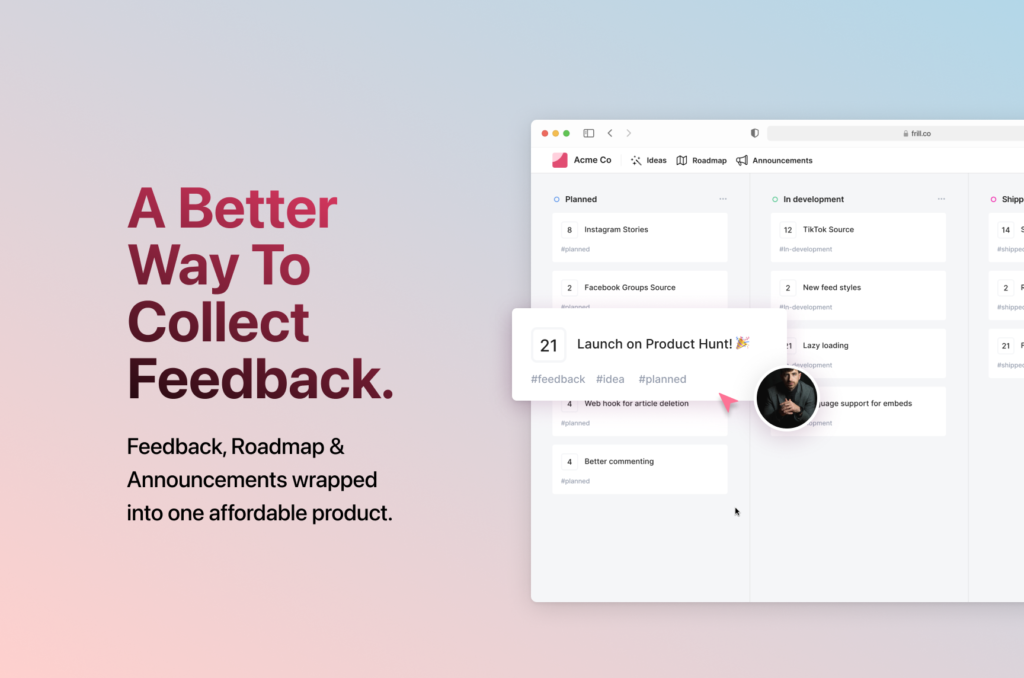 The platform is a customer feedback collection tool with a user-friendly interface. Users can capture and prioritize ideas from customers with Frill.
The platform provides a roadmap and announcement tools to inform about actions taken regarding feedback and simplify collecting user feedback. On the other hand, the fully customizable roadmap helps facilitate processes.
Main Features of Frill;
Customer Feedback Idea Board
Road map
Changelog
Announcement Portal
Automatic Notifications
Frill's scalable and versatile system is one of the most effective methods of collecting customer ideas. In addition, thanks to the free plan that stands out with its advanced features, businesses can start collecting and organizing customer feedback without paying.
Pricing:
You can collect up to 20 customer feedback per month with a free plan. Frill's paid plans to change between $25-$149 per month.
Nolt
Nolt is a powerful feedback collection tool that helps businesses create dashboards for user thoughts.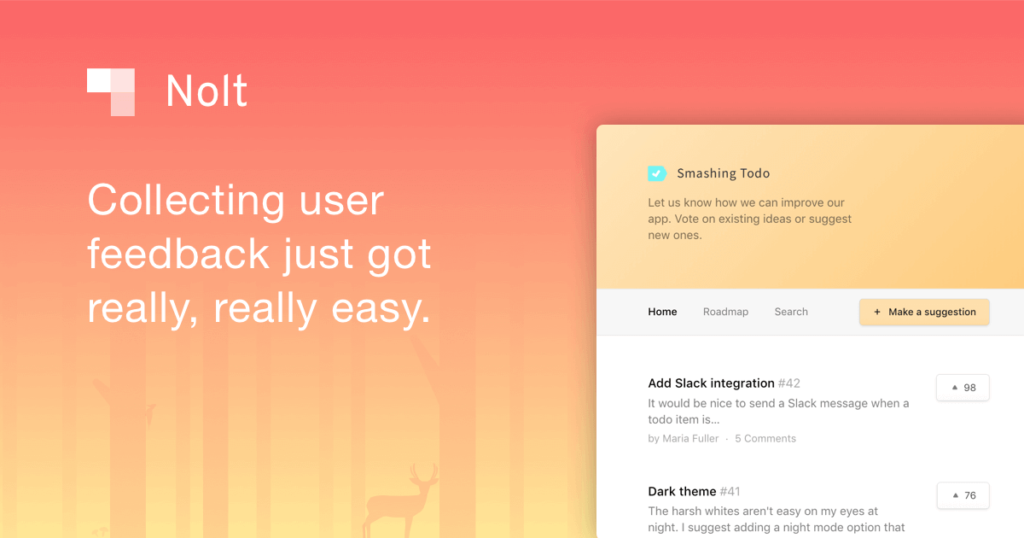 The second SaaS tool on our list provides simple and effective feedback boards that can help you collect and organize feedback from your employees, customers, and friends in minutes. Thanks to Nolt's automation and feedback collection features, you can get to know your customers better decisions faster and ensure customer satisfaction.
Main Features of Nolt;
Customize
Multi-Language (up to 10 languages)
Email reports
Road map
Voting
With Nolt, you can create a roadmap and prioritize feedback. The platform, which you can easily integrate into the applications you already use, helps you easily create your personalized workflows.
Pricing:
Nolt has a 10-day free trial. Its paid plan is $25 per feedback board per month. All features and unlimited users are included in this price.
ProductBoard
Productboard is a customer-centric product management platform that enables businesses to get their products to market faster.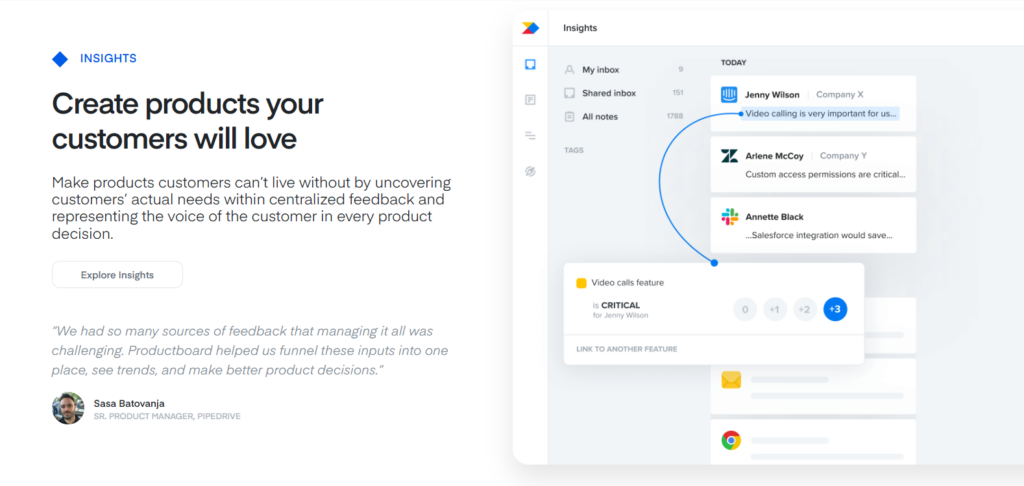 The platform allows you to centralize customer feedback. Your teams can identify customer needs and determine the next step quickly. ProductBoard helps you prioritize and roadmap by setting clear goals.
Main Features of ProductBoard;
Multiple product management
Strategy prioritization
Creating a Roadmap
Customize Sharing Settings
Creating Templates
With Productboard, you can better analyze and prioritize customer feedback from various channels such as Zendesk and Slack. You can make your product perfect with customer-oriented roadmaps.
Pricing;
The basic package of Productboard, which has a 15-day free trial, is 20 per month. For Scale and Enterprise packages, you need to contact Productboard.
Customer Service Tools
Qpien
Qpien is a customer service platform that enables businesses to manage their sales, support, and marketing processes.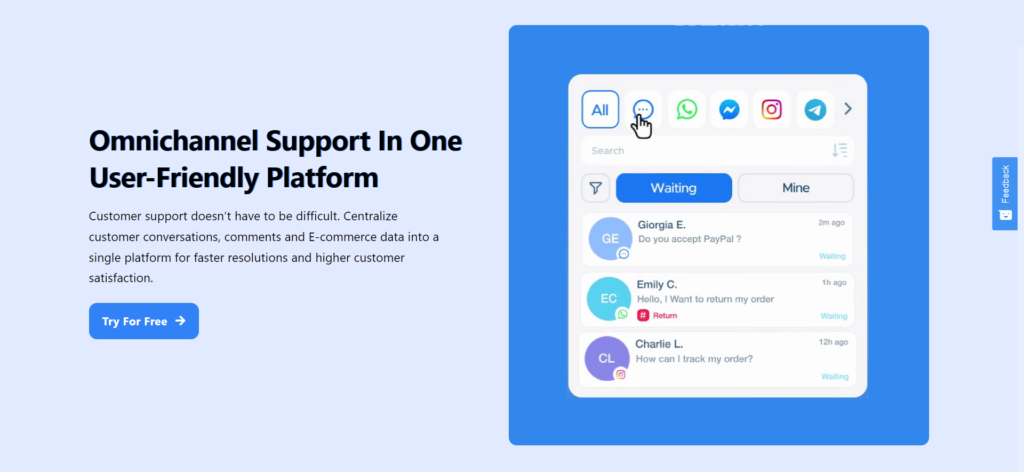 It provides businesses with advanced solutions when it comes to omnichannel support. You can easily manage instant messaging channels, social media, and customer service channels such as live chat and even an e-mail from a single screen. Moreover, powerful features such as marketplace questions and e-commerce management provide significant advantages in sales and marketing.
By connecting your most popular customer communication channels to the platform, you can deliver your customers a unique customer experience. With the WhatsApp Business API, you can make a difference in customer communication and use advanced WhatsApp features effectively by combining them. You can easily benefit from WhatsApp for businesses, such as sending bulk messages, taking orders, and creating customer lists.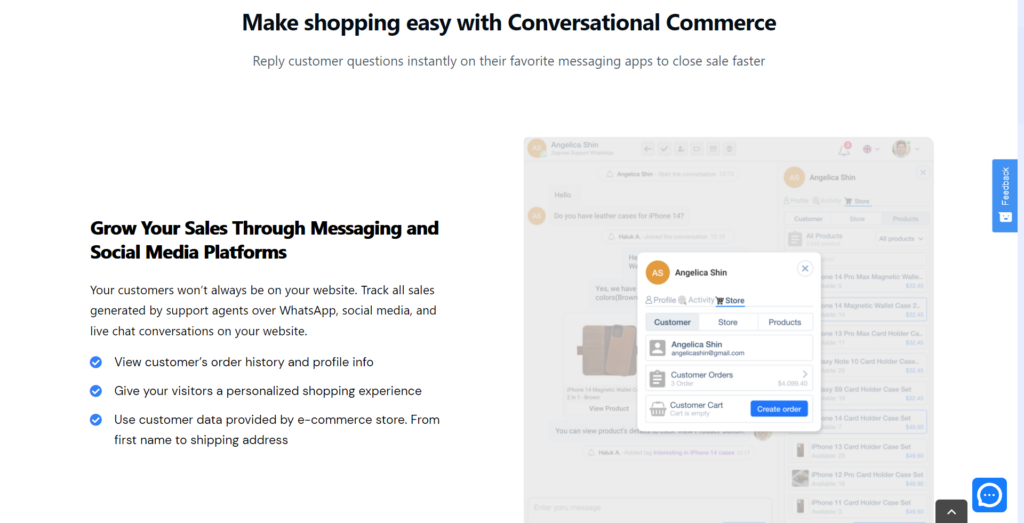 It helps businesses provide integrated and professional customer service across all channels. By managing all customer interactions from one place, you can use time efficiently and provide feedback to more customers. At the same time, you can benefit from advanced in-team communication features to increase team performance and your customer success rate by creating separate teams for your communication channels.
Main Features of Qpien;
Smart Inbox Management
Customizable Live Chat
Omnichannel Communication
E-commerce Management
Active Visitor Tracking
Bulk Messages
Marketplace Questions
With Qpien's omnichannel customer service platform, you can see customer data from a single screen and respond privately to your messages and comments. You can effectively use advanced customer service to increase your conversion rates.
Pricing;
Qpien has a 14-day free trial. In addition, its standard package starts at $19 per user per month. If you want to design a package that suits your needs, you can contact the Qpien team.
Intercom
Intercom is a customer support and communication tool that helps you develop customer connections.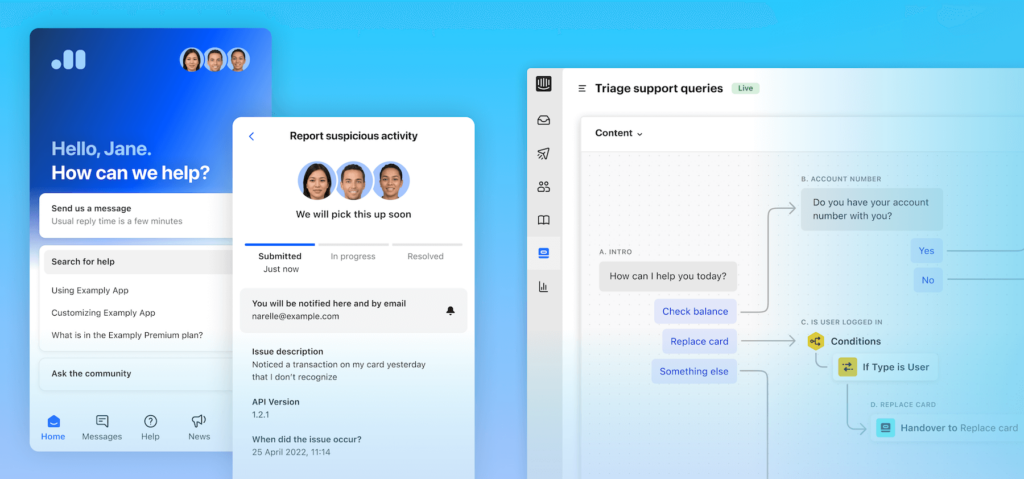 The platform has powerful features that can be used for live chat, marketing, feedback, and customer support. With Intercom, users can plan targets and create custom messages based on their customers' behavior. The survey, automation, and inbox management are among the powerful features of Intercom.
Main features of the Intercom;
Chatbot
Personalized Targeting
Email Marketing Tools
Knowledge Base
Customer Data
It is also one of the popular platforms that come to mind when it comes to Intercom e-commerce customer support. Users can create personalized quick responses regarding an order, shipping, and product stock. In addition, Intercom has marketing tools such as promotional messages and automatic e-mail for businesses that want to increase their sales and conversion rates.
Pricing;
Intercom has a 14-day free trial. The starter package with the most basic features is $74 per user per month.
Trengo
Trengo is a customer interaction platform that combines customer channels of businesses in one platform.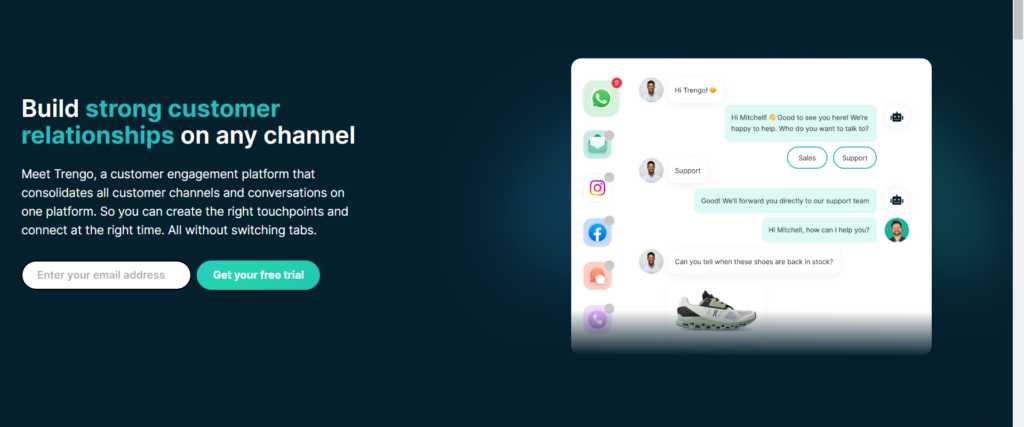 The platform helps users develop customer relationships and provide omnichannel customer service. With Trengo, businesses can communicate with their customers via E-mail, Live Support, SMS, and WhatsApp. They can continue their customer service over WhatsApp by connecting their e-commerce sites to WhatsApp. Trengo users can also enjoy the features of WhatsApp API and WhatsApp Business.
Main Features of Trengo;
Team communication
Chatbot
Screen sharing
Automation
SMS
Trengo is a customer interaction platform that focused on team collaboration and automation in customer service. Inbox management and workflow automation help teams use their time more efficiently.
Pricing;
Trengo has a 14-day free trial. The standard package is $18 per user per month.
Email Marketing Tools
Moosend
Moosend is a simple and modern email marketing tool that offers businesses email marketing and automation experience.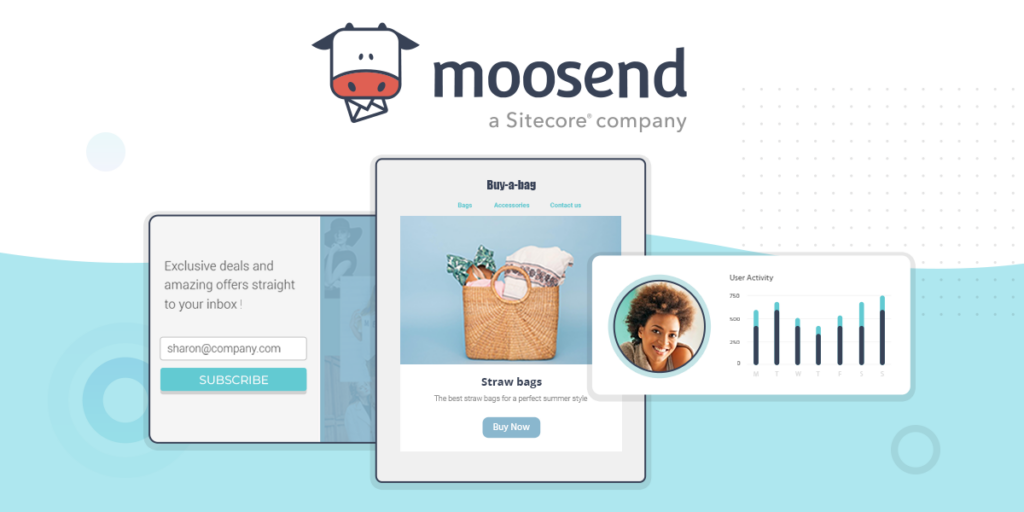 The platform offers businesses a variety of customization and automation solutions. Users can organize their mailing lists based on customer behavior or create custom signup forms to expand their mailing lists. Moosend helps increase your customer interactions and conversion rates with personal emails.
Main Features of Moosend;
A/B Test
Data Analytics
40+ Templates
Newsletters
Easy to Use
Moosend provides significant convenience for creating subscription forms, preparing newsletters with the drag-and-drop method, automation recipes, and processing. On the other hand, thanks to its advanced analysis, it facilitates performance measurement and follow-up processes.
Pricing
Moosend has a 30-day free trial. 0-500 subscription pro package starts from $9 per month.
MailChimp
MailChimp is one of the most popular email marketing tools for businesses looking to monetize their emails.

Launched as an email-focused solution, Mailchimp is another SaaS platform on our list. Today, it offers users much more than just e-mail solutions. With MailChimp, businesses provide features such as creating websites and publishing social media posts and personalized email marketing. On the other hand, CRM integrations are also among its powerful features. It also has tools that allow businesses to capture leads, create new customer lists, and import subscribers.
Main Features of Mailchimp;
Personal Marketing
Website Builder
Creating Individual Content Blocks
Planning the Customer Journey
One of the most popular email marketing tools on the market, MailChimp is easy to use and a beginner-friendly platform. Businesses can easily handle all automation, marketing, and planning processes from a single platform.
Pricing;
Mailchimp has a free plan with limited features. The Basic Package with its basic package is $13 per month.
Nureply
Nureply is an AI-powered email preparation tool to increase conversion rates.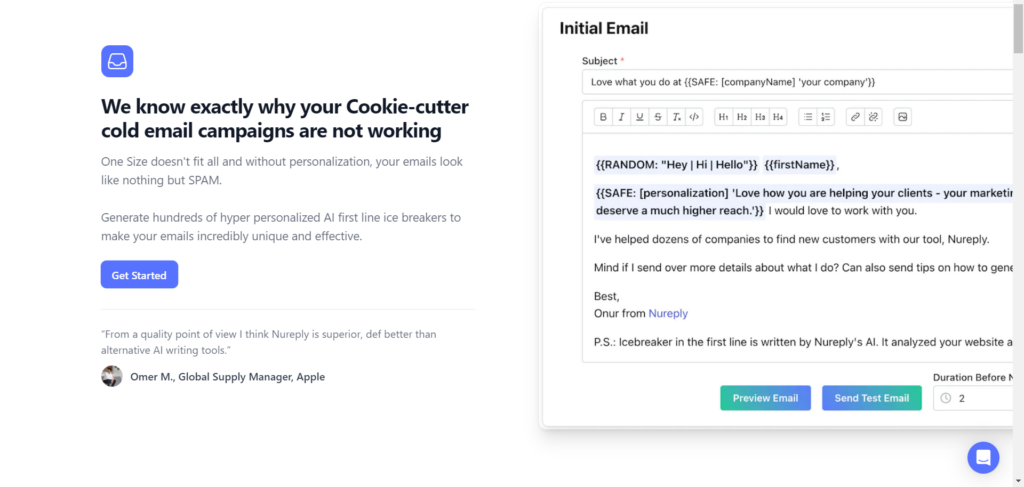 Another SaaS tool on our list, Nureply focuses on creating personalized campaigns and cold emails for first-time customers for businesses. In addition, it has advanced features such as sentiment analysis, campaign management, and CRM.
Main Features of Nureply;
Easy Operation
Automatic Email
Campaign Planning
Accelerated Artificial Intelligence
Hyper-Personalization
In addition, Nureply's time-saving features stand out among cold emailing tools. For example, the sentiment analysis tool can separate positive, negative, and neutral responses. So, support teams can identify potential buyers and communicate without wasting time.
Pricing;
Nureply has a 7-day free trial. The basic package with 350 contact credits costs $39 per month.
According to Tidio's report in the Statistics & Tech Data Library: Email is the primary customer acquisition channel for approximately 81% of SMEs. Nearly 80% of these SMBs rely on email marketing to retain customers.
Customer Relationship Management Tools (CRM)
Pipedrive
Pipedrive is a popular customer relationship management tool for businesses that focus on sales.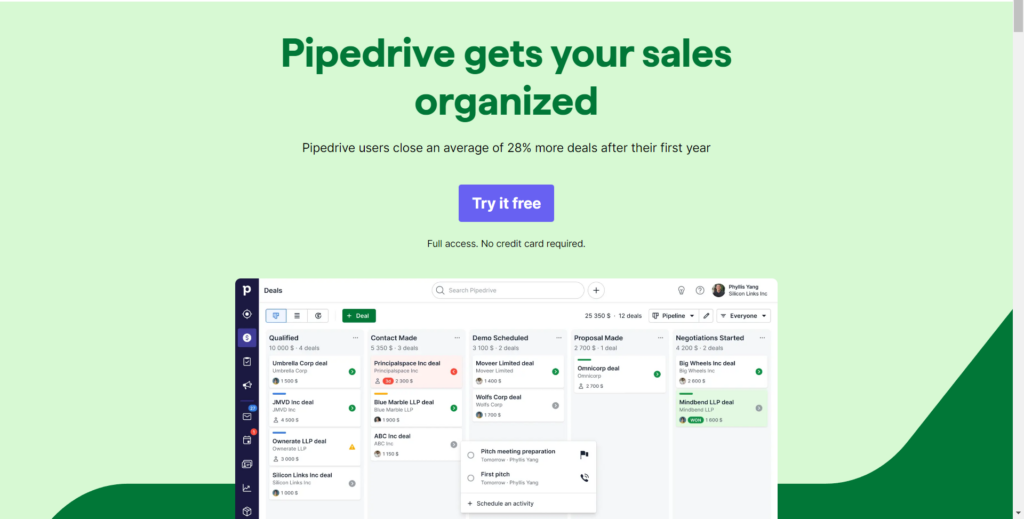 With an intuitive user-friendly interface, Pipedrive has powerful solutions for increasing sales. The artificial intelligence-supported sales assistant plays a role in determining the sales strategies of the teams. Features such as scheduled activities, workflow automation, and communication data enable sales teams to create planned and targeted campaigns.
Main Features of Pipedrive;
Easy data transfer
User-friendly interface
Email Templates
Smart data
Advanced Sales Features
Piperdrive's purpose is to assist sales, making it easier for teams to focus on this area. Features such as real-time data, details, and reports can identify potential customers. On the other hand, features such as a customer diary and activity tracking support a customer-oriented approach throughout the sales funnel.
Pricing;
The Essential package is $12.50 per user per month.
Hubspot
Hubspot is one of the most powerful CRM solutions on the market with advanced features.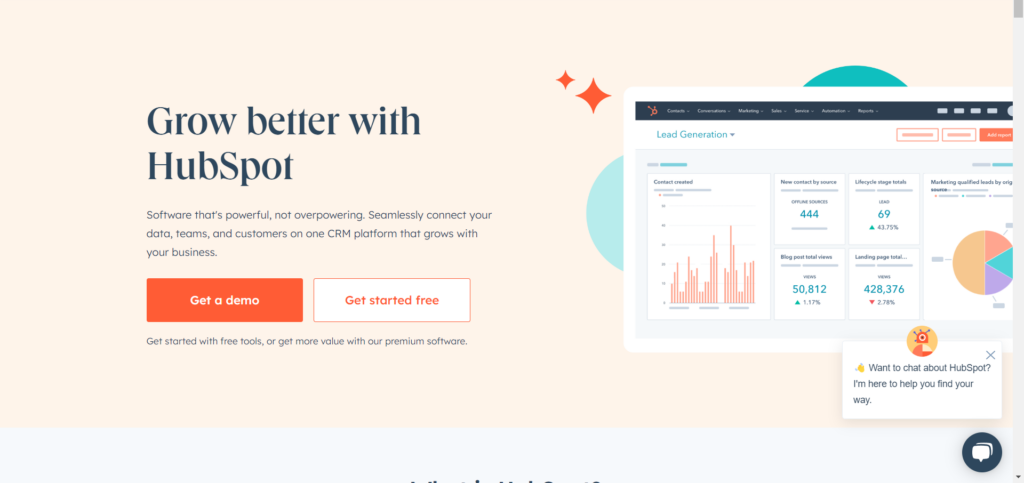 Honestly, we can say that Hubspot provides advantages when it comes to relationship management. Its features covering power processes from customer service to sales, from marketing to analysis have made Hubspot one of the most powerful tools in the market. It would not be wrong to consider Hubspot as a combination of multiple SaaS tools, as it has features such as social media management, live chat, and e-mail integration for its users.
Main Features of Hubspot;
Automated CRM database
Live chat & Chatbot
Task Management
Reporting Dashboards
Website Editor
Hubspot has all the features a business could need in sales, marketing, management, customer service, and customer relations. On the other hand, all these features have made the platform complex and hard to use.
Pricing;
Hubspot offers businesses some of its powerful features for free. The basic package of the CRM Suite solution for small businesses is $45 per month.
Workiom
Workiom is a CRM platform where businesses can manage all their processes from a single platform.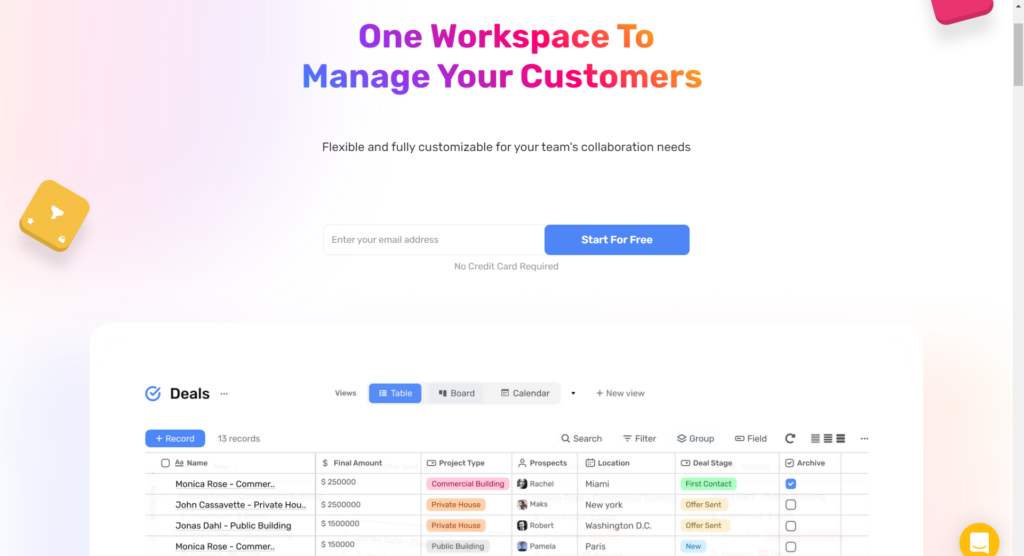 The platform has many business-facilitating features, from businesses digitizing their archives to automating employee operations. At the same time, real-time reports and data-based performance reports that Workiom provides to its users also facilitate the analytical tracking of teams and customer relations.
Main Features of Workiom;
Project management
Customer Management
Product Planning
Easy Operation
Workflow Automation
Workiom helps companies to increase their sales and conversion rates by making it easier to analyze potential customers. At the same time, it contributes to the creation of a more efficient working environment by reducing the burden of teams by automating existing customer tracking and data control.
Pricing;
Workiom's standard package is $5 per user per month.
Analytics & Attribution Tools
HockeyStack
HockeyStack is an analysis tool that collects data from various platforms in a single platform comparatively.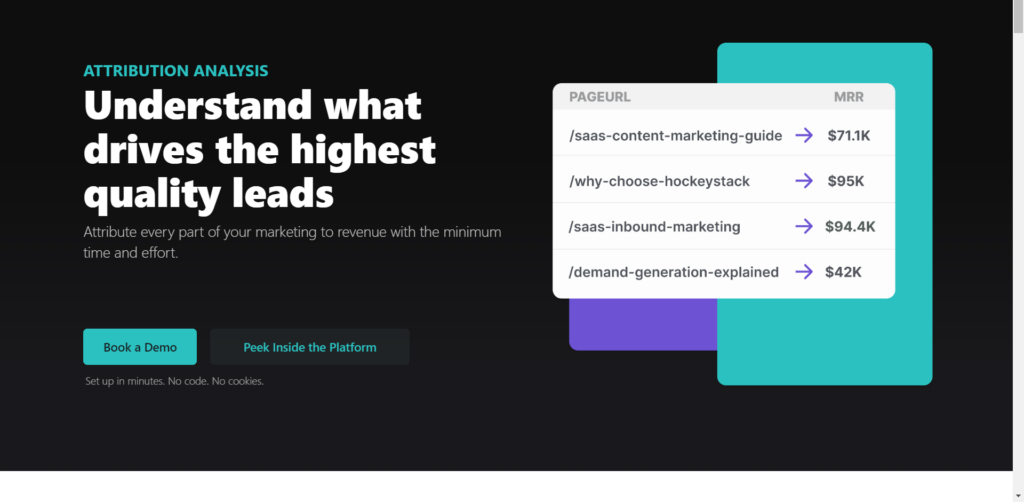 With HockeyStack, users can monitor the activity of their websites without the need for installation or code, and they can better understand their potential customers and plan their growth initiatives in a targeted manner. HockeyStack consolidates marketing, revenue, and product data into one platform and automatically analyzes them. It is ideal for businesses that want to create targeted campaigns and better analyze customer journeys.
Main Features;
Detailed Analysis
Advanced Filtering
Visual Funnels
Multiple Integration
Actionable Insights
Developed for SaaS businesses, marketers, and e-commerce businesses, HockeyStack helps businesses drive better conversions and grow their businesses. When it comes to better understanding and connecting customers HockeyStack offers businesses great solutions.
Pricing:
HockeyStack has a 14-day free trial and offers 30-day returns. The 10,000-user tracking package is $799 per month.
Dreamdata
Dreamdata is a SaaS platform that helps businesses grow with analytics and attribution.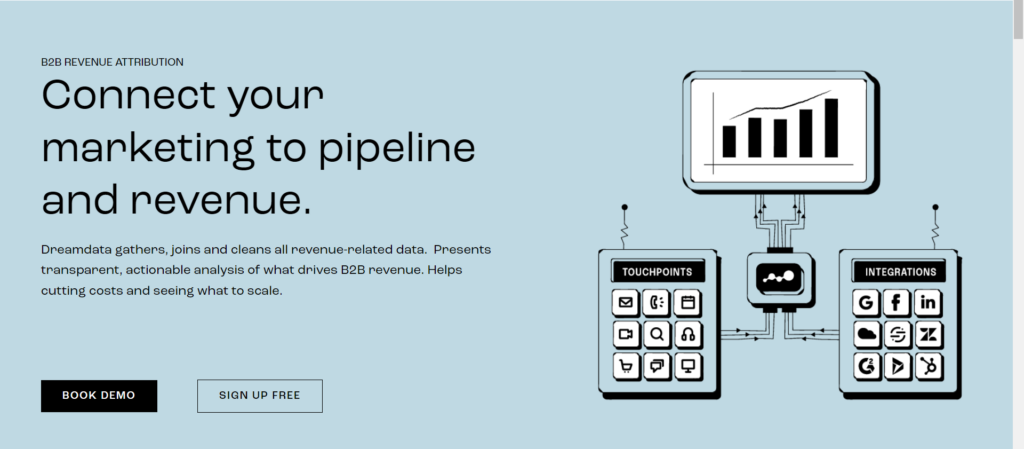 Another analytics and attribution tool on our list focuses on converting businesses' B2B marketing campaigns into sales. The platform, which collects and brings together all the income data of the enterprises, provides transparent and detailed reports on what drives the income of the enterprises.
Main Features of Dreamdata;
Multiple Income Attribution
Visual Reports and Dashboards
Advanced Reports
Customer Journey Map
Team Business Plans
To sum up, Dreamdata helps businesses monitor and analyze how their operations affect revenue, and how individual channels are performing. Users can measure their marketing campaigns with Dreamdata and analyze the campaign with the highest return on investment. It is also possible to explore how to reduce campaign costs with Dreamdata.
Pricing;
Dreamdata has a free plan with basic features. Their paid plans start at $999 per month.
Ruler Analytics
Ruler Analytics is a cloud-based solution focused on marketing and development attribution.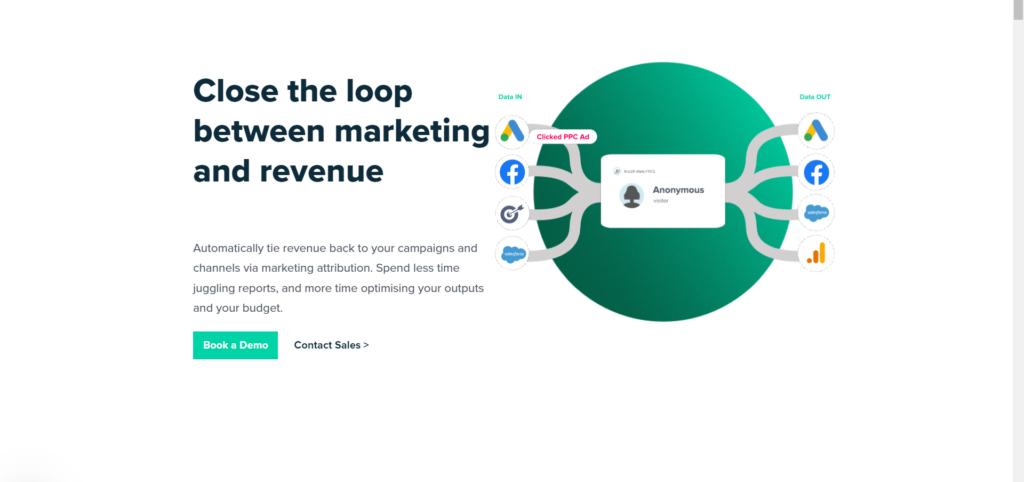 The last SaaS tool on our list, Ruler Analytics helps businesses with attribution and tracking revenue. In addition, users can view all customer journeys on different platforms with Ruler Analytics. It helps transform anonymous visitors into loyal customers.
Main Features of Ruler Analytics;
Visitor Analysis
Phone Call Monitoring
Multiple Integration
Data-Driven Attribution
Advanced Foresight
The platform allows businesses to balance marketing and budget. In this way, they spend less time optimizing their budgets. In addition, Ruler Analytics analyzes historical data through statistical models and machine learning to predict future business outcomes. This way, the workload of the teams is also reduced.
Pricing:
Ruler Analytics' basic package is £199 per month.
Towards the End
Numerous SaaS tools on the market offer different solutions to businesses. These platforms have been developed to bring simple and modern solutions to users' various problems. The basis of SaaS tools developed for companies is to automate the workflow and maximize efficiency.
Overhead, we've listed 15 different SaaS platforms that help grow your business. Before making a choice, you should ensure that the tools meet the business's needs. Choosing a SaaS tool that fits your budget in terms of price performance is very important in terms of getting a return on investment.