Want to learn the 20 best Shopify apps you can use to grow your eCommerce store?
Shopify comes with features businesses will need. However, there are some advanced apps that companies that want to grow and optimize their e-commerce site can choose. At the same time, companies that want to increase sales and use their time more efficiently can use 3rd party apps in the Shopify App Store.
There are features of Shopify's best practices professional customer service to email marketing. How will you decide which of these applications will be the right decision for your e-commerce site?
In this post, we've reviewed the 20 best Shopify apps to help you choose the right Shopify apps for your business needs. If you want to have more detailed information about Shopify;
20 Best Shopify Apps
When choosing the top 20 Shopify apps, we picked the top-rated apps. These 20 Best Shopify Apps help you manage your Shopify store more efficiently and increase sales.
Top 5 Customer Service Apps for Shopify
One of the essentials for success in e-commerce is advanced customer support. There are countless customer support apps for businesses on the Shopify App. In this section, we've reviewed the 5 best Shopify apps for customer service to make it easier for you to choose.
Qpien
Qpien is a powerful Shopify integration for businesses looking to improve customer communication.
Working seamlessly with Shopify, Qpien enables businesses to offer efficient customer communication in e-commerce stores. With its multi-channel support panel, it allows businesses to manage multiple communication channels from a single center at the same time.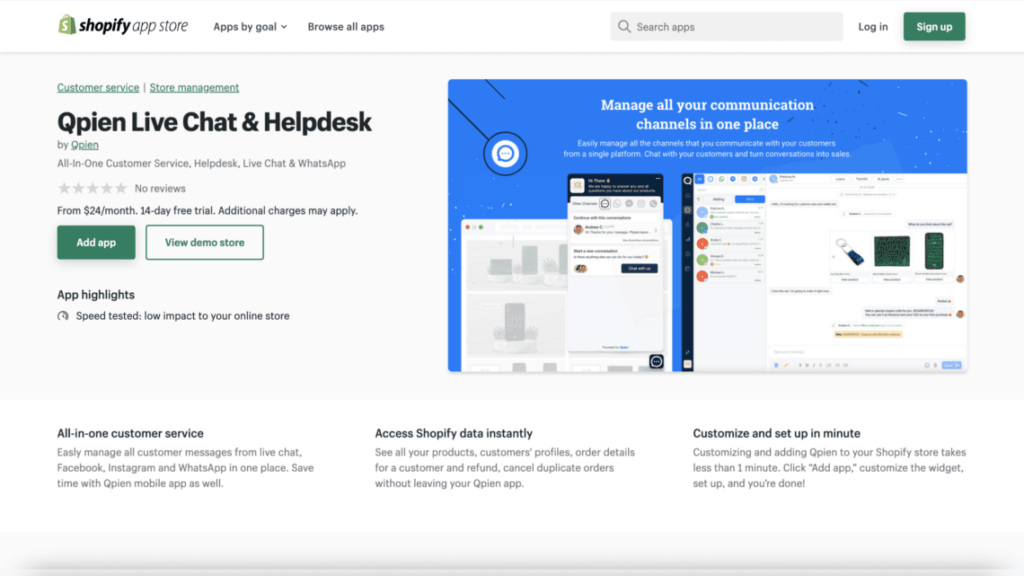 Shopify store owners can provide instant customer support to their customers on their websites with Qpien, helping to increase customer satisfaction with automatic messages without increasing the workload of support teams. In addition to uninterrupted customer communication features in the online store, it also helps businesses improve customer service in every field with features like workflow automation and advanced team communication tools.
Qpien automatically collects customer contact information and feedback. In this way, it helps support teams focus on issues that require more contact in e-commerce.
The instant visitor tracking feature allows businesses to follow up on real-time customers. In addition, with advanced reporting features, they can identify the points they need to improve.
You can try Qpien for free for a seamless customer experience in your Shopify store.
Tidio
Tidio makes it easy to provide customer support through live chat, chatbots, social media, and messaging platforms.
Businesses can easily do all the operations with the drag-and-drop method within the application. With ready-to-use Tidio automation and bot templates, it helps businesses speed up processes.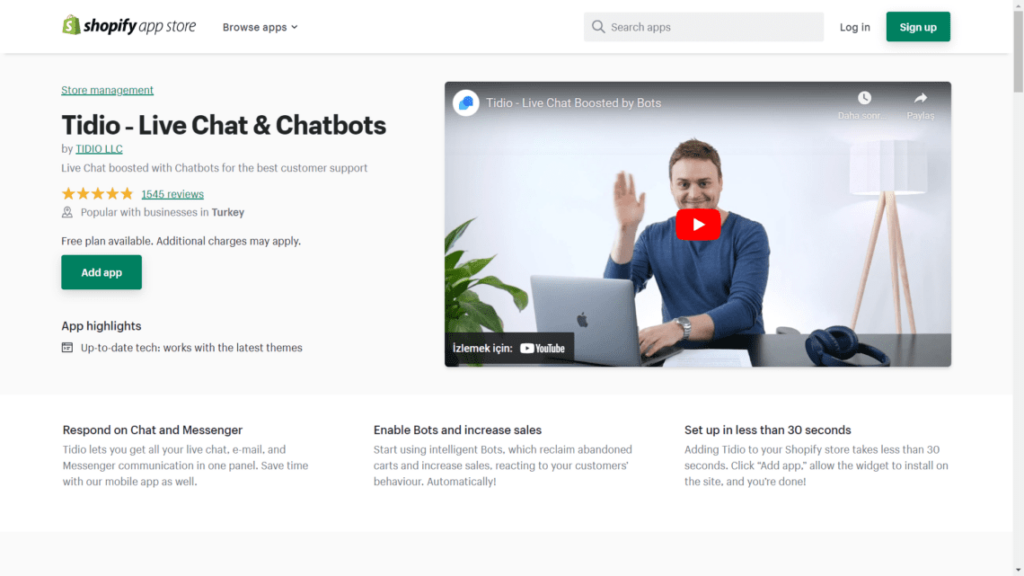 With Tidio, businesses can transmit relevant sales and promotional information to their visitors to e-commerce sites. Or they can provide instant customer support via live chat. In addition, soot robots and visitor notifications that can be used with Shopify are among the features to provide advanced customer support.
Gorgias
Gorgias is an omnichannel customer service tool developed specifically for e-commerce.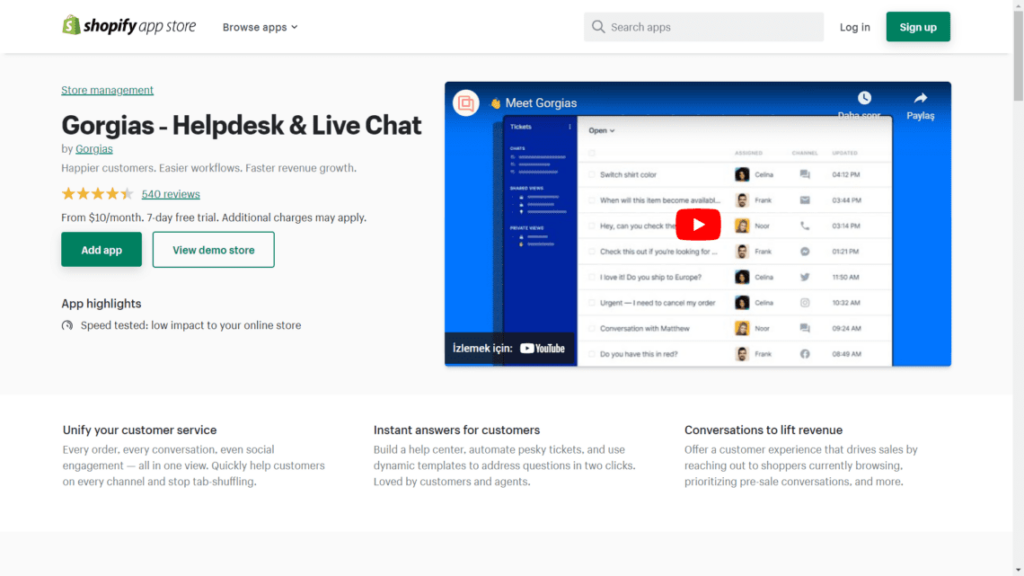 Its seamless integration with Shopify, Gorgias allows businesses to manage all customer requests from a single dashboard.
The app allows businesses to automate live chat and manage customer requests from multiple channels. In addition, businesses can centralize operations such as setting orders, arranging subscriptions, and setting automatic answers to frequently asked questions.
Gorgias centralizes customer support in e-commerce and automates highly engaged customer requests to save time.
HelpCenter
HelpCenter is a powerful tool for optimizing customer interaction.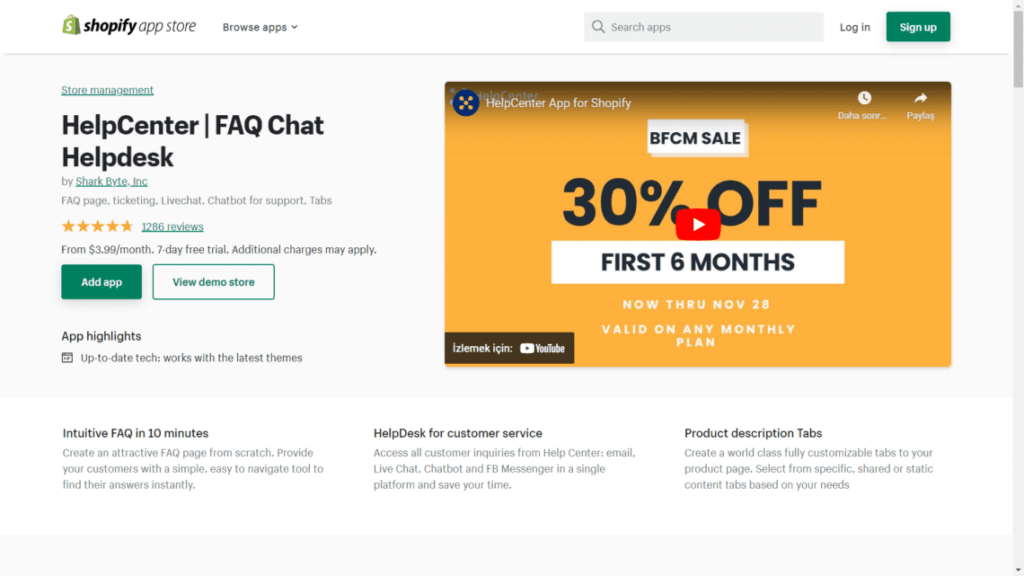 With the HelpCenter, businesses can perform many operations such as editing product descriptions, live chat, and demand system management with the Help Center. The FAQ page, which can be prepared in a few minutes, is ideal for self-service solutions in e-commerce.
HelpCenter features automated workflows, and LiveChat provides serious gains when used with Shopify. It also has advantages to businesses with product descriptions, special tabs for shipping, and real-time communication.
Zendesk
Zendesk is a powerful customer service tool that provides service.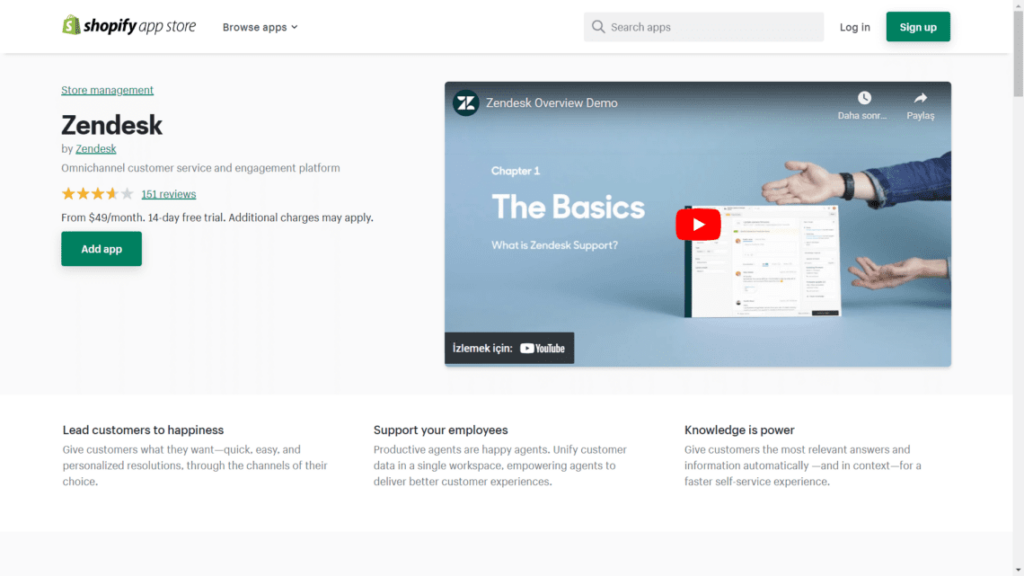 It has features such as self-service tools and multi-channel support for businesses to improve customer communications in e-commerce.
Zendesk's advanced features not only facilitate business processes but also contribute to customer experience.
5 Best Email Marketing Apps for Shopify
Anyone interested in e-commerce knows. Email marketing is one of the most effective ways to attract the attention of current and potential customers. We've covered the 5 best Shopify apps for email marketing to get the most out of your email marketing.
Klaviyo
Klaviyo is one of the best email marketing tools on Shopify.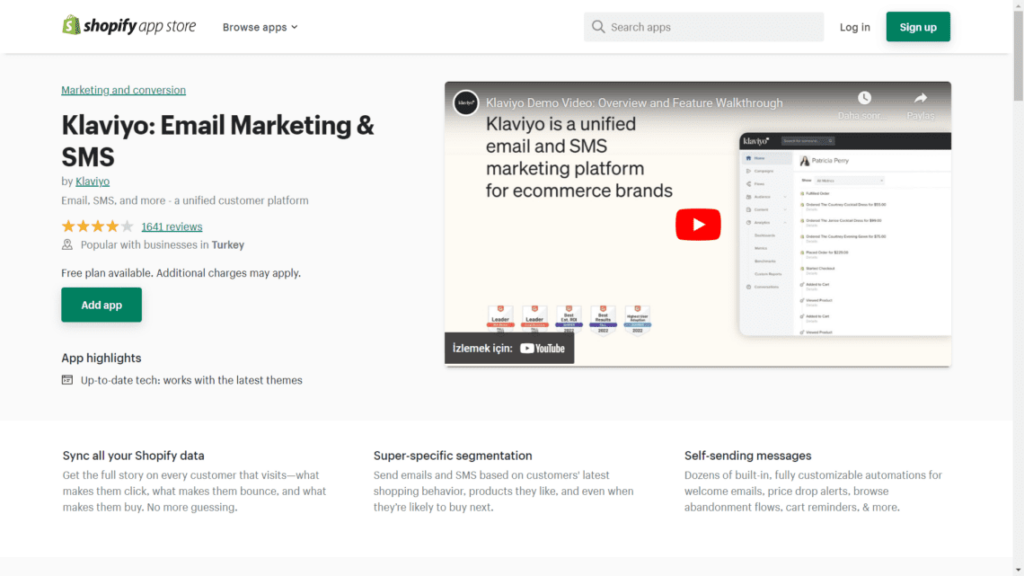 It covers the wide funnel for e-commerce customers, from acquisition to nurturing, conversion and retention.
Also, abandonment and price drop triggers help increase conversion rates. The data analytics dashboard helps businesses analyze interaction by synchronizing historical and real-time data.
Shopify E-mail
Shopify Email is one of the first options businesses can use for email marketing in their Shopify stores.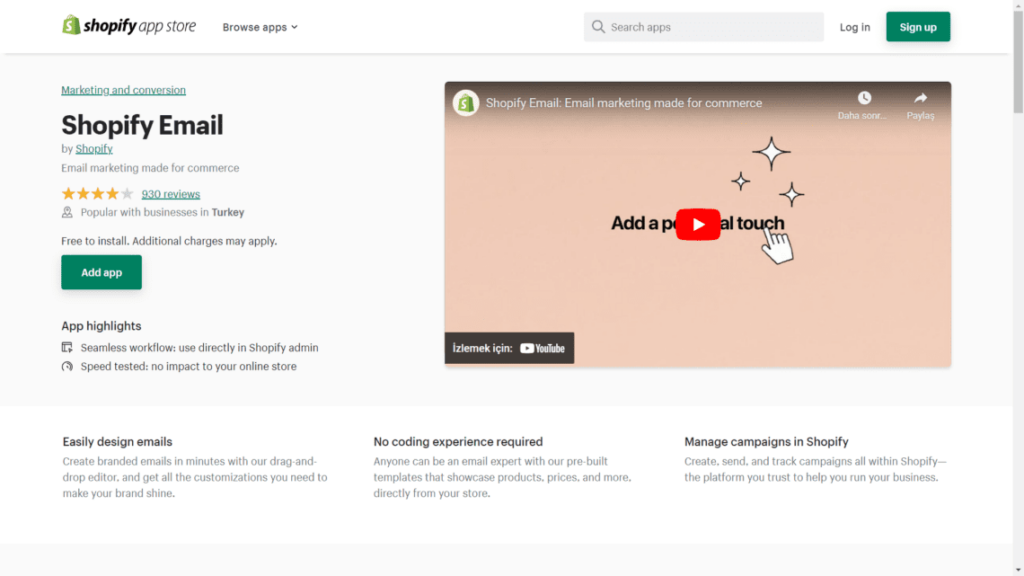 It is easy to use for email marketing beginners. It provides a seamless experience with Shopify stores. In addition to its advanced templates and email scheduling, easy transfer of customer lists directly ensures businesses don't waste time on email marketing.
It allows the creation of audience-specific mailing lists, campaigns, and more. The app has a huge collection of email marketing, such as product sales, newsletters, holidays, and events. Businesses can direct their potential customers to purchase by linking directly to products in their Shopify stores.
Omnisend
Omnisend is one of the email marketing tools with the highest feedback score in the Shopify App Store.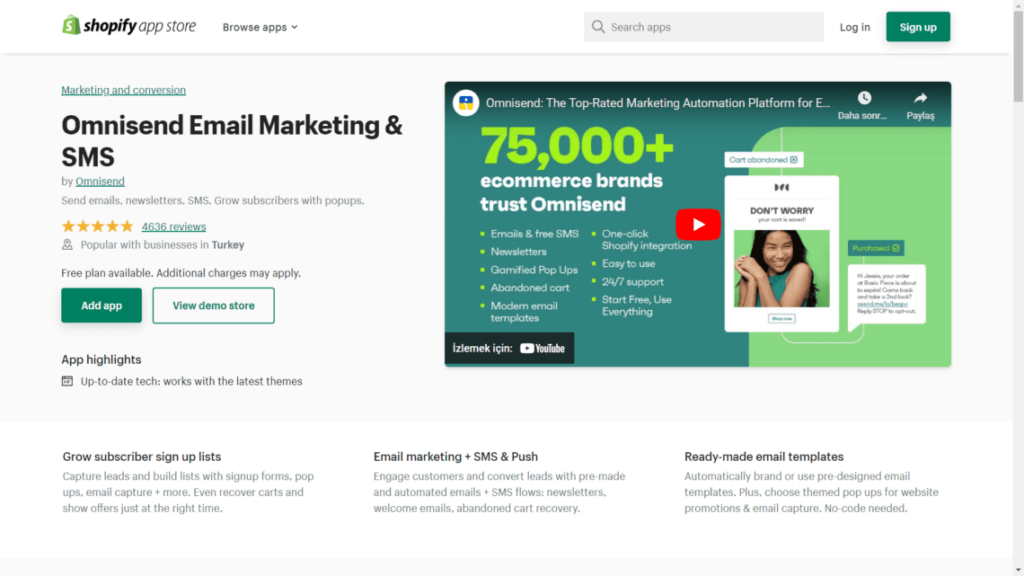 With Omnisend, businesses can improve their sales and marketing actions by collecting contact information from their website visitors. There is a wide funnel from creating a custom client list to purchasing.
It has advanced email marketing features like welcome, post-purchase emails, abandoned cart recovery, segmentation, a customizable landing page, and more. It has this feature that makes Omnisend different from other email marketing tools. Omnisend gives businesses more control over where and how they interact with the audience.
Privy
Privy is an email marketing tool developed for e-commerce.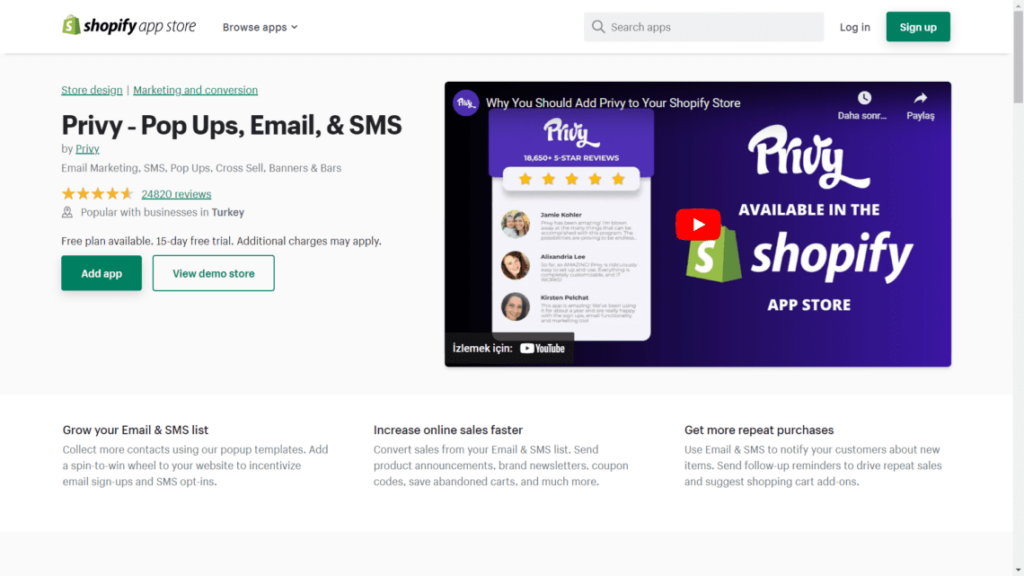 It is a powerful email marketing tool with automatic A/B testing, customized coupon code, and real-time reporting features. Also, it is one of the highly rated email marketing in the Shopify App.
It expands the boundaries of the average email marketing tool. Additionally, it has SMS marketing as well as product bundles and email marketing tools.
Privy is mobile-friendly and can be customized without any coding knowledge. Finally, it is a comprehensive email marketing tool with features such as automatic behavioral campaign creation, auto-responders, and reminders.
MailChimp
MailChimp is a popular email marketing tool with millions of users in 175 countries.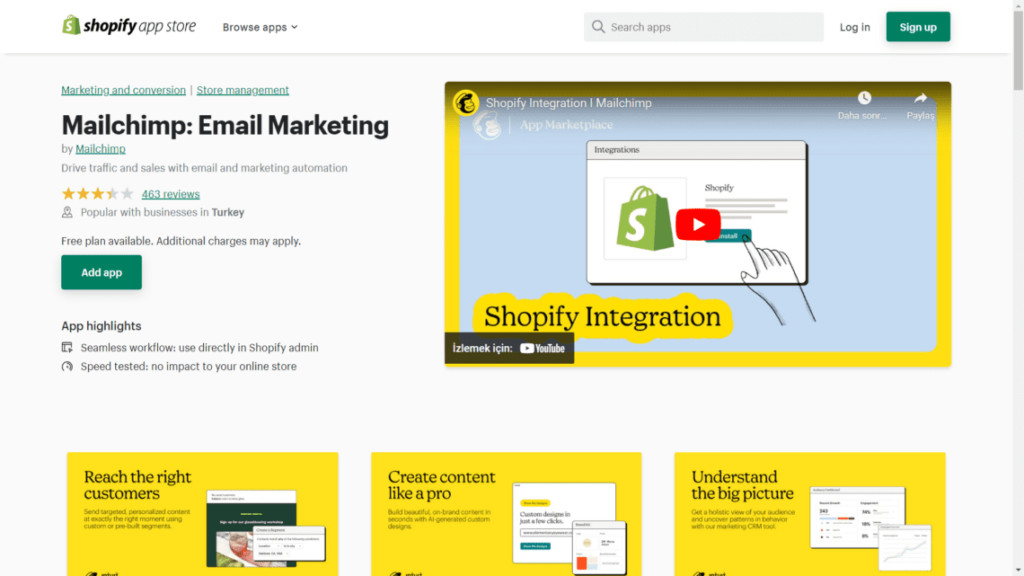 The app helps businesses improve their email strategy. It has essential marketing features for both global corporate companies and startup companies.
Mailchimp comes with many automation features. In this way, businesses can automatically contact their customers in Shopify stores. It has excellent solutions when it comes to increasing marketing success with email marketing, and its multilingual support is for businesses with global marketing activities.
Top 5 Social Media Apps for Shopify
Do you know that 47% of millennials use social media in their shopping? If you want to increase your chances in e-commerce, you should give social media marketing a chance. We evaluated the 5 best social media apps that will work with your Shopify store.
Instafeed
Add a purchase-friendly look to your social media with Instafeed. Many users prefer Instagram to shop. By using Insafeed, you can combine this attention-grabbing power of Instagram with your Shopify store.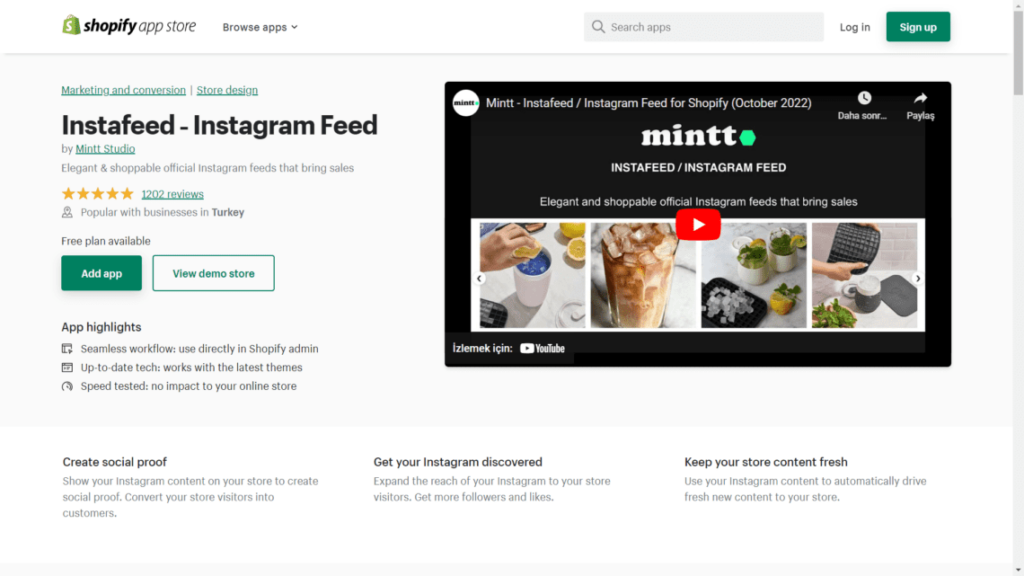 Instafeed is an official Instagram app that, once integrated, displays custom shoppable Instagram feeds anywhere on your website. The app keeps your store content always up to date by pulling the content directly from Instagram.
Outfy
Shopify store owners can promote products on multiple social media channels with Outfy.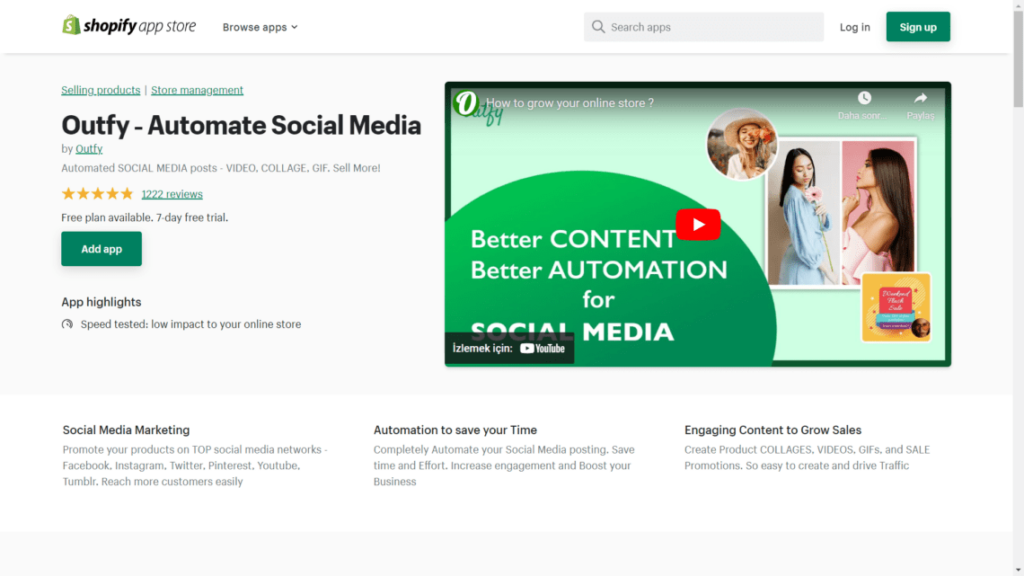 With this app, businesses can automate promoting their products on social media by creating and scheduling product promotion posts that can be automatically published on social media channels. It can also be actively used to increase sales on more than 12 social networks. The app also has powerful features for creating image collages and GIFs.
In short, Outfy is a powerful tool for automating the social media marketing of your Shopify-based store.
Facebook & Instagram
Facebook & Instagram is a marketing tool that allows you to sell products in your Shopify store directly on Facebook and Instagram.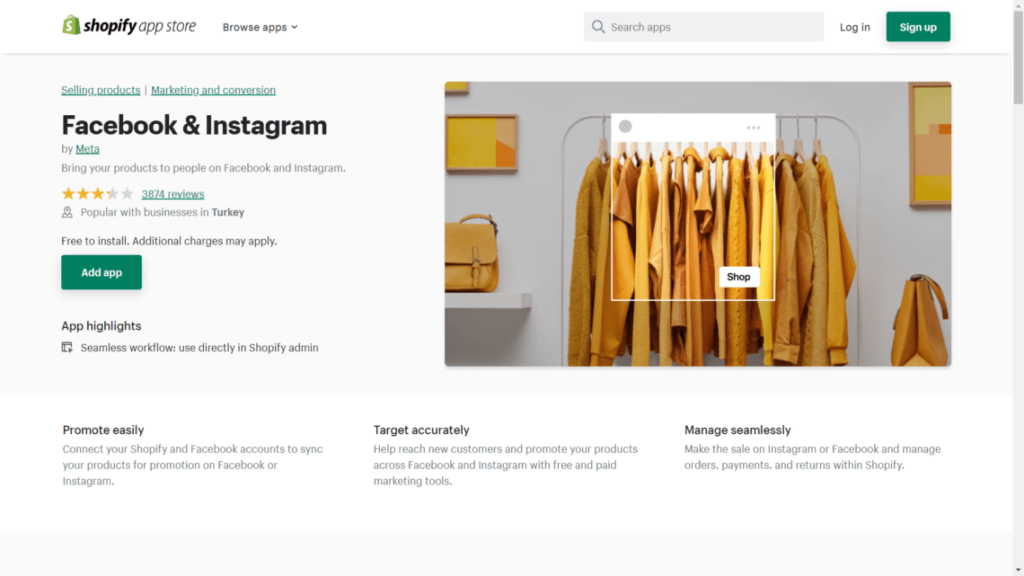 The platform automatically syncs products with Facebook and Instagram stores. It has tools such as audience builder ads and retargeting that are used to grow the target audience and promote products.
Zotabox
Zotabox is an all-in-one e-commerce marketing tool that packs more than twenty marketing tools in one package.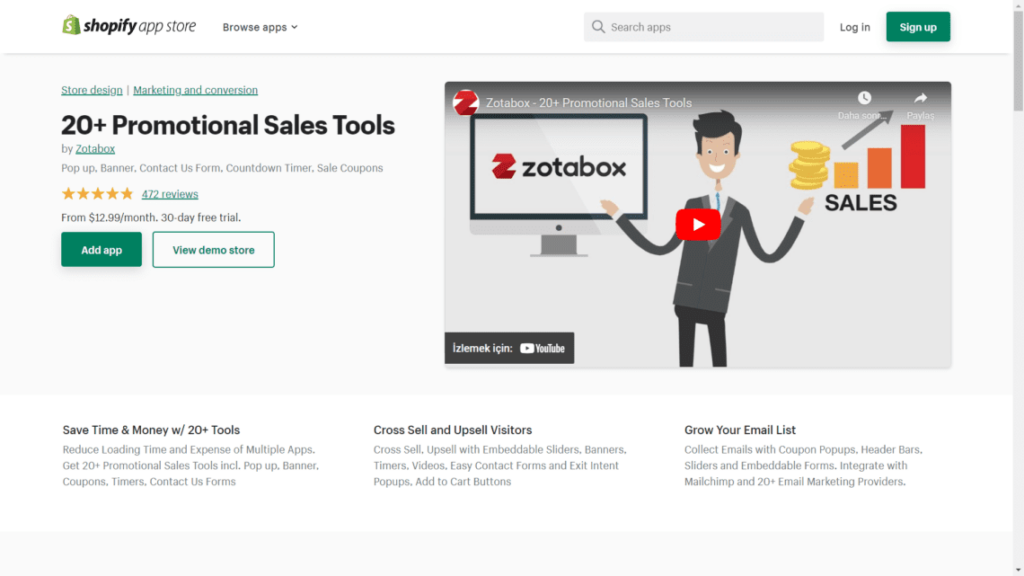 It is easy to use. Zotabox allows businesses to interact with their customers using Facebook contact forms and Livechat. It also provides solutions for social proofs, testimonials, and reviews.
Recart: SMS & Messenger
Recart is an SMS and Facebook Messenger marketing tool.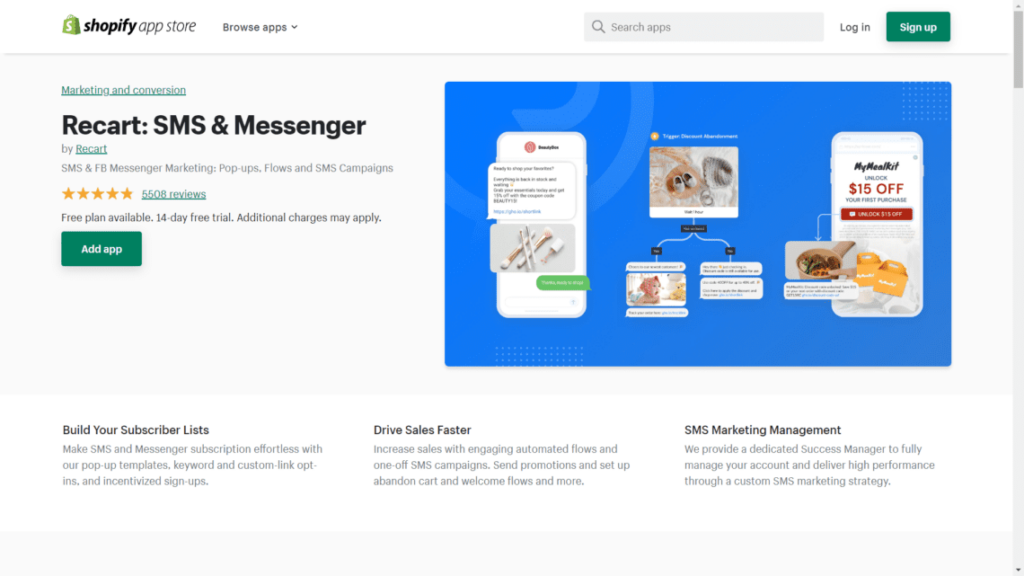 It allows businesses to grow their email lists and create pop-up opt-ins. It also offers a variety of automated and ready-made templates that can be used to make marketing strategies more efficient. Also, the app has built-in SMS statistics to track campaigns. It provides convenience to businesses in every field with its real-time control panel.
5 Best SEO Apps for Shopify
SEO enables businesses to attract more visitors to their e-commerce sites. Considering the importance of SEO in Shopify, it offers a series of SEO applications to the users' preferences. We've evaluated the 5 best Shopify apps to help you improve your website's SEO performance.
Plug ın Seo
Plug in Seo is an SEO app developed for Shopify stores.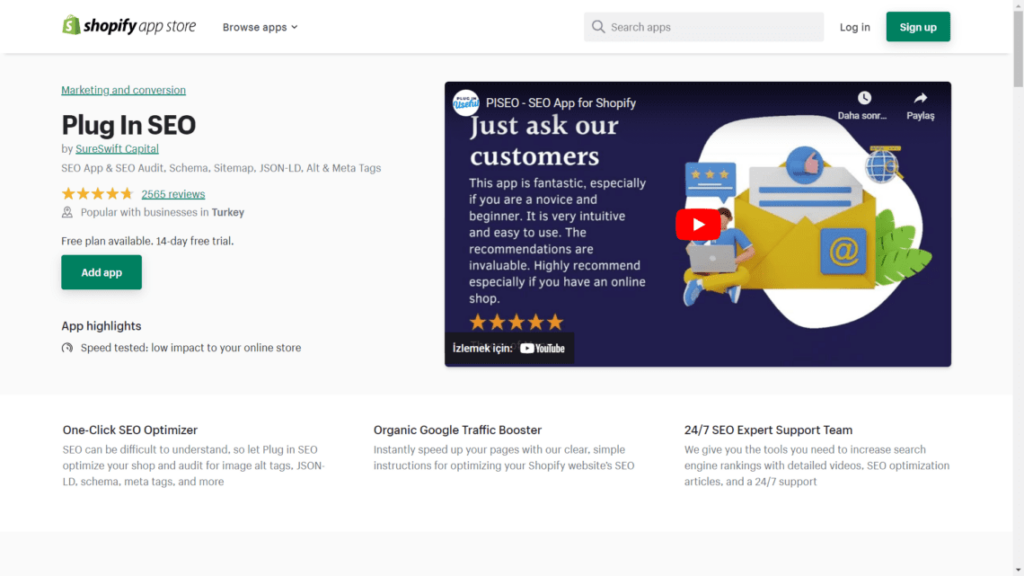 It is an app that automates complex SEO processes by automatically detecting many various SEO issues like broken links and missing metadata. For example, the keyword tool offers advanced snippets and templates for adding bulk meta descriptions. This app allows you to audit your store's SEO, and get suggestions for fixes. It allows you to determine the right strategy with search engine-friendly data.
Seo Manager
Seo Manager is an SEO tool that has a set of tools for improving the performance of websites.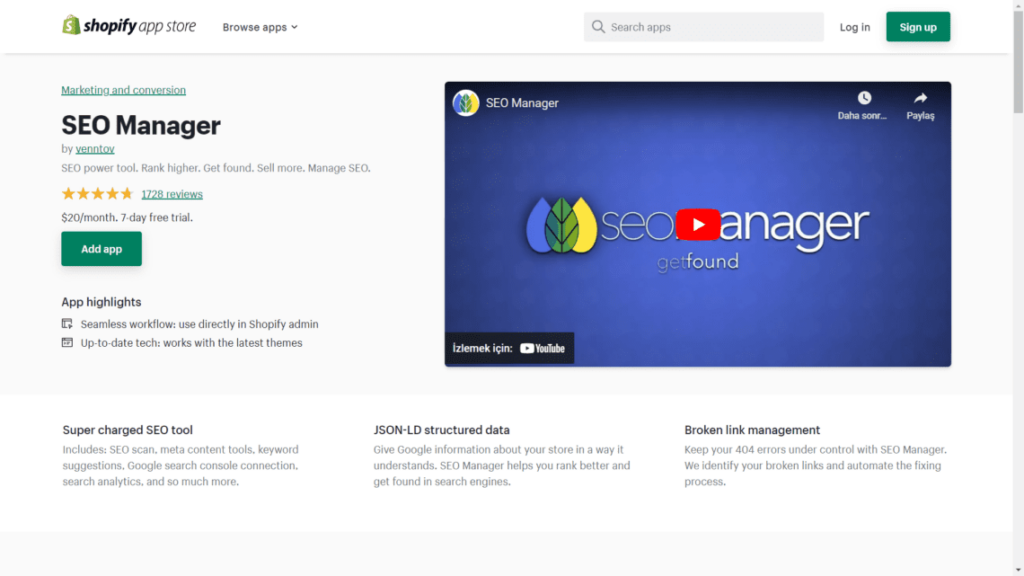 Businesses can use SEO Manager to detect broken links and use features such as auto-correction, data support, automatic titles, and meta descriptions.
In addition, it has features such as real-time automatic error correction and keyword suggestions. In this way, it helps businesses to stand out on Google.
Seo Optimizer
Seo Optimizer is a reliable SEO tool included in the Shopify App.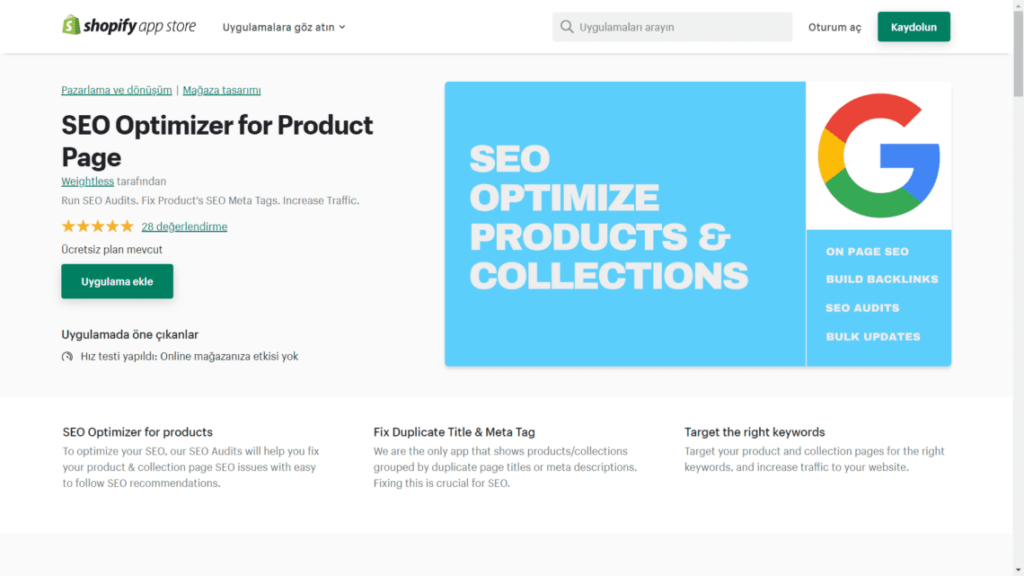 It is a popular app that businesses frequently use to increase their sales and revenues. It focuses on SEO features to move its products to the best search result. In addition, easy installation is among its prominent features. It has an automatic optimizer, bug fixer, and site accelerator features.
Booster
Booster is one of the best SEO apps for tuning the technical SEO success of websites.
It monitors and automatically updates websites to provide businesses with applications that Google requests. Additionally, it generates the sitemap to ensure that each site is crawled and indexed correctly.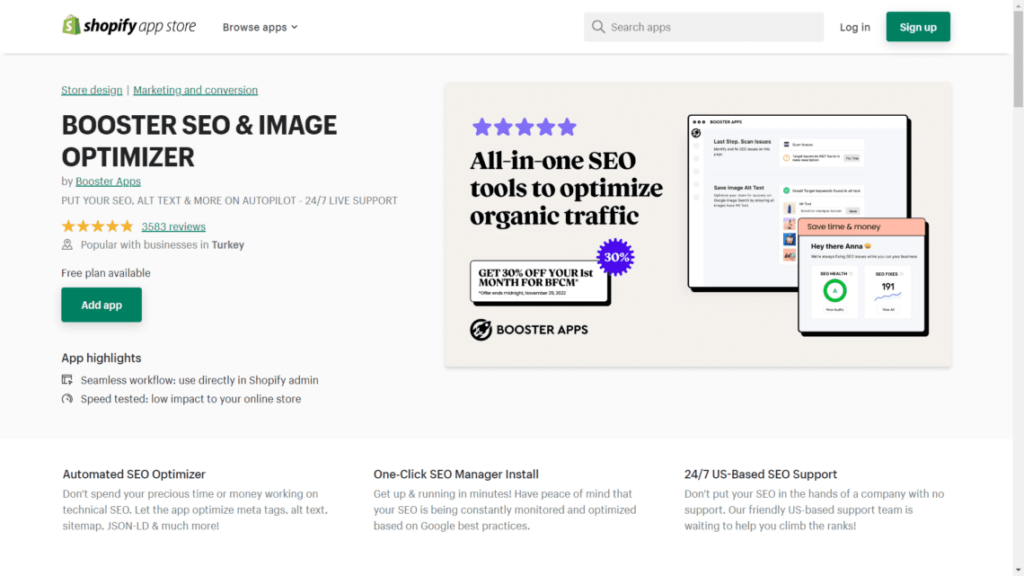 Booster was developed for Shopify. It has powerful tools to increase the performance of websites in search results, improve site speed, and optimize connections and data. It also provides tracking of results with weekly SEO reports.
Seo & Image Optimizer
Seo & Image Optimizer helps to increase the speed of your Shopify store.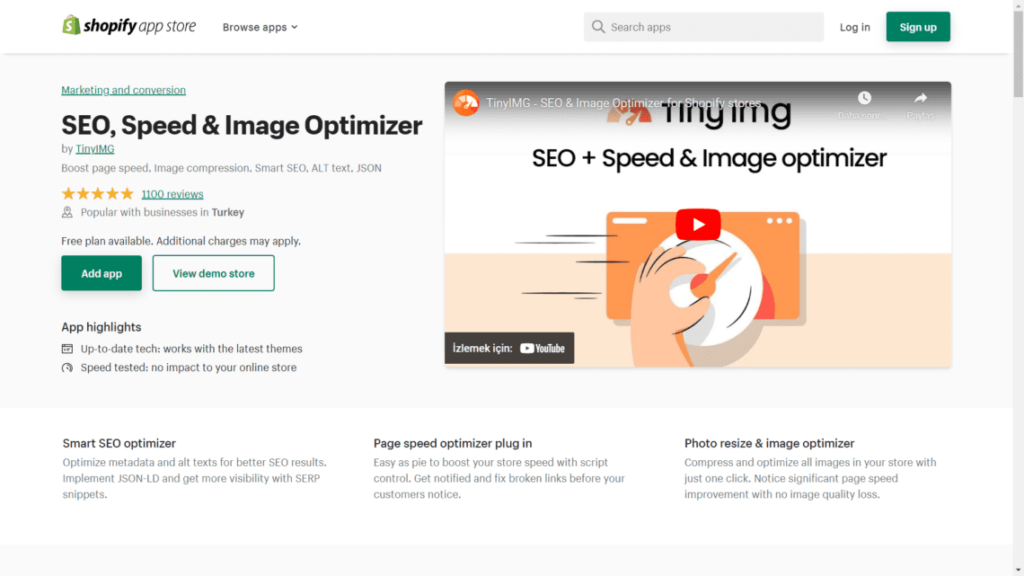 Site speed is an essential factor when it comes to SEO. Tiny IMG Seo & Image Optimizer automatically shrinks the images on the site and speeds up the loading. In addition, it automatically fixes SEO problems on businesses' sites. It offers a control panel where they can constantly control the page speed.
Why Do Businesses Prefer Qpien?
Using the right Shopify apps plays a critical role in the success of businesses. In this article, we tried to help you decide on the 20 best Shopify apps.
On Qpien, Shopify helps store owners give their customers the best experience they can offer. It also reduces the workload of support teams with its automation features.
If you want to try many advantages such as LiveChat and omnichannel communication for free, we greet you to Qpien.