You can increase your conversion rates by using live chat welcome messages.
The first thought of potential customers visiting your website may be to leave the site. High bounce rates are the last thing a business would want. Because as visitors navigate your site, they may start to be interested in your products or services.
Fortunately, beautifully crafted welcome messages help businesses engage customers. It also enables increased conversion rates in a targeted way.
In this article, you'll cover what live chat welcome messages are and why they're essential to businesses. Next, we will share with you the 15 most effective live chat welcome messages that you can use on your website.
What Are Live Chat Welcome Messages?
Welcome messages are the first communication you will establish with your visitors. It can contain a variety of information, such as a simple greeting, an offer of help, or a specific action. Although their purposes are different, welcome messages are vital for initial communication. The first message you use to meet your potential customers determines your communication language in the customer journey and is effective in decision processes.
When your visitors click on the live chat tool on your site, you can impress them with a strong welcome message.
With Qpien, you can easily add a welcome message to your channels such as WhatsApp, and Facebook Messenger, especially live chat.
Top 10 Live Chat Software for Business in 2023
How Live Chat Welcome Can Increase Your Conversion Rates
It reduces response times.
It provides 24/7 accessibility to your business.
It helps you improve the customer experience.
It provides customer satisfaction.
It increases your engagement rates.
Want to make your welcome messages more effective?

Show your visitors the most important benefits of using your product. Tell your potential customers how they can help them reach their goals.
The Best Live Chat Welcome Messages to Use on Your Website
Hundreds of visitors come and go to your website during the day. You can turn them into loyal customers with effective welcome messages that you will use in live chat. To be honest, there is no message to guarantee visitor engagement. But there are messages for live chat that can grab the attention of visitors. These help you grab the attention of your potential customers. We have categorized live chat welcome messages to make your job easier. Enjoy!
Live Chat Welcome Messages You Can Use General Station
You can send these messages directly to your visitors as soon as they come to your site. It is a way to personalize the customer experience and make the online purchasing experience more lively. You can show your visitors that you are there for them throughout the experience.
Hello!
Welcome to (Company name). We are here if you need help.
Welcome.
Would you like to get more detailed information about our services?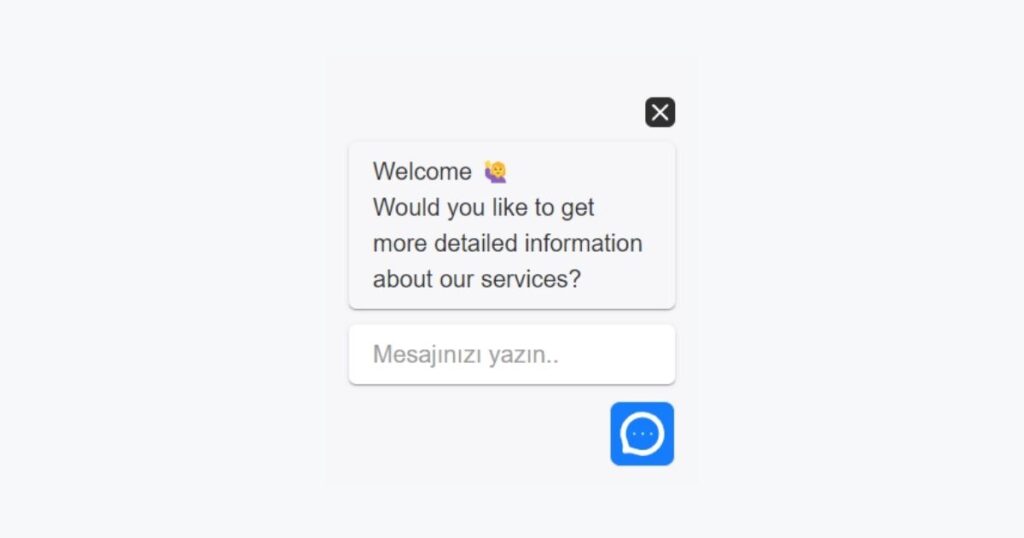 Hi!
The (Company name) team is here if you need anything!
Hello
How are you? I'm here to help you if you run into any problems!
Live Chat Welcome Messages You Can Use Out of Working Hours
Your website is like a living creature 24/7. Your visitors may visit your site to get information about your products or services or to report their problems. In such cases, the information messages you send to your visitors are essential to increase customer satisfaction.
Hello!
We are currently out of business hours. Please share your contact information with us. We will get back to you as soon as possible.
Hi!
Thank you for reaching us. Unfortunately, we are not online at the moment. We will contact you shortly.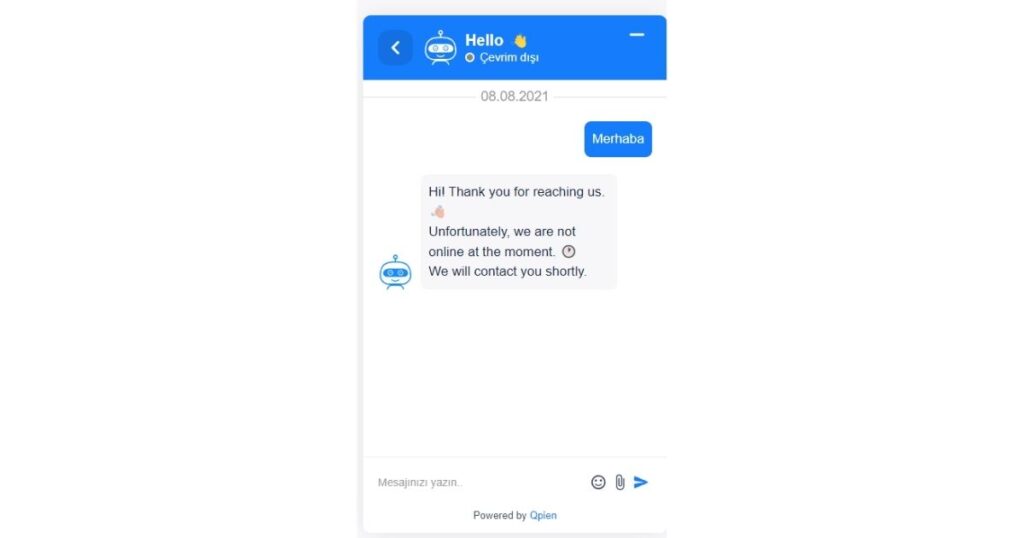 We got your message!
It won't take us more than 24 hours to get back. (Company name) team.
Hello!
Our team is currently offline. We will contact you as soon as possible.
Live Chat Welcome Messages You Can Use For Customer Support
We've also added welcome messages that your customer support team can use to the list. You can add these messages to your homepage or pages where visitors spend more time. These messages are often used to make it easier for support teams by inviting your visitors to interact.
Hello!
Thanks for your message. Our customer support team will get back to you as soon as possible.
Hello!
Thank you for reaching us. Your message has reached our support teams. We will get back to you within 24 hours.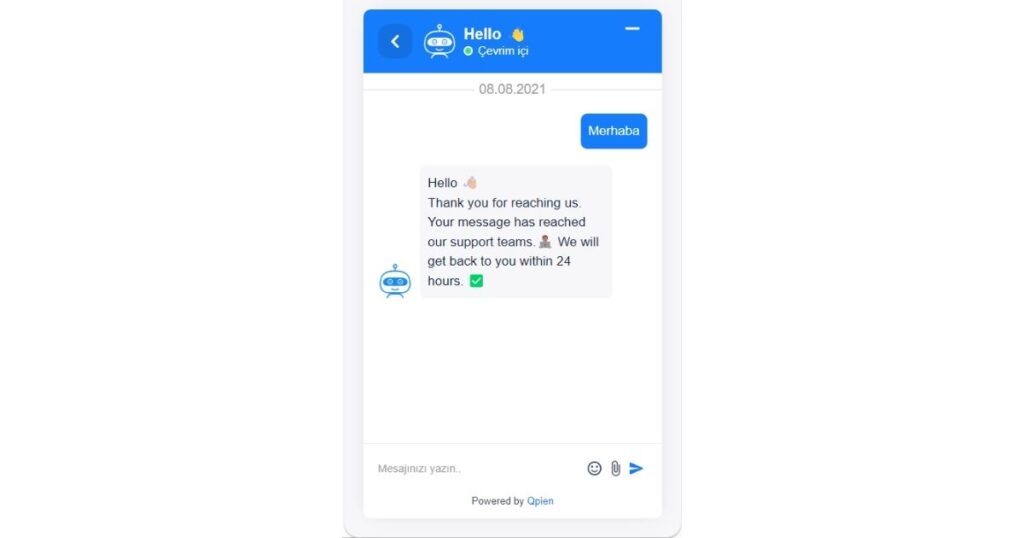 Hello!
Welcome to (Company name). If you need help, you can contact our support team here.
Hi!
I'm Gaye from the (Company name) team. How can I help you?
Live Chat Welcome Messages You Can Use For Returning Visitors To Your Site
Welcome again!
If you need any help, I'm here as always.
Welcome back!
How can I help you today?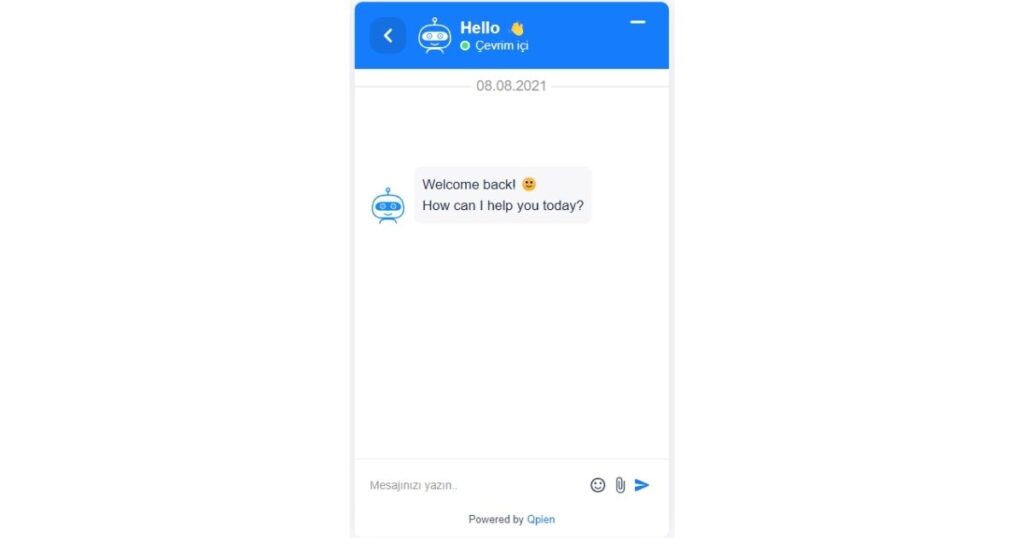 We are glad to see you again.
Looking for something special?
Benefits of Using Live Chat On The Website
Use Live Chat Welcome to Increase Conversion
With the new generation customer service tool Qpien, you can increase your conversion rates by adding live support to your website. At the same time, you can effectively manage your customer communication by bringing your messages from all your customer channels together in the smart inbox.
Are you ready to provide effective customer service to your customers 24/7? Use live chat welcome messages with Qpien.