Do you know the differences between the world's top e-commerce platforms?
E-commerce is a fast-growing industry. The increase in internet sales attracted the attention of businesses. Thus, the number of companies investing in this field has also increased. However, just investment is not enough for success. To be successful in e-commerce, it must be supported by marketing, advertising, and enhanced customer experience.
The dynamic structure of the sector and various variables can sometimes make it hard to keep all these under control. E-commerce platforms, which are the main subject of our article, aim to facilitate the work of businesses in this field with the all-in-one features it offers.
There are different e-commerce platforms that companies can use as solution partners. Before deciding, businesses need to do good research and choose the best platform for their needs. 
What Is An E-Commerce Platform?
E-commerce platforms offer software solutions to companies that want to sell online. In other words, it helps businesses manage their digital sales and marketing from a single center. In this way, businesses that want to sell over the internet can easily manage processes such as website management, sales, marketing, and operations.
E-commerce platforms are also significant in meeting customer demands and expectations. Therefore, businesses need to be very careful in the decision process. In this way, you can achieve success with low costs while getting the highest efficiency in e-commerce.
 Let's get to know the popular platforms better.
Most Popular E-Commerce Platforms
Shopify
Serving with the motto "If you can dream, you can sell with Shopify", the company is one of the world's leading e-commerce platforms.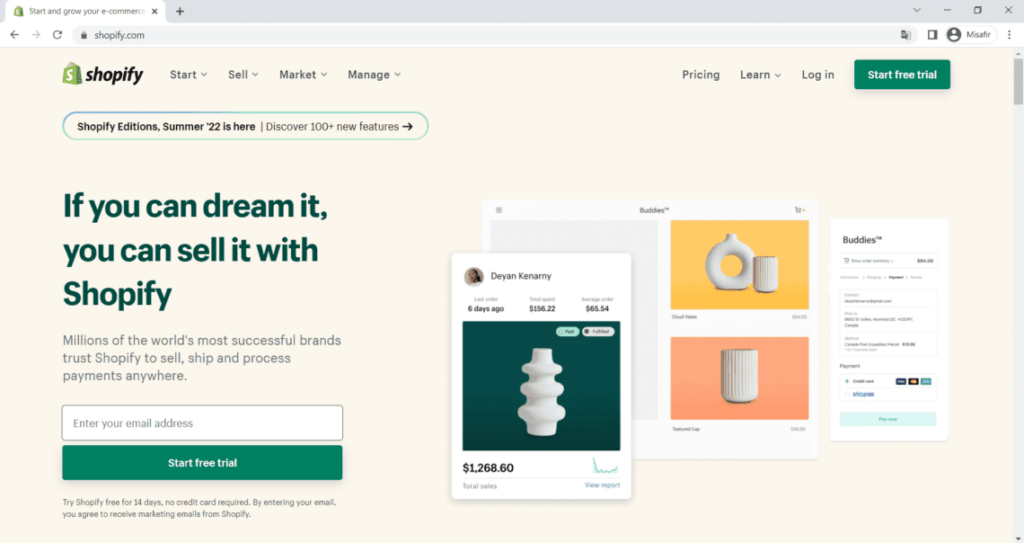 Although Shopify seems to be aimed at businesses just starting in e-commerce, it can support big sales. It has more than 6000 apps and plugins. Users have tools such as connecting to social media, making sales, and editing sales reports. It also has various features such as choosing the right business name and managing online orders.
With Shopify, businesses can sell on their websites, social media channels, and various marketplaces. Despite being a powerful platform, it is easy to use. They can keep their stores up to date by minimizing errors with minimal effort.
Shopify has payment plans to suit different budgets and supports alternative currencies. In addition, being easy to install, and suitable for mobile has increased the rate of preference worldwide.
Pros: With reduced abandonment rates, marketing, and SEO tools, Shopify users can easily direct their potential customers to purchase and offer an optimized e-commerce experience.
Cons: Shopify can be costly based on needs. Many features that make work easier are offered as add-ons. While their monthly prices are competitive, add-ons and 3rd party payments and fees can add up to costs.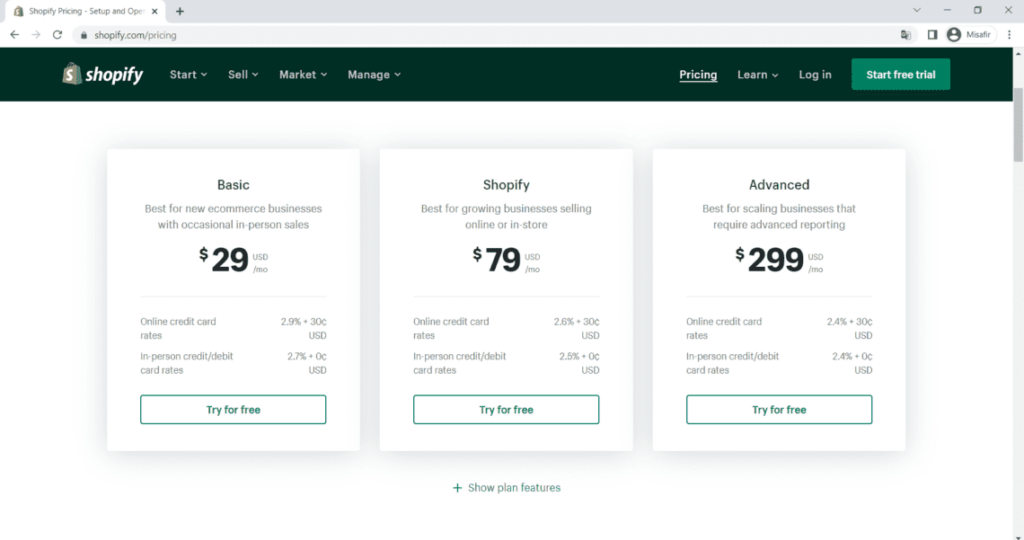 It has Qpien integration.
Woocommerce
Woocommerce is an open-source e-commerce plugin for WordPress. It is a highly rated and up-to-date e-commerce software, that is ideal for sellers looking for a fast and easy-to-use solution in e-commerce.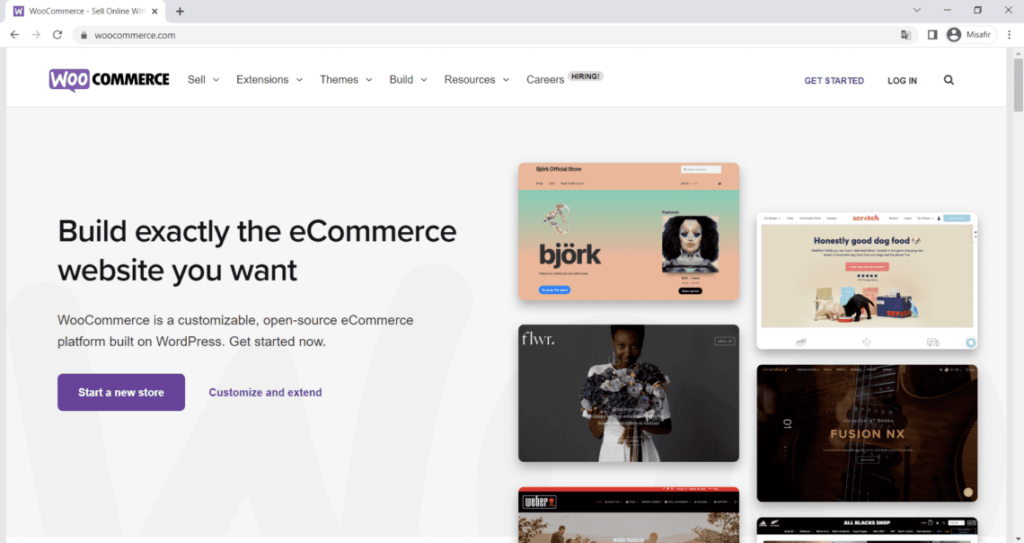 Woocommerce seeks to minimize the problems in e-commerce sites and have smooth online sales. It is a free WordPress plugin and provides users with features such as email design, payment area editor, and coupon editor for free. Users can add an unlimited number of inventory, images, and products to their online stores with Woocommerce.
Although the standard module of Woocommerce is free, businesses that want to develop their e-commerce site and do e-commerce professionally need to buy modules and themes.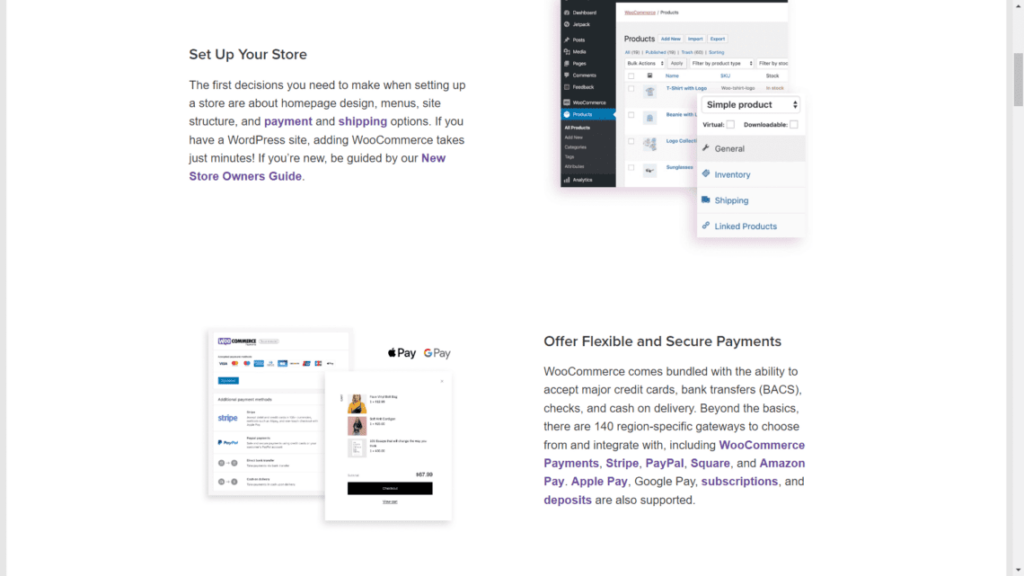 Pros: Woocommerce offers quick solutions to those who want to do e-commerce through WordPress. Its easy-to-use and free features are ideal for e-commerce beginners.
Cons: Subscription services in Woocommerce are costly as inventory management tools are purchased separately. It also does not have any marketplace integration.
It has Qpien integration.
Wix
Wix is ​​an all-in-one e-commerce platform. It has excellent features in terms of design. It is an ideal e-commerce solution for small businesses that do not have a large inventory.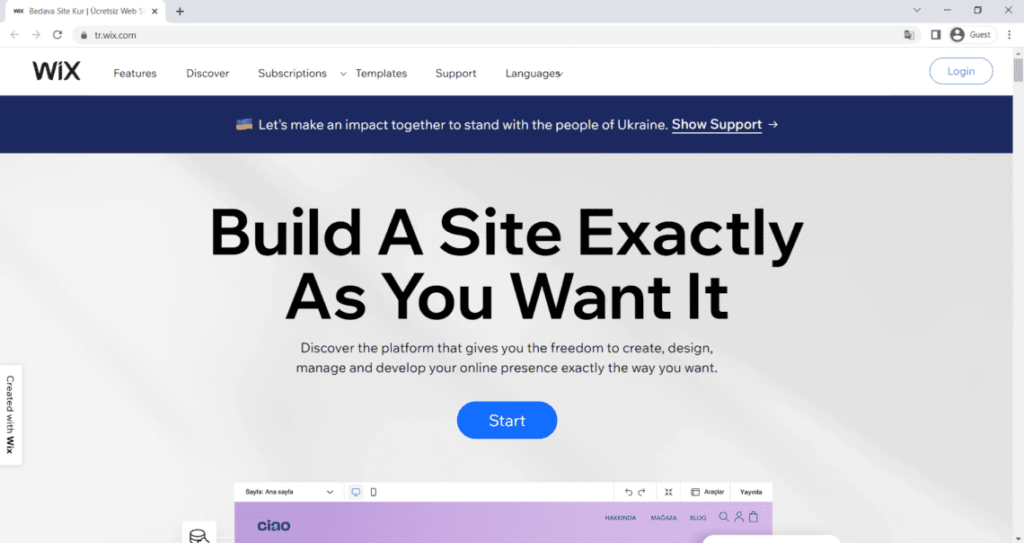 Wix's advanced design features help users add advanced features to their websites. It stands out with its fast installation and easy-use feature. However, as the market grows, it becomes more difficult to use and adjust the site. Once you start moving and shipping inventory, it won't be as easy to use as Shopify or Bigcommerce. Therefore, it is more suitable for small businesses.
Flexible design structure, mobile compatibility, and SEO tools are among the advanced features of Wix. It is excellent software to design a user-friendly and perfect website. 
Things that are very simple to scale on other sites require professionalism at Wix. It costs a little more compared to Zyro. However, integrations, template variety, and reliability are more powerful.
Pros: Wix is ​​one of the e-commerce platforms with advanced features. Thanks to the features and templates it offers, you can make your website more user-friendly and create designs.
Cons: It is weaker than its competitors in reporting and scaling tools. In addition, variable price features prevent you from creating a net cost. Wix does not have any marketplace integration. It allows users to sell through their e-commerce sites.
Bigcommerce
Bigcommerce is a popular e-commerce software founded in 2009 that allows businesses to sell online. Today, the company serves in more than 150 countries and is among the leading companies in the e-commerce industry.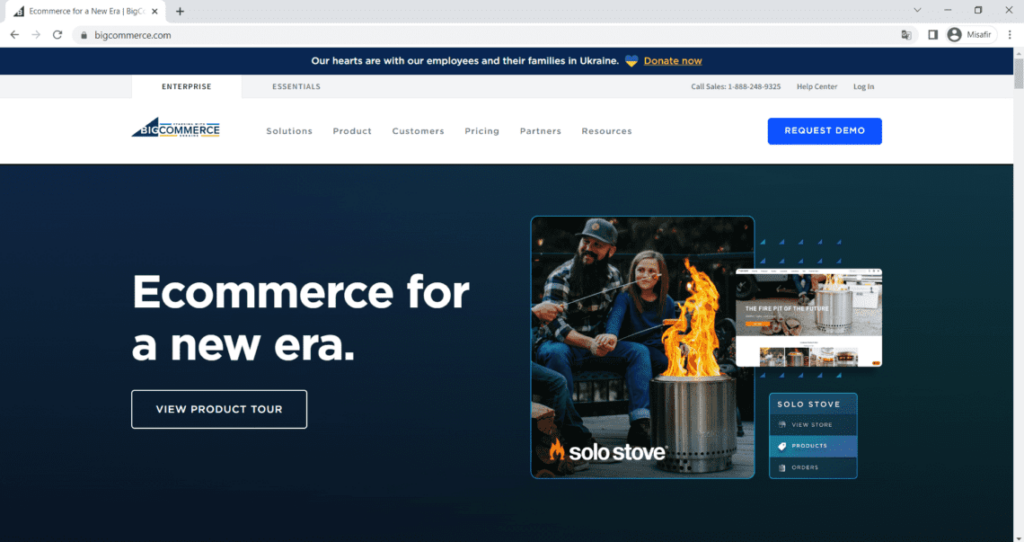 Bigcommerce offers users powerful store management. Comprehensive product listing, versatile delivery, real-time offers, and discount tools help users stand out in e-commerce. Businesses can design and optimize their e-commerce sites without HTML or CSS knowledge.
Pros: Bigcommerce helps you provide quality service with lower budgets. In addition, with its simplified payment methods, it aims to increase payment conversions by minimizing distractions when customers go to the payment page.
Cons: Compared to its competitors, it is more costly to increase conversion. It sets a limit on online sales, if you exceed that limit, you'll need to change plans. Free themes are limited and similar to each other.
Magento
Magento is an open-source, fast-growing, and comprehensive e-commerce platform.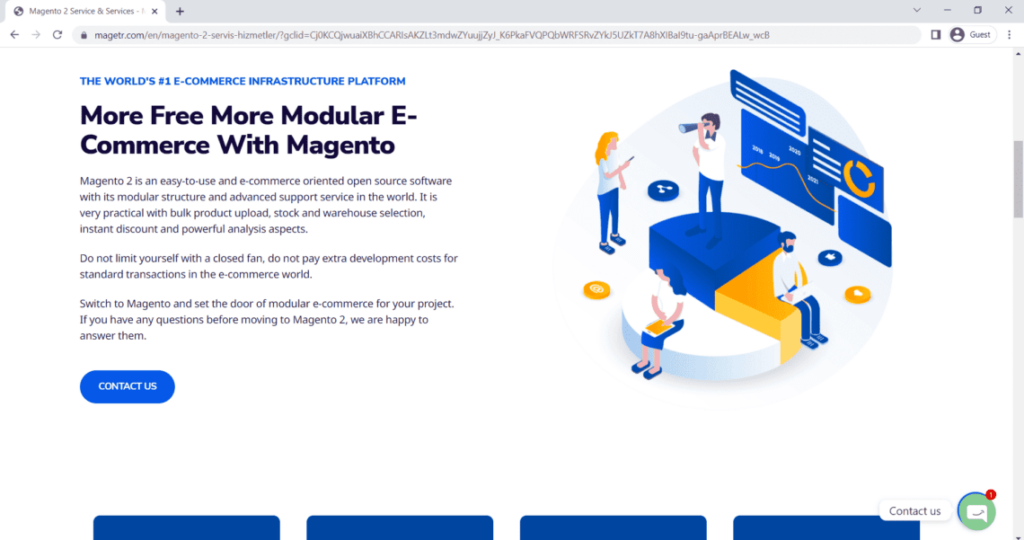 It has many tools for analytics, tracking, conversion, and optimization in e-commerce. Therefore, it can be challenging for users who do not have high technical skills. The flexible and end-to-end solutions it provides to vendors provide customized transactions on their websites. 
It offers merchants a comprehensive SEO package to stand out in e-commerce. This all-inclusive package includes all the tools you might need for SEO. In addition, its omnichannel and mobile-compatible structure has everything needed to maximize the user experience. While the platform is free, many add-ons require a purchase. In addition, there are housing and maintenance costs.
Pros: It has an extensible structure, so it meets everything that large businesses need. Sellers can manage multiple stores from a single center with Magento.
Cons: Magento requires time and expertise in e-commerce. It needs technically qualified people to use for success.
Opencart
Opencart is a free and open-source e-commerce platform. It offers companies a wide range of designs with many customizable options.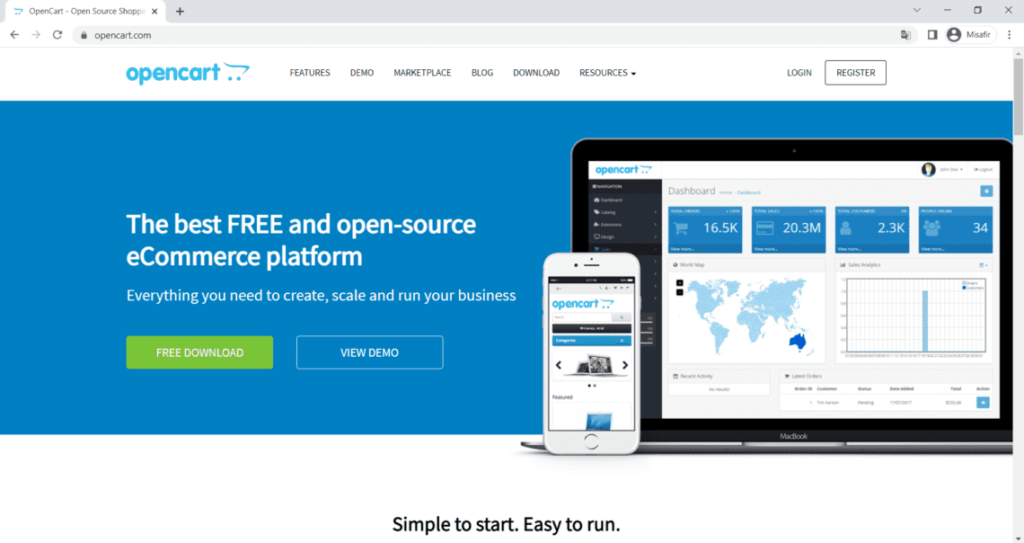 Businesses can manage multiple stores and use analysis and reporting tools at no additional cost. Opencart helps companies create websites with over 1300 modules and themes. It is easy to use. Even sellers with little knowledge can create an e-commerce site.
Pros: It can be used by anyone. It is ideal for low-budget businesses because it is free.
Cons: It is not ideal for search engines. It offers customers a poor checkout process. Marketing options are insufficient compared to other e-commerce platforms.
Zyro
Zyro is a website builder with similar features to Wix. Supported by Hostinger.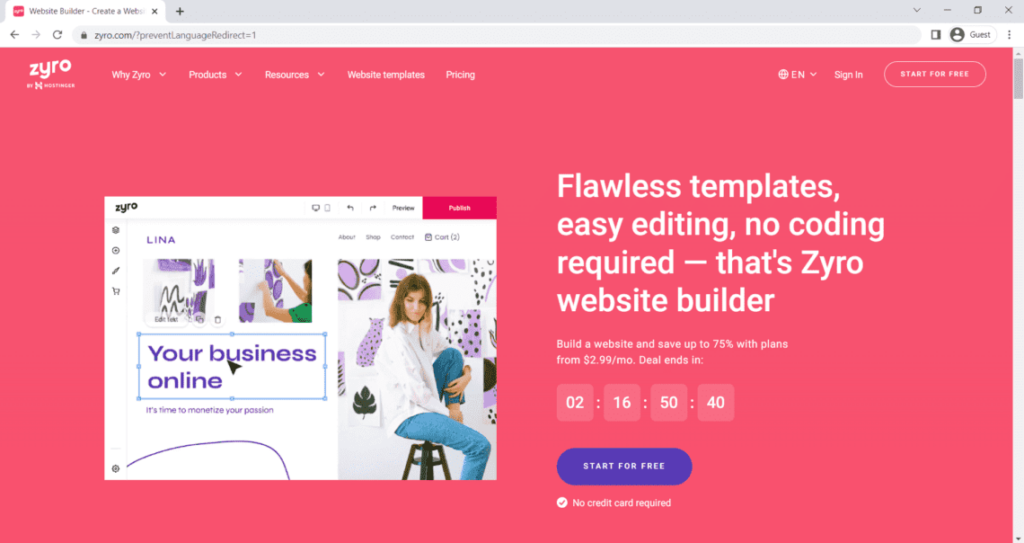 While its focus is on core websites, it offers solutions for companies who want to create an online store. It is preferred more often by businesses that are new to e-commerce. It has features such as artificial intelligence tools and 3rd party integration support.
Free accounts are limited in functionality.
Pros: Ideal for e-commerce startups and small businesses. There is no need to pay extra.
Cons: Although it is preferred more often by unprofessional users, it does not have advanced customer support.
Ecwid
Ecwid is an e-commerce solution that can create a virtual store similar to your site design without knowing the software and coding. It provides businesses with the tools necessary to create online stores.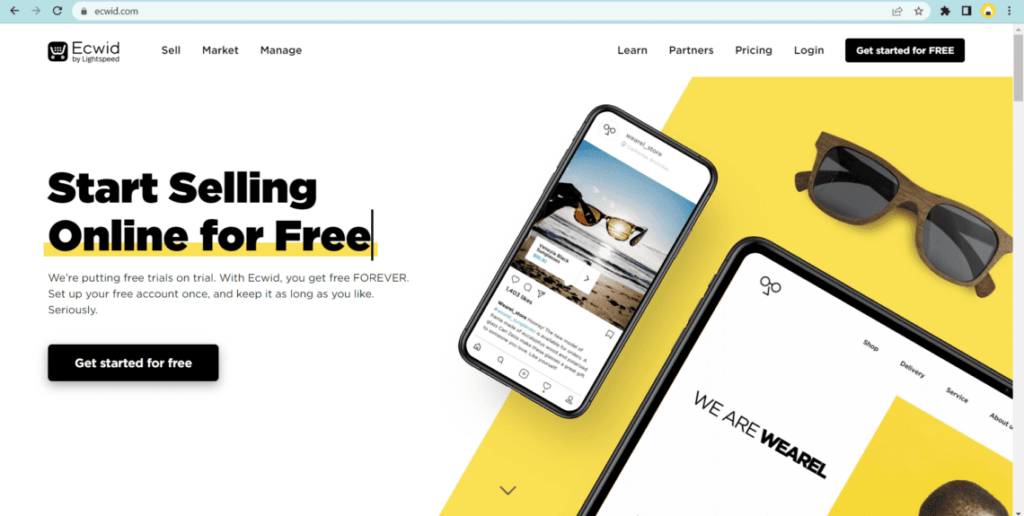 Ecwid is one of the easiest ways to connect a website, marketplace, social media platforms, and online store to a single platform. It allows small and medium-sized businesses to create attractive and user-friendly websites without designers.
It has limited options when it comes to tools and customizations.
Pros: Ideal for e-commerce startups and low-budget sellers.
Cos: Limited language options are available.
Squarespace
Squarespace is a website builder designed for the needs of e-commerce beginners.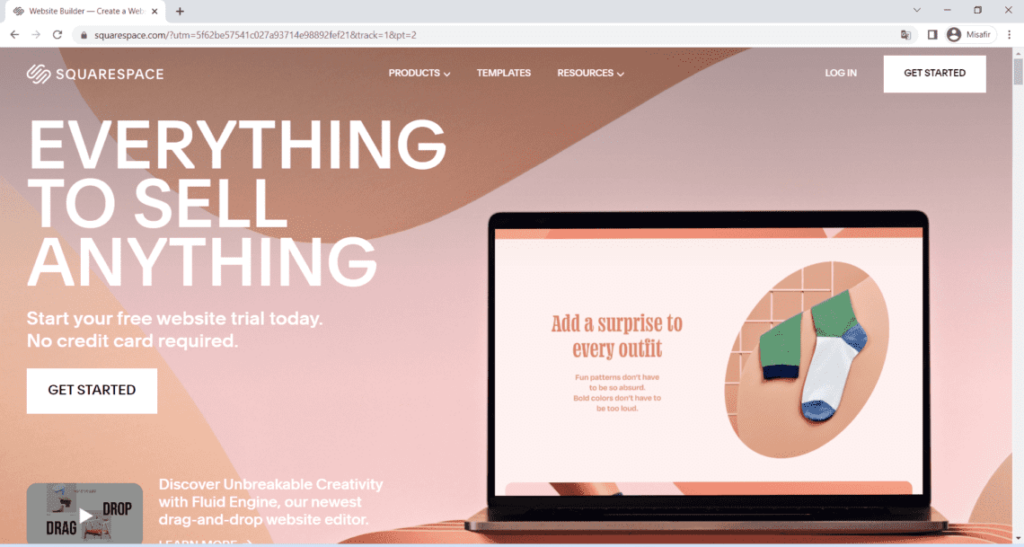 Businesses can create a professional website without the need for coding knowledge. Although not as advanced as its competitors, it offers advanced solutions to sellers who want to do e-commerce. With Squarespace, it is possible to control order, inventory management, and sales planning.
Its powerful visual editors and e-commerce solutions make it a strong competitor to other website builders.
Pros: It is an ideal website builder for beginners. Online stores can be created without the need for advanced technical knowledge.
Cons: It has limited customization. It may be insufficient for businesses with a large e-commerce volume.
 Lastly
With Qpien, the All-in-One Customer Communication Platform, you can professionally manage your customer communications in all your e-commerce channels. In this way, you can quickly increase your conversion rates while maximizing customer satisfaction.
Qpien has integration with leading e-commerce platforms Shopify, and Woocommerce. In this way, you can easily integrate Qpien's business-facilitating features into your e-commerce site.
With Qpien, the omnichannel customer communication platform, you can professionally manage customer communication on your website. In addition, with LiveChat, you can communicate with your customers in real-time and solve problems quickly.
 To increase your conversion rates in e-commerce with an improved customer experience Try Qpien for free!