Instagram Direct is Instagram's instant messaging feature. Thanks to this concept, also known as DM, businesses can interact with their customers in real time. Instagram offers brands new opportunities to engage with customers through direct messaging. Evaluating this, increasing conversion rates, and using Instagram as an effective communication channel depends entirely on the customer communication strategy of the businesses.
We think that after reading this article, the importance you give to your business's Instagram messages will increase. But Why? We have collected the answers for you.
The Importance of Instagram in Customer Communication
Before talking about Instagram direct, let's talk about Instagram's role in customer communication. Instagram is not the perfect customer communication channel for businesses. However, if your company has an Instagram channel and you advertise your products or services here, you can also offer customer support through this channel.
Instagram has an impressive user base of 1.3 million worldwide. In addition, according to data from Hootsuite, 90% of Instagram users follow at least one business. Bad customer experience on a platform with such a large audience and interaction will negatively affect your brand perception.
Businesses can also use many different ways to interact with their customers. Businesses can attract the attention of their target audience with your reels or stories and enable them to interact with you. Also, you can take advantage of the popular marketing tactic of the last period, influencer marketing. In this way, you can encourage your customers to interact with your brand.
 Establishing customer communication through posts also contributes to your brand awareness. According to Instagram, 57% of people like to see surveys and quizzes of brands on Instagram.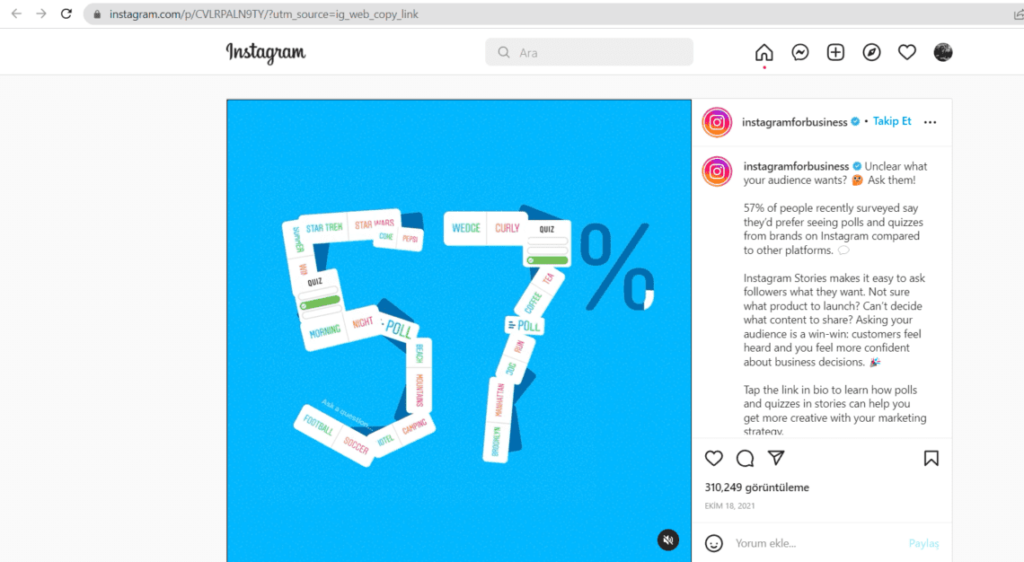 What is Instagram Direct?
DM is a communication channel that allows businesses to communicate directly with customers and connect individually. It makes the customer communication process much easier for businesses.
People like to keep in touch through the platforms they use most often. Therefore, maintaining customer communication in these channels forms the basis of good customer relations. 
With DM, you can attract the attention of your potential customers and promote your products or services directly. Instagram not only strengthens your customer communication but also helps you personalize your customer communication.
What To Consider When Using Instagram Direct?
First of all, we should point out that you must have a business account on Instagram to instill confidence in your customers and manage your customer communication professionally. This way, you can benefit from the features that Instagram has developed for businesses and increase your brand credibility in the eyes of your customers.
After creating a professional business account for your business, let's look at what businesses can do for a more successful customer experience.
All information about your business must be in your profile account and be up-to-date. Also, a 'Contact Us' option that you will add to your profile will be an incentive for customers to contact you via DM.
 Further, an alternative communication channel that you will put on your Instagram profile will strengthen your omnichannel customer communication. In this way, you can send a message to your customers that you can be reached from every channel.
For a professional customer experience, you need to give the same attention to all touchpoints. Managing all your customer communication channels separately will cause you to waste time switching between channels. You can easily manage all your customer communication from a single screen by getting support from an omnichannel customer communication platform such as Qpien.
MOREOVER
Automation is another method for effective DM management. Your customers who contact you via Instagram are probably looking for answers to the same questions. Writing the same answer to every customer can be a waste of time. You can speed up your customer communication by setting up quick answers to frequently asked questions on your Instagram account. This way, your support team can focus on other issues that require touch.
With Qpien, the All-in-One Customer Communication Platform, you can not only collect all communication channels on a single screen but also automate processes. With Qpien's automated answers, you can automate your business's customer communication for every channel and provide a consistent customer experience.
Towards The End
Instagram is a highly effective channel for sufficient customer communication. Instagram's popularity and expansive charm make it an attractive communication channel for businesses. It is a powerful communication method for businesses that want to strengthen their brand perception. What businesses that want to be successful should not forget is that Instagram is just one of the channels that are important in customer communication.
Instant communication channels such as WhatsApp and Facebook Messenger are also customer communication channels with a high usage rate. Ignoring one of these channels can cause serious problems in communicating with your target audience. In addition, ensuring cross-channel consistency and omnichannel customer communication is the key to an effective customer experience.
To easily manage your customer communication try Qpien for free!