With the increasing power of social media, providing customer service on Instagram offers great opportunities. Thanks to Instagram customer service, businesses can not only ensure existing customer satisfaction but also strengthen their relationship with potential customers.
Providing customer service on Instagram is not just used to improve relationships. It is also essential in building trust and increasing conversion rates. It is directly related to growing your business.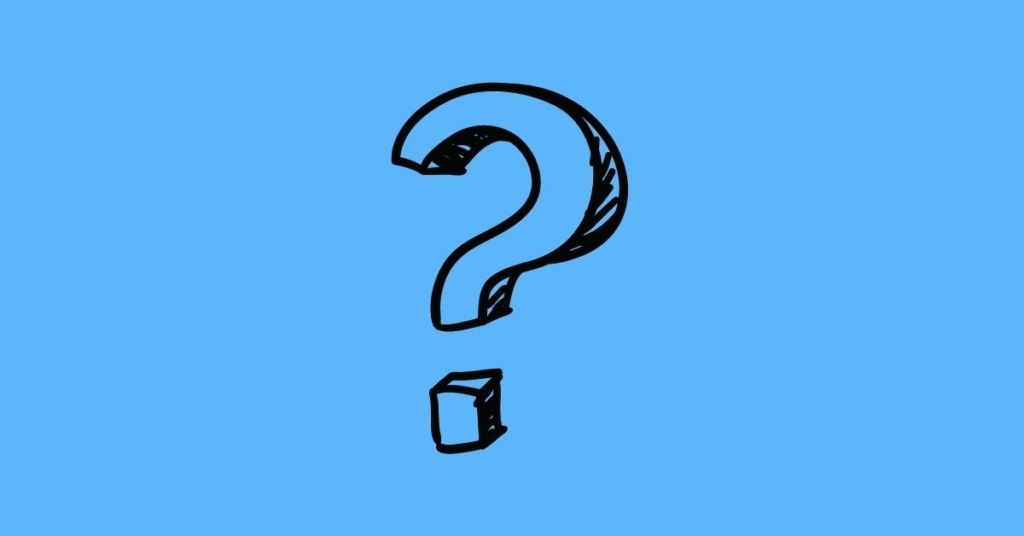 What is Instagram Customer Service?
Instagram customer service is when businesses provide support to their customers through Instagram. This support may include purchasing processes as well as post-purchase requests or pre-purchase questions.
There are countless ways to develop relationships with your audience or provide enhanced customer service on Instagram. In this article, we have listed the most basic methods for businesses.
It will not only improve customer relations but also help build trust. For this reason, it is important for businesses to provide customer service from their Instagram business accounts, which they can use as a virtual store.
What Is Instagram Business? Increase Sales In 7 Steps
While talking about Instagram customer service, we would like to share a few statistics with you;
Instagram is the #1 social media platform for people to connect with brands.
The average Instagram business account increases its followers by 0.98% each month.
35% of Instagram users will shop on the platform in 2023
Given these stats, providing customer service on Instagram is an intelligent decision. When one of your customers' comments on your posts or DMs, it's in your business's best interest to engage.
8 Ways to Improve Customer Service on Instagram
There are many things you can do when providing customer service with Instagram. In this article, we have prepared a list of the most effective method.
Pay attention to Comments, Mentions, and DMs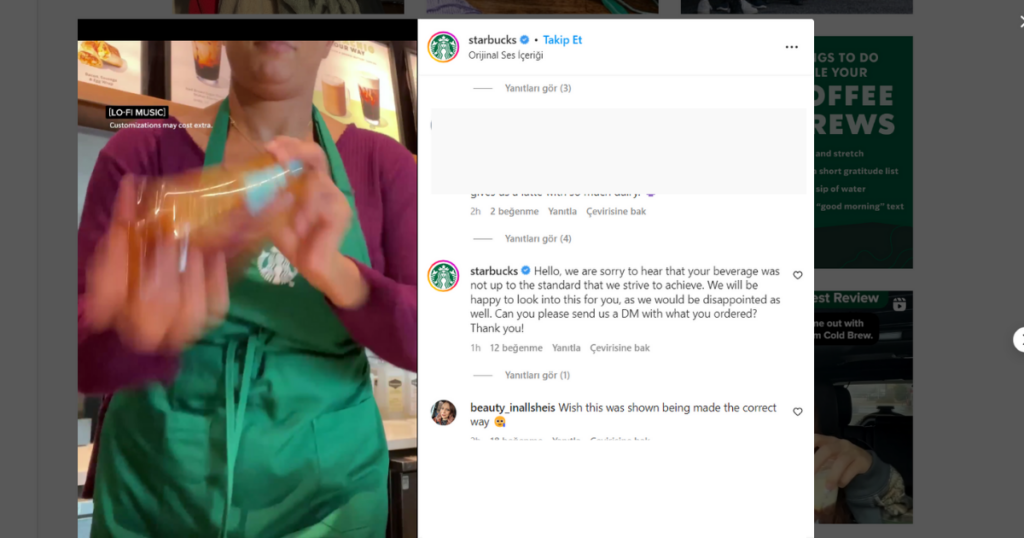 It is the most basic element that can be applied to provide enhanced customer service on Instagram. It is essential to keep communication as lively as possible to improve customer service. If you don't return to the interactions of your target audience, you can lose your potential buyers forever.
Keeping the interaction alive on Instagram is essential in building trust and creating brand awareness, as well as improving customer service. These concepts directly affect customer loyalty and increase your success rates in the long run.
Moreover, comments and mention interactions on Instagram are visible to everyone. Failure of businesses to respond to positive or negative comments or requests from here may cause bias in potential customers.
Add Your Current Contact Information to Your Instagram Bio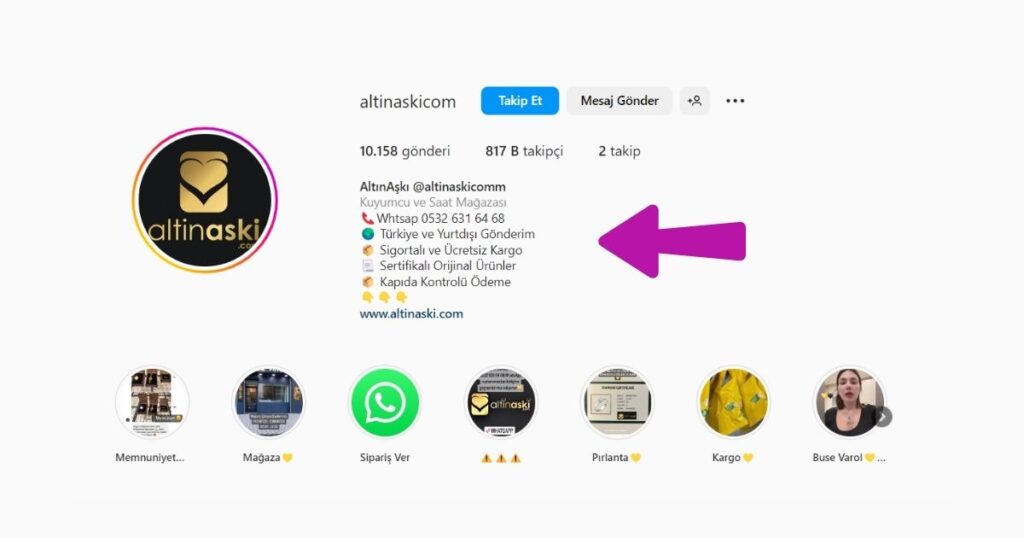 Keeping the profile up to date is just as important as returning interactions on Instagram. So, the first thing people will see when they visit your profile will be your Instagram bio.
All information, from e-mail addresses to phone numbers, must be up-to-date. This way, your customers who want to contact you can communicate through different channels. It is essential in advanced omnichannel customer service.
Having up-to-date information on your profile increases the likelihood of your target audience reaching you while helping to reinforce trust. No one will want to buy a service or product from a store where the available information is not up to date.
Highlight FAQs for Instagram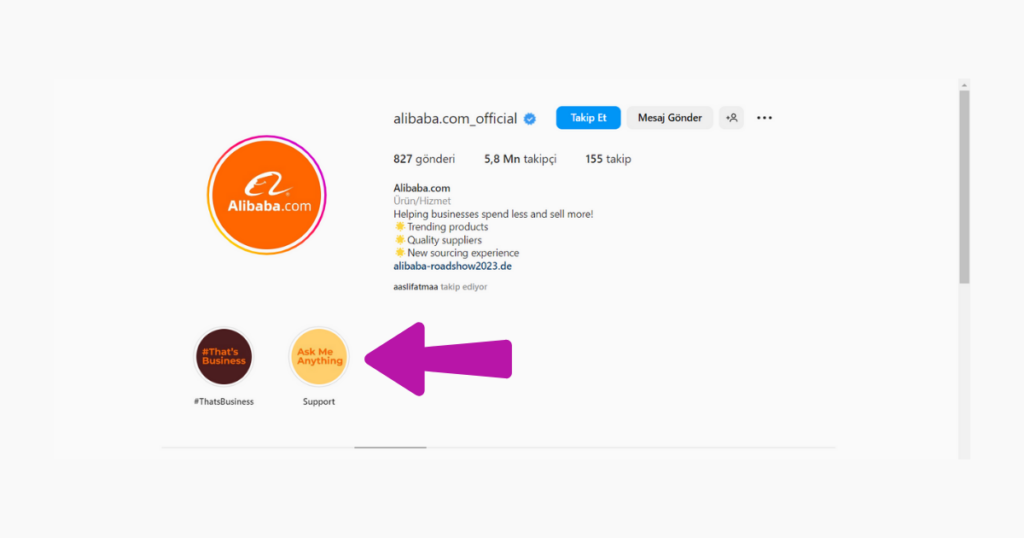 There may be times when customers are unable to DM whoever they want to contact to ask questions. In such cases, creating an FAQ page on Instagram highlights will help speed up the processes.
Thanks to this highlight, where you bring together the most frequently asked questions from your customers, your customers can solve their problems in no time. On the other hand, some customers want to handle their issues themselves. For this reason, offering a self-service solution on Instagram, which is one of the channels where customers interact with brands the most, will be appreciated by many customers. Use Instagram
Quick Reply for Direct Messages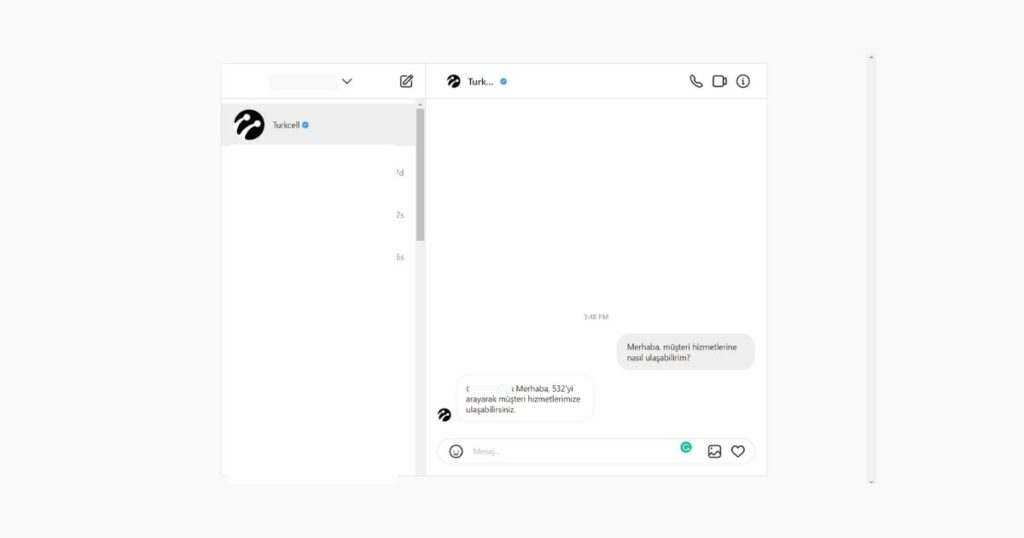 Instagram business accounts have a "quick replies" feature that allows automatic replies to be sent to DMs. This feature will be handled in cases where you receive the same questions over and over again. Using Instagram quick replies, you can create stock messages to provide quick responses to your customers. This way, your support team can focus on contact issues without taking the time to answer frequently asked questions. It is an effective way of providing customer satisfaction while saving time.
Quick replies are not a chatbot. Your team can reduce response times by using pre-made answers to questions. Messages are not automatically sent to the other party.
Keep Up With Your Customers
As with other social media channels, the language used on Instagram is not official. People make more sincere expressions by reinforcing their daily conversations with emojis.
Depending on the style of the customer you are communicating with on Instagram, you can enrich your answers with emojis and images. You can even create a friendly environment for your customers on social media by sharing GIFTs under appropriate conditions.
Use a Customer Service Tool
Businesses that offer customer support through digital channels know that keeping customer communication organized and fast is difficult. In addition to Instagram customer service, it is necessary to work with a large volume of a support team to respond smoothly and quickly to customer requests from Facebook, WhatsApp, and live chat channels, although it will be difficult to keep up with the demands.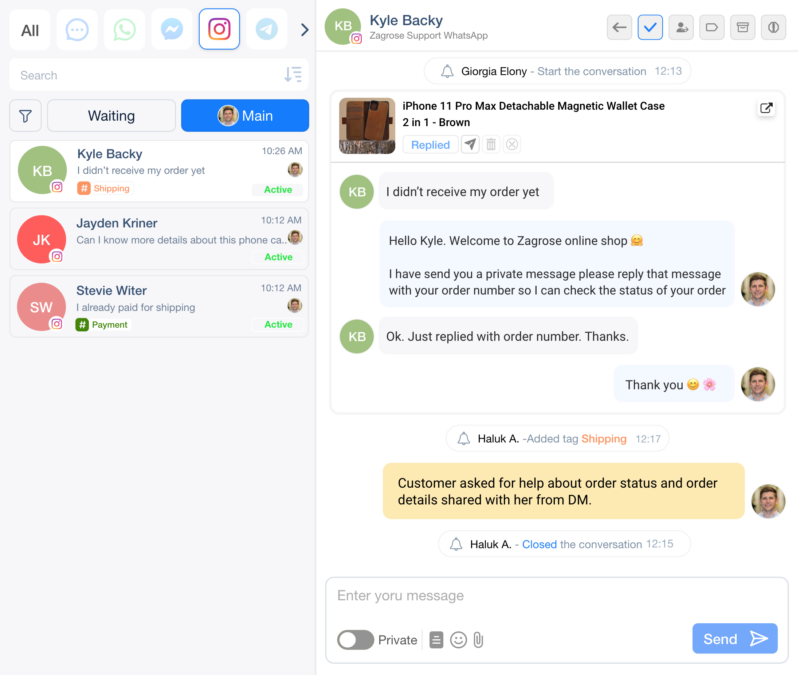 For businesses that want to provide omnichannel customer service through various channels, especially Instagram, using a customer support tool would be a powerful solution to manage processes seamlessly. Because as your business grows, the number of interactions and requests will increase. While this is great, the process can have damaging effects if not managed well. At this point, omnichannel customer service platforms like Qpien come to the aid of businesses.
Qpien is an omnichannel customer service tool that allows businesses to easily manage all customer interactions from a single screen. With Qpien, users can simultaneously meet customer requests from channels such as Facebook, live chat, and WhatsApp, in addition to Instagram comments, mentions, and DMs. This way, it is possible to instantly monitor all customer interactions on a single screen without wasting time switching between channels.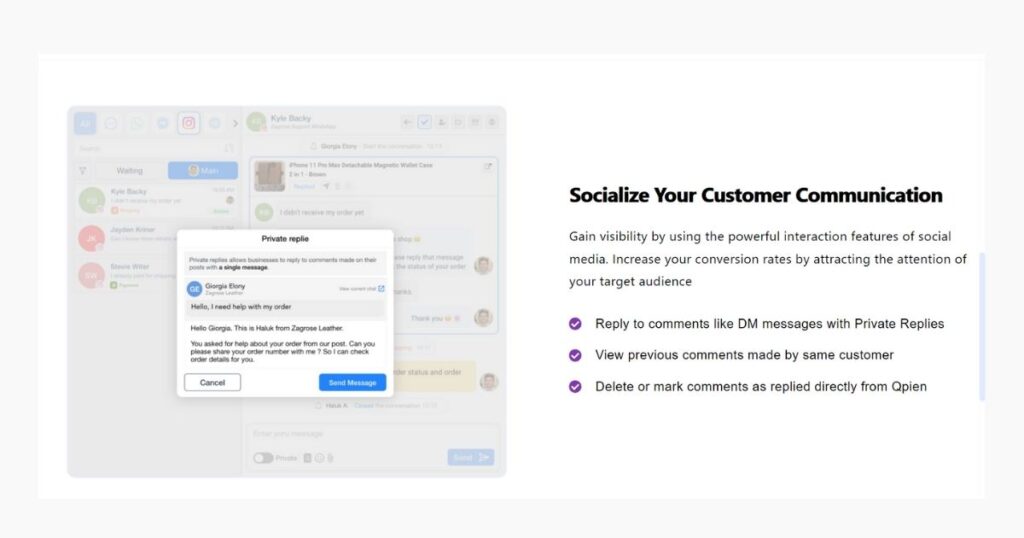 On the other hand, businesses can offer a faster and more personalized customer experience across all channels, thanks to Qpien's features such as smart filtering, tags, and categories. If you want to easily manage your customer communication on all social media platforms, especially Instagram, from a single screen, you can contact us.
If you are a growing business, you can maximize customer satisfaction by taking advantage of the convenience services tools provide to omnichannel communication processes. In addition, while doing this, you can focus on meeting more customer demands.
Provide Fast Responses
The service experience can also be used as a competitive advantage as customer service becomes the new marketing. If your customers get back to you in a short time when they reach you, you will ensure customer satisfaction and loyalty.
One of the reasons you give quick answers is that the expectation is in this direction. Slow processes are unpopular these days, even a sign of failure. To meet this expectation, you can create a support team and assign assignments on a rotating basis. In this way, you can be more efficient in your feedback.
Request Feedback
The most effective way to measure the level of customer service on Instagram is to ask your customers for feedback. This way, you can identify your missing points and start working in this area.
Another contribution of asking for feedback on customer service is its positive reflection on customer satisfaction and loyalty. This way, customers can conclude that your business has value.
Social Media Customer Service: Definition & Best Practices
It's Time to Improve Customer Service on Instagram
If you have an Instagram account that you use and you want to continue growing your business from there, it would be wise to improve customer service.
Showing that you value your customers and increasing customer loyalty by improving customer relations is a powerful opportunity to increase conversion rates.
Do you need a tool to provide professional customer service on Instagram?
Create an account with a 14-day free trial and start enjoying unique customer service features.